When it comes to search engine optimisation (SEO) and digital marketing for your business, one must pay attention to things beyond just their own website, especially if you own a local business. In the past couple of years, digital marketers have gradually understood the importance of strong online marketing efforts that include local SEO and Google Maps (or Google My Business) as well. Read our blog on Demystifying the Basics of Search Engine Optimization if you getting started on this for the first time.
If you think it's enough to just optimise your website to perfection, then you are on the wrong path. Since July 2014, Google uses an algorithm called Pigeon. This is one of the Google's local search algorithm updates. The aim of this algorithm is to increase the ranking of local listings in a search.
The changes in the ranking made by this algorithm are also shown in the Google Maps' results. In other terms, when a person searches for a particular kind of business in a locality, the results will be based on user location and the listing available in the local directory.
For example, if you are searching for Spas in Chennai on Google, the search result will be like this: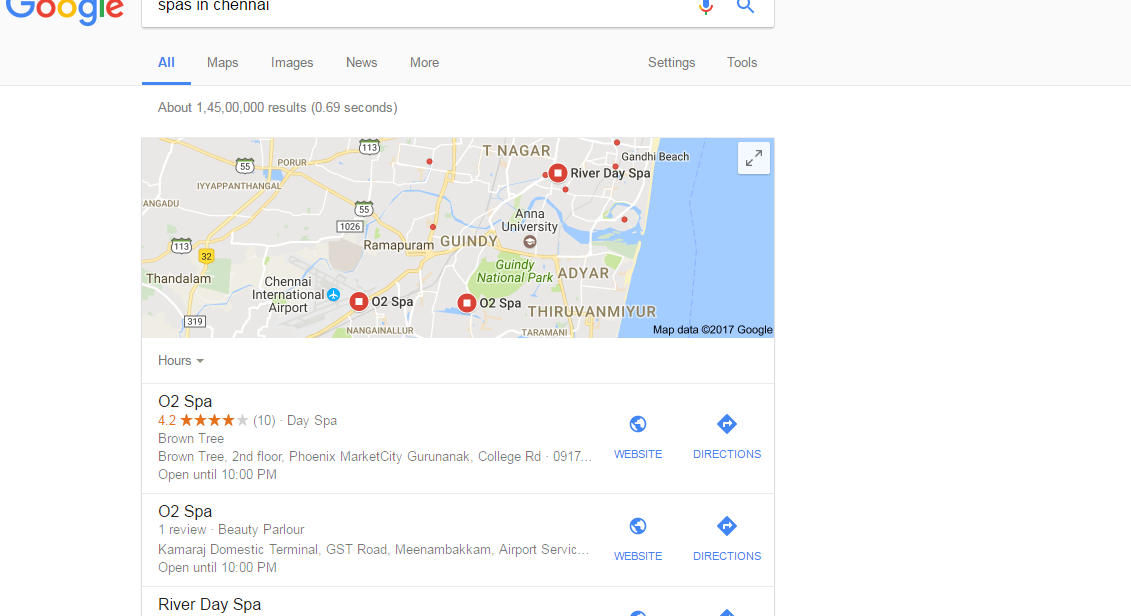 Even before the pages are ranked, there will be three map listings. The map listing will also have a toggle button – "More Places" that allows you to check for more map listings. Similarly, another search result for "Bakeries in Egmore" shows this result: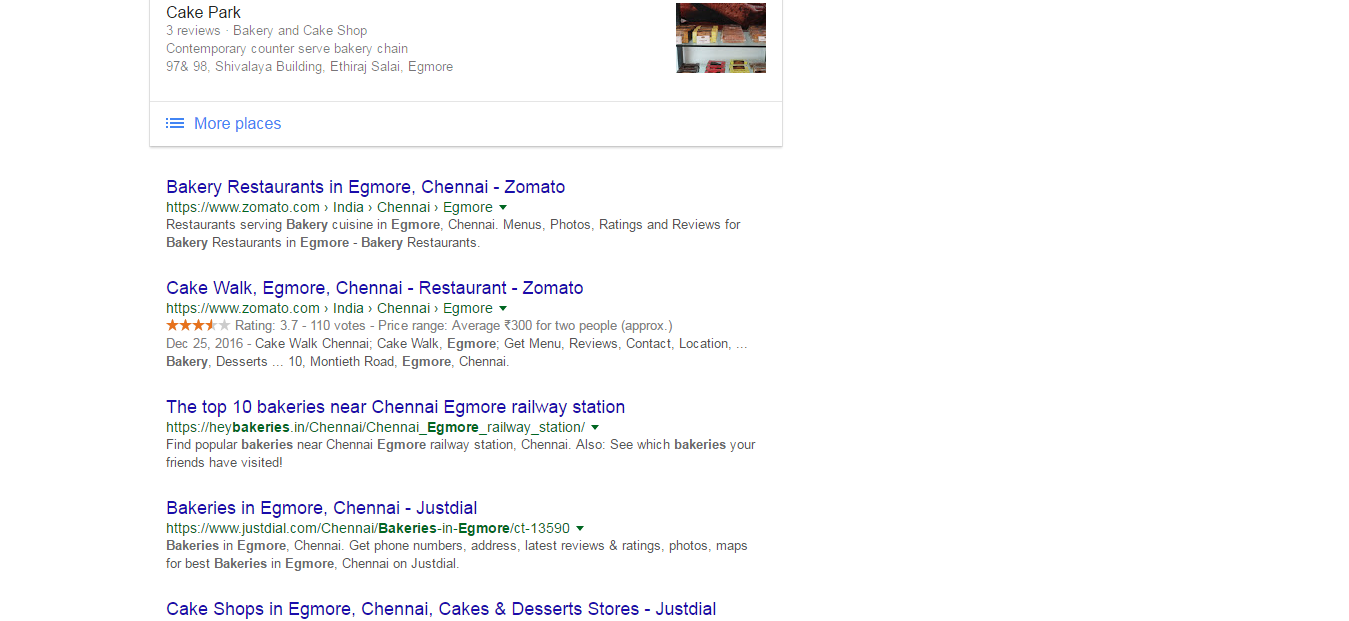 When a person searches for "bakeries, Egmore" in the query box, he gets a result where there are three map listings and 5+ organic listings. So, even if you have the best website, it might be there at the 8th or ninth position. How many users would scroll down all the way through 8 or more entries to click on the actual website?
The amount of people who will reach until end of the page will definitely be way lesser than the ones who would click directly on the map listing or any organic listing. Hence, you must constantly watch these listings and optimise your presence in the map and directory sites. The 3-pack map listings by Google can be a marketing game-changer for your business for these have a highly-valuable exposure, thus generating quality traffic and new customers.
Here are some of the best practices that you must follow to implement a successful Google Maps Marketing and Local SEO strategy.
1. It's is important to maintain a physical address for your business
No matter whether your business is B2B or B2C, it is important to maintain a local address for your company. This is important to rank in the Google local 3-pack map listing. Also, having a local address is an important search engine factor for local SEO. Google has reported that there is an increase in queries containing "near me" – for e.g.  restaurants near me or salons near me. The distance from the location of the user is critical in these searches.
2. Set up and maintain a Google My Business Account
Your Google My Business (GMB) account plays a major role in Google Maps Marketing and local SEO. In fact, your GMB determines and has an effect on your online presence in Google Maps, Search, and G+.
Google My Business offers a simple and easy way for you to create a listing for your business. You can also claim an existing one. You must just make sure that all the information listed in your GMB page is accurate and complete. It also gives you the ability to put up pictures of your business or a 360 degree view of your interiors. It's also important to choose the most appropriate category to list your business. This can have a direct impact on what kind searches you show up for. What's more? GMB is free.
3. Concentrate on your business' NAP
Your business' NAP – Name, Address, and Phone Number should be consistent in both your GMB page as well as on your website. Also, make sure that your business' NAP appears exactly the same across the web on third-party websites, directory listings, and social media profiles. These citations, i.e. your company's NAP in other websites and listings, determine the legitimacy of your business and its beneficial if your NAP is available in various websites.
4. Have a separate web page for each of your product or service
Your business might have multiple products or services. Dedicating a separate web page for each and every type of product and service can help in optimising every page. In other words, instead of over-optimizing a single page with a lot of keywords, you can optimise each page of your website with the relevant set of keywords around a theme. It doesn't mean you need to have a page for every keyword, but make sure each type of product/service and each service area (i.e. locations) are covered.
5. Create mindful citations
Be it a citation in Zomato for your business or a mention on another website, you must make sure that the mentions are made sensibly. If you can build citations in trustworthy websites and good listing directories, you can increase the value of your local SEO significantly. Do also check out our infographic on 21 SEO Link Building Techniques.
Some of the things that you need to keep in mind while creating or building citations are:
Make sure that any citations about your business in 100% accurate, especially the NAP.
Remove or place a request to remove any duplicate listings in listing directories.
Try to build mentions in websites that are relevant to your industries.
6. Work towards generating Google Reviews (of course, positive ones)
Reviews in Google Places are a crucial ranking factor for the search engine. Having good reviews in Google will definitely assist you in being listed in the Google 3-pack map listings. You can ask your customers to leave a review. Alternatively, you can also offer incentives or discounts on next purchase for customers who review your service or product on Google. Even reviews from social media channels are now displayed on Google. You may also find it interesting to read our blog on Why Social Media Matters for SEO?.
7. Embed Google Maps on your site
Last but not least – embed the Google Map of your business' location on your website in the "contact us" page. This technique is a proven way to boost the SEO value of your website. This needs to be combined with Local Schema to give Google complete visibility on what kind of business is being run.
Many business owners have found Google Maps and Local SEO marketing to be intensely helpful and beneficial for their businesses. Have you started applying these best practices? Let us know in the comments below.
8. Make sure your website & blog are super fast
In recent times there has been a lot of talk on website speed and implementation of AMP (Accelerated Mobile Pages) to ensure that experience on mobile and desktop is fantastic. This is critical even for a local business because blog content focussed on your city or location of business can be crucial in attracting the right audience. For example, one of our most popular blogs is on marketing events in Bangalore and we created this to target marketing professionals in the city when we first launched our services there.
9. Build a brand
Google and other search engines are starting to not only reward content that is customised to users (in this case content can be customised to a local audience) and they continue to show preference for sites and brands that users already know of. Hence its critical to keep track of how many users are searching for your brand (Google Analytics and Google Search Console can help with that) and not just for the product & service that you are offering.
(Visited 356 times, 1 visits today)