Numbers always have a story to tell; they give the right push and guide the carefully designed and executed marketing strategies to greater success. Measuring the success of your social media marketing campaigns is the only way to know the effectiveness of the campaign. With more and more social media platforms mushrooming, it is essential to have a tool in place that will help you analyse the performance of your marketing strategy.
Here are some of the top tools for advanced social media analytics. Their tools are beneficial if you are looking to analyse your data across multiple social media platforms.
Amplifr is a one stop solution for all social media analytics, while also letting you schedule posts. Some of its exciting features include traffic and conversions analysis per post, Google Analytics integration and automatic UTM tagging. Amplifr also provides the analytics in real time. In addition to this, you can also keep track of what your competitor is doing. It is open to unlimited projects and unlimited users and allows retrospective analysis of the updates as well.
Price: $5 Per month per social media page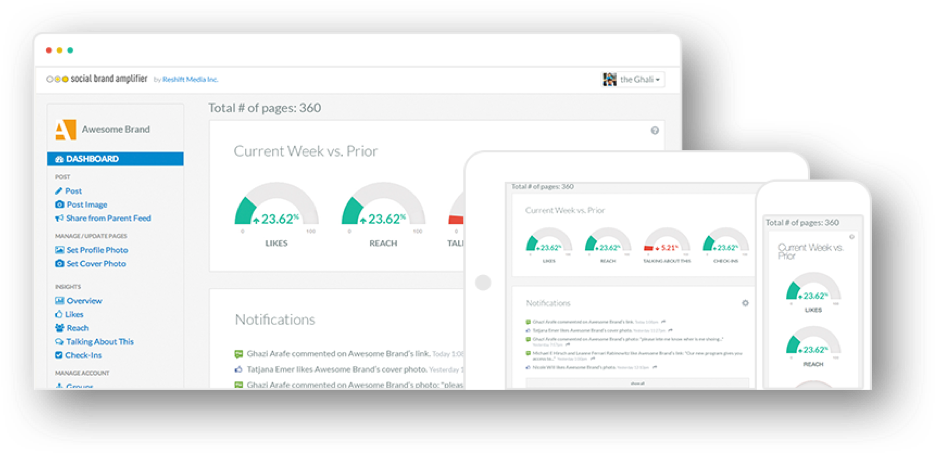 Keyhole provides an in-depth analysis of a brand's impact on Facebook, Twitter and Instagram. It tracks all the updates – hashtags, keywords and metrics in real time and calculates the reach, impression, high engagement period and the top shared posts. It also has an interesting feature called the influencer tab, which allows the use of the data to guide the influencer outreach.
Price: $89 – $3,000+ USD per month
Brandwatch offers a range of tools that work across multiple social media platforms. It is considered one of the best tools for tracking your social presence. Apart from tracking, Brandwatch also lets you track your brand's reputation in real time. Brandwatch also provides information on the internal and external environment within which, the business resides. From mining consumer insights to conducting market intelligence, Brandwatch provides the space and flexibility to make informed business decisions.
Price: Unique to each plan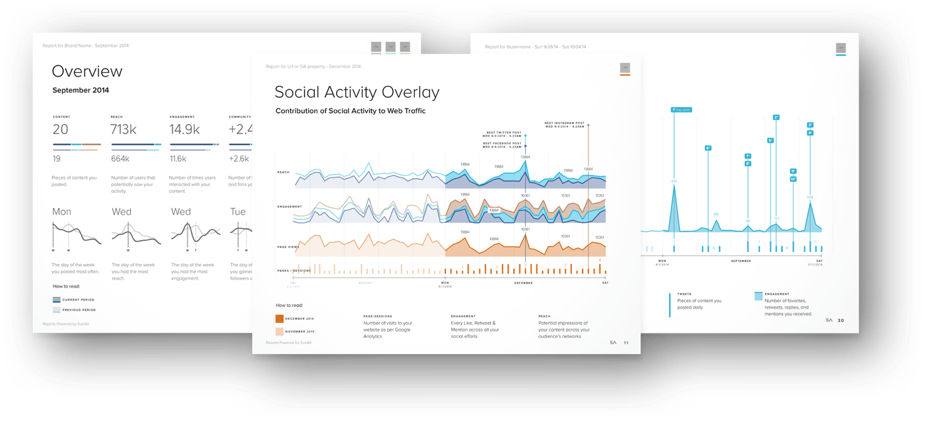 As the name suggests, with Sumall you can attach unlimited social media handles across different platforms. The features include goal tracking, performance graphs and insights based on comparisons of the previous period. Depending on the users' preference, SumAll sends out a weekly or monthly report containing a summary of all the information. This information is also saved on a single interactive web chart for easy viewing.
Price: 7-day free trial following which it's $99 per month.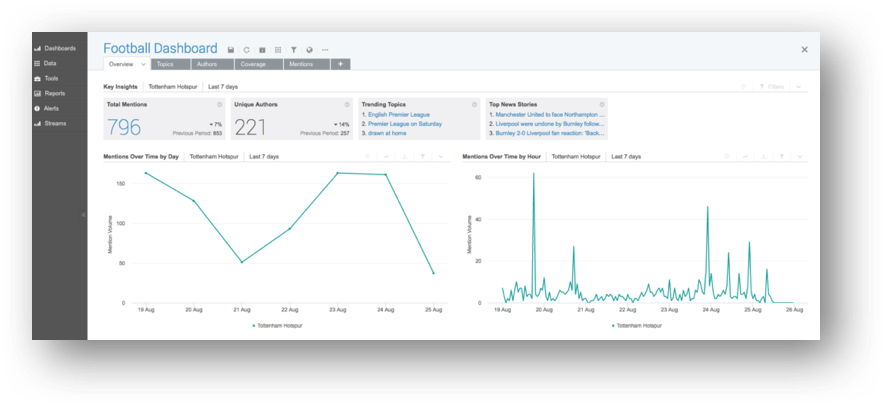 A unique feature that stands out with AgoraPulse is that it can be used across multiple languages. It lets you manage all social media messages in one place. It tracks engagement across various social media channels and provides information on the number of mentions and measures how frequently they share your brand's content. This helps in expanding the social reach and understanding the consumer's perspective of the brand. Best of all, AgoraPulse allows the user to export the data as a PowerPoint file that can be customised to suit the user's requirements.
Price: $29-$199 per month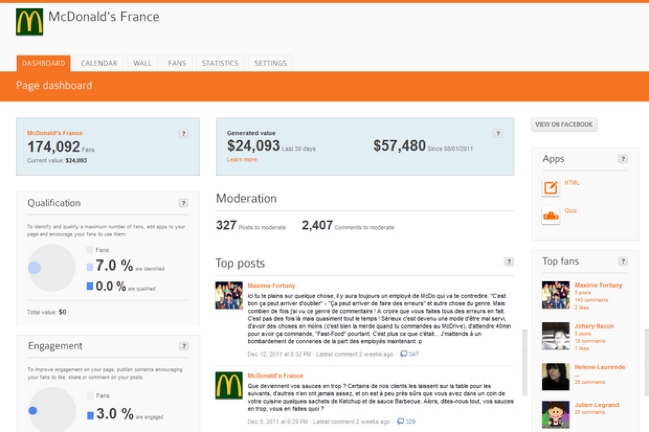 If you're looking to see how you are doing compared to others in your field, then Quintly is the right tool for you. It provides visually appealing stats on engagement such as likes, shares, comments, followers 'growth and they are depicted through graphs. These graphs provide information on the performance of your brand across various social media platforms. Quintly covers Facebook, LinkedIn, Instagram, Google+, Twitter and YouTube and it has a free tool for Facebook analytics, specifically. It works on a dashboard method, and the metrics can be customised to suit the user's requirements.
Price: $129+ per month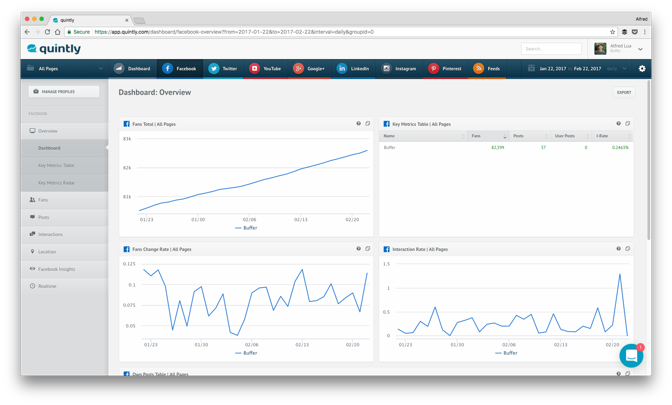 Unmetric not only helps you with accessing competitor's performance and strategy, but also helps you identify who is on the top in the industry. The tool also allows you to understand and study what posts have worked and what haven't. Additionally, it also gives social media benchmarking, content analysis, campaign analysis and social media data & analytics.
Price: $1,000/month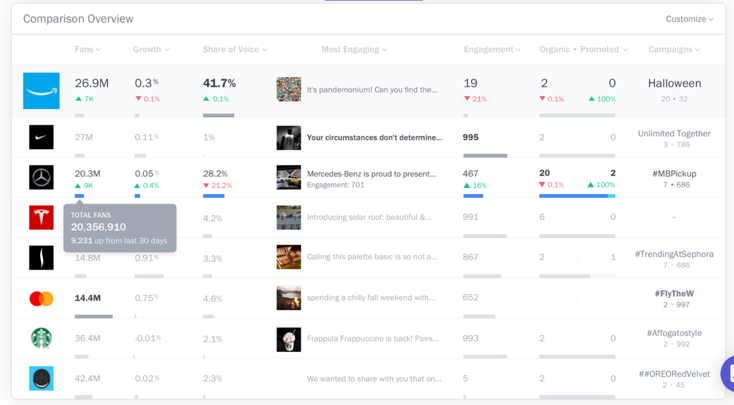 Simplify 360 has different products like social listening, reporting and engagement. The social listening tool gives you the latest updates on your competitors as well as your social pages. Social analytics helps with competitor benchmarking. With the help of a publishing console, you can handle and manage accounts better under a single platform. Another unique feature is the social CRM that will help you manage your reputation. This tool has number of other features such as easy data access, social customer service, contact management, easy integration, and profile comparison along with customer satisfaction.
Price: Custom pricing depending on the plan's & needs.
Sprout Social is an ideal tool to streamline and enhance conversations between the customer and business. Sprout Social has many handy features like Smart inbox, monitoring, social CRM, publishing, mobile, collaboration, analytics and account structure to make relationships and communication simple between businesses and customers. You can use this tool for all your social platforms such as Facebook, Instagram, Twitter, Google+ LinkedIn and much other.
Price: $99-$249/Month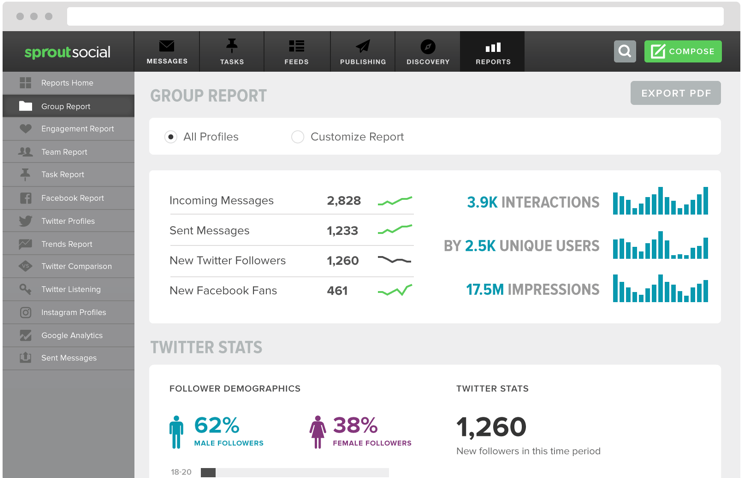 When it comes to analysing social media content of various competitors, there is no tool better than Buzzsumo. Additionally, it also helps in identifying key influencers and getting in touch with them. From brand monitoring to competitor research, content insights, and content research and discover, this tool covers all that you need for successful social media content strategy. Price: $79- $559/Month
With real-time analytics, Meltwater lets you, monitor, track and measure the success of the social media campaign. Meltwater gives you relevant data and insights that will help you understand your target audience better. It's a one stop shop for monitoring, analysing, engaging, discovering and also reviewing various case studies for your company and industry. Another significant feature is that you can also consolidate the entire social search under one roof and receive all the relevant news and data in real time.
Price: Custom pricing depending on the needs.
Buffer co-exists as scheduling and an analytical tool. What makes buffer a great tool is that it suggests the best times to publish your content suited to your target audience. Buffer has an interesting feature where it highlights the best performing post when a particular post exceeds average performance.  It also allows the user to track and analyse performance across Facebook, Twitter, Google+ and LinkedIn.
Price Range: Free – $2550 USD per year
Similar to buffer, Hootsuite is a user-friendly cross-platform used for both scheduling and analytics tool. Hootsuite's real-time analytics keeps you ahead of the game and lets you spot trends as soon they pop up. Additionally, it also allows you to measure your social media ROI and make smart data-driven business decisions with confidence.
Price Range:  30-day free trial – Individual plans to Organisational plans ranging from Rs.1260 to Rs.32000 per month.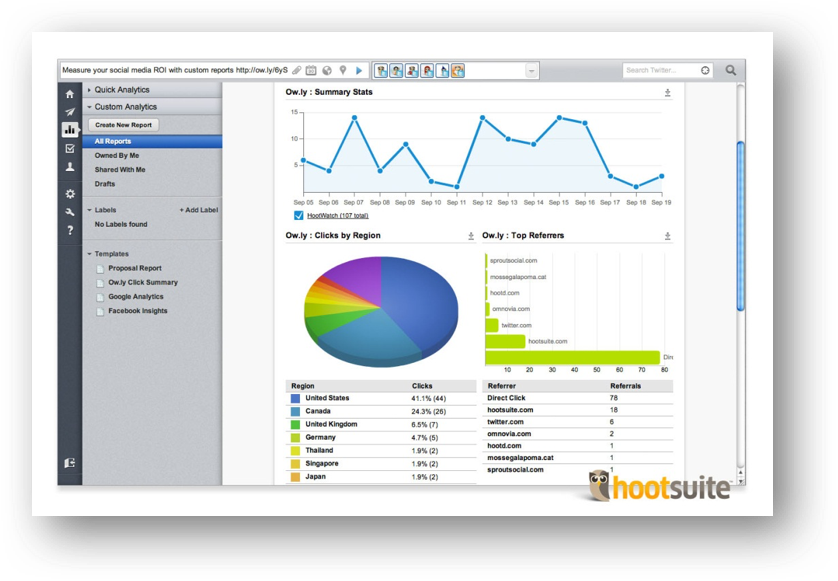 Which one of these tools would you use for your business? Let us know in the comment section below.
Analytics is by far one of the most important tools to help a company sell on the social media platform. Yes, driving traffic to the website is equally important, but how do you find out what happens after that? That is where web and social media analytics comes to play. Every social networking site has its own set of analytics that are both accurate and user-friendly. While Facebook, Twitter, Pinterest has inbuilt analytics, Instagram was lacking in it. Though Instagram shares the same ad platform as Facebook, the platform does not yet have an analytics tool like Facebook's Insights and Audience Insights. Fortunately, there are a number of third-party Instagram analytics tools available for businesses and marketers to measure their marketing efforts until recently when Instagram announced its insights feature – Instagram 'Business Tool'that will be made available directly in the app for its users!
While this happened, Instagram again made heads turn for yet another new launch – 'Business Profiles'. This tool is truly an advantage for small businesses, which can enjoy the ease of mobile marketing on Instagram which will also help reduce the gap between the consumers and the brands. While Instagram's carousal ad sets and videos have already been helpful for easy marketing, introducing mobile ad-buying and Analytics, which will help view the most viewed and liked posts, post engagement rate, website clicks, impressions, reach and a lot more is definitely a big step for Instagram that has been appreciated by 500 million users who see 95 million posts amongst which a minimum of 48 million posts are ads by marketers every day. If you are still deciding whether to use Instagram for your brand – here is a guide on how startups can use Instagram.
Key Features of Instagram Analytics
Instagram Analytics dominantly focuses on Follower Demographics and Post Analytics. Below, you can view your top posts segregated by Instagram based on its impressions for a 7 day or a 30 day period. This will help you understand how many people viewed your posts other than just liking it, giving you an accurate engagement rate, thereby helping you understand if there is a need to improve your marketing.
Amongst all the information that is available, Follower Demographics is a very useful tool, especially for the small time marketers. It helps them discover where their audiences are coming from. Apart from exact locations, it also helps determine the right time to market to them from different time zones.
Again, similar to any other analytics tool, Instagram also lets you break your audience by gender and age to quickly analyze if men or women have contributed to the most number of views, likes and engagement rate.
The 'Followers' module is yet another major advantage for marketers to keep a track of the time and the number of hours their consumers are on Instagram on a selected day. This will again help them understand the right day and time to advertise which will surely be beneficial to grow the brand.
Apart from hardcore analytics tools, Instagram has also been experimenting with a few other profile features that seem to be quite useful for businesses to lead traffic to their websites and increase their sales. One of these features is the new 'Contact' button besides the usual 'Following' button.
The 'Contact' button is a linkable location tag which when clicked will show two things – 'Email' the user or 'Get Directions' on your maps to their store.Since finding the location of Instagram brands has been a major pain point for both marketers and users alike, this new feature will be of some aid.
The second feature is a direct plus-point for brands/products that have been looked around or searched a lot in social media. While hashtags are used on Facebook and Twitter to quickly spot these products, Instagram has introduced an extra line underneath the name in the profile.
While these features are not yet open to all users, they have been introduced for marketers in the US, Australia and New Zealand and in the following months, will be accessible on a global level, including India. Boasting over 300,000 marketers leveraging on Instagram, it has become an ideal platform for small businesses to resort to a much easier and visually appealing mode of marketing that will be directly benefited by this new Analytics tool amongst the others and other special features for brand building.
We will have a more detailed analysis once we are able to use the tool for more brands.
The fifth edition of the Digital Chai Pe Charcha was held at our office on 9th July 2016. It received a wonderful response with about 25 participants including entrepreneurs, professionals, digital marketers and social media influencers taking an active part. The topic of discussion  was Measuring ROI from Digital Marketing.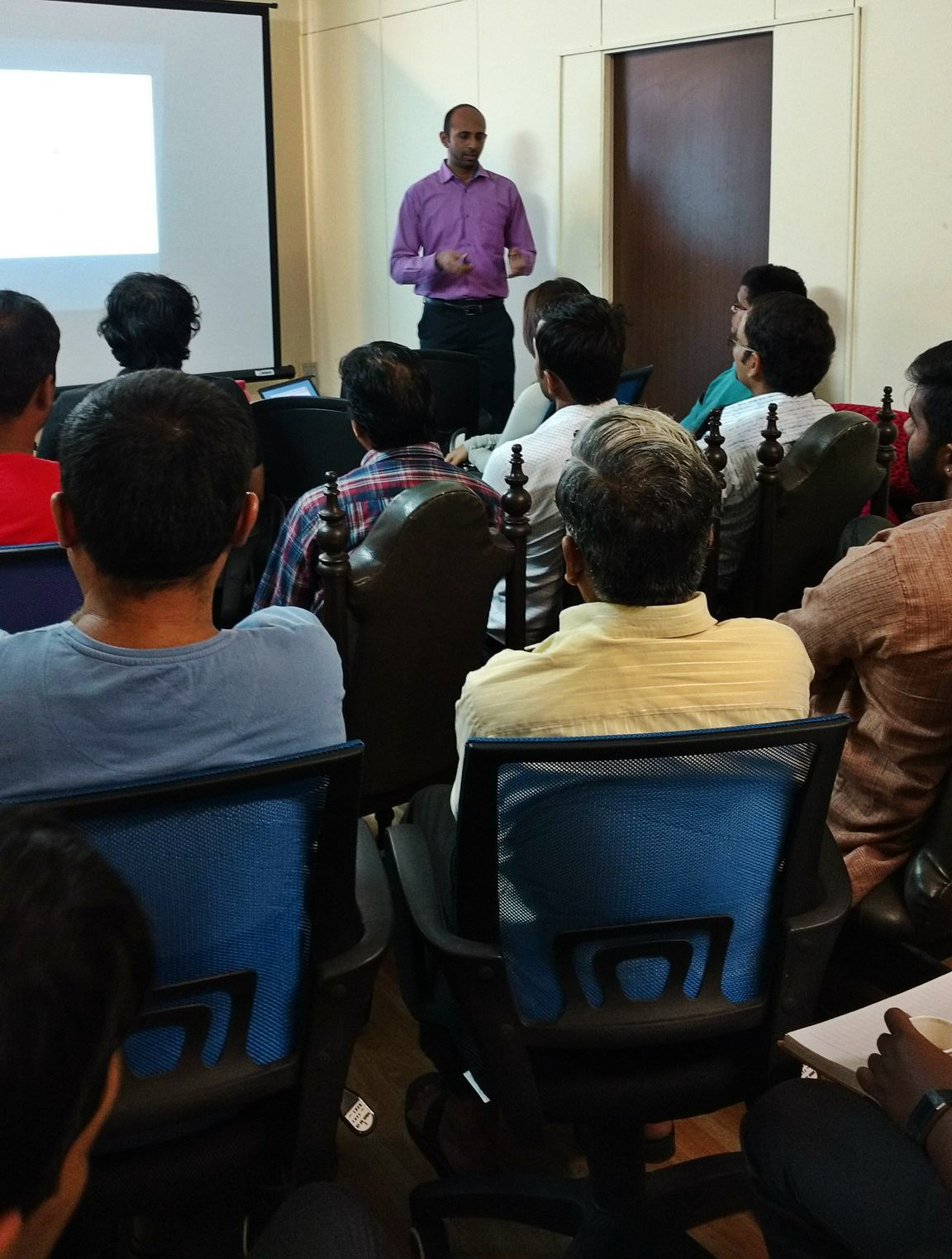 Here's a quick summary of the key takeaways from the session:
Types of Returns from Digital Marketing
There are two types of returns from digital marketing:
1. Tangible Returns:
These are metrics that translate into immediate business results such as Leads, Sales, Registrations and Traffic
2. Intangible Returns :
These are metrics that do not measure immediate business results such as brand awareness, customer engagement, customer satisfaction and brand reputation.
Which Metrics Should You Measure?
Metrics you measure will depend on your business goals and objectives.
For example, if your objective is lead generation, then you would measure metrics such as Leads/Enquiries Generated, Revenue from Sales, App Installs and Website Traffic.
On the other hand, if your objective is brand awareness, then you would measure metrics like likes/fans/followers, reach, impressions, mentions, social engagement, likes/comments/shares and retweets/reposts.
Tools to Measure Results
There are a number of tools available to measure the metrics mentioned above. They could be categorised as web, mobile, and social media analytics tools.
Web Analytics tools:
There are a number of web analytics tools that you could use. You could use Google Analytics to understand details about the volume and quality of your website traffic. Tools like Kissmetrics, help determine advanced analytics on the behaviour of your users.
Mobile App Analytics Tool
For those of you have the mobile app for your business, tools like Mixpanel and Appsflyer help you learn how people use your app. It also helps draw insights from this data to optimize and improve your marketing for better ROI.
Social Media Analytics Tools:
These tools help you analyze the effectiveness of your social media marketing efforts by measuring metrics like likes/fans/followers, reach, impressions, mentions, engagement, likes/comments/shares and retweets/reposts. Social platforms like Facebook, Twitter, Pinterest, and LinkedIn have inbuilt analytics tools for marketers to analyze the effectiveness of their marketing efforts. Other advanced analytics tools for social media intelligence include Radian6 and Simply Measured.
Call Tracking:
With the growth in mobile use globally, the number of leads coming through phone calls is increasing rapidly as compared to leads through web forms. In this scenario, it is important to use tools like Knowlarity and Exotel to track call leads effectively and attribute them to the right source.
Measuring ROI from a Digital Marketing Channel
The simplest way to measure if ROI from a channel would be positive, is by checking if the Customer Lifetime Value (LTV) is greater than the cost of acquiring a customer through that channel.
The table below will help you with a simplified framework to calculate LTV. For more details on LTV calculation, you can read our article on Customer Lifecycle Value vs Cost of Acquisition in E-commerce.

Participants then did this analysis of LTV and cost of acquisition to calculate channel ROI for their businesses. They shared their learnings with the rest of the group. This was followed by an interactive discussion and Q&A session.
Those of you who missed the first four editions of the Digital Chai Pe Charcha can check them out below:
Edition 1 – Challenges Faced In Marketing A Startup
Edition 2 – Content Marketing Success In 2016
Edition 3  – 101 On Digital Advertising For Startups
Edition 4 – How To Use Instagram For Business
You can follow us on Facebook and Twitter! Check out the hashtag #DigitalCPC for more details on the next Digital Chai Pe Charcha meet.
What methodology do you use to calculate ROI from your digital marketing efforts? Do share your method, experience, and learnings in the comments below!