While some might say that digital has opened the doors to online players and has blurred the existence of local retail stores, new research says that the relationship between digital marketing & in-store shopping is far more interconnected than that. Foot traffic & word-of-mouth which were the assets of offline retailers before digital & mobile entered the lives of people, are not anymore the only assets which can be relied on.
Local retailers, in general, believe that online marketing works only for e-commerce websites. But, digital doesn't just drive e-commerce, it actually gets consumers into local stores.
Connecting offline retailers to the mobile users
We are living in "always-on search world", where people are always able to search. When they want to buy things or when they do have a query, they turn to their smartphones. Consumers now spend more than 15 hours per week researching on their smartphones.
Impact of mobile on the store visit
There was a time when people would have to get to their computers. But now, searches on the desktop have dropped as mobile is always in reach. It is found that 21 percent of in-store shopping in urban India is influenced by digital and 18 percent is influenced by mobile. If you have a physical store, then mobile search is the new threshold to your store.
Store visits after online research
Most offline retailers in India are not aware of various mobile marketing techniques which they think are only for e-commerce players. This has led to them not making efficient use of the web to provide necessary information to the customer. Whereas, according to research customers are likely to go to an offline store when they find the store they are looking for listed in search results. It is found that 3 out of 4 shoppers who find local information in search results helpful are more likely to visit stores.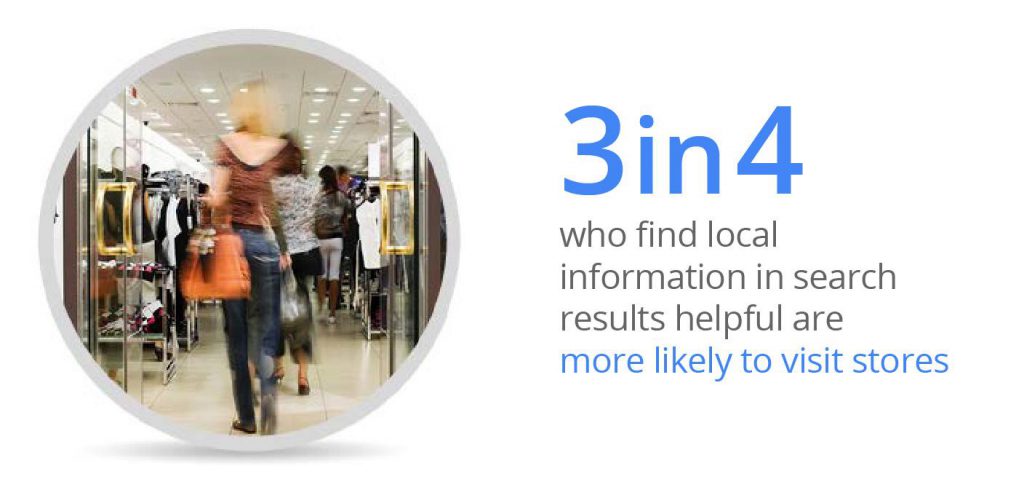 Image source- https://www.thinkwithgoogle.com/
The retailers need to realize that consumers shop digitally before going into the store and they should make sure they provide all the information that customers are looking for online. Thus, retailers should have the right digital marketers as this will help to drive more customers to visit the stores.
Online Advertising Techniques To Create Online Presence
What most offline retailers lack is the right guidance how digital marketing can be leveraged to bring sales. There are many different ways in which the visits to their local store can be boosted.
This is the most effective method to reach out to as many customers as possible as shown by recent statistics. Many big companies engage in Pay Per Click (PPC) advertising. This is because PPC ads work in a way that brings best customer attention with minimal expenditure.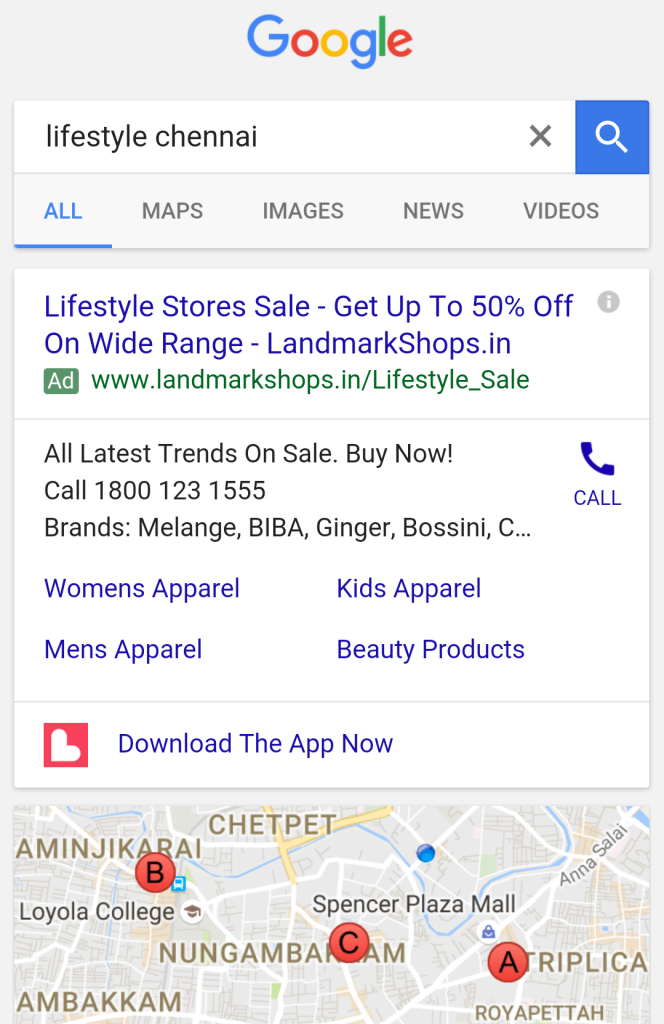 Brand Search Advertising reinforces the brand name, increases brand value and brings about brand awareness. These ads are so effective because they give the customer all the information he/she needs to know about the brand within a few lines. This way the customer does not spend a lot of time reading the ad, but manages to get the required information.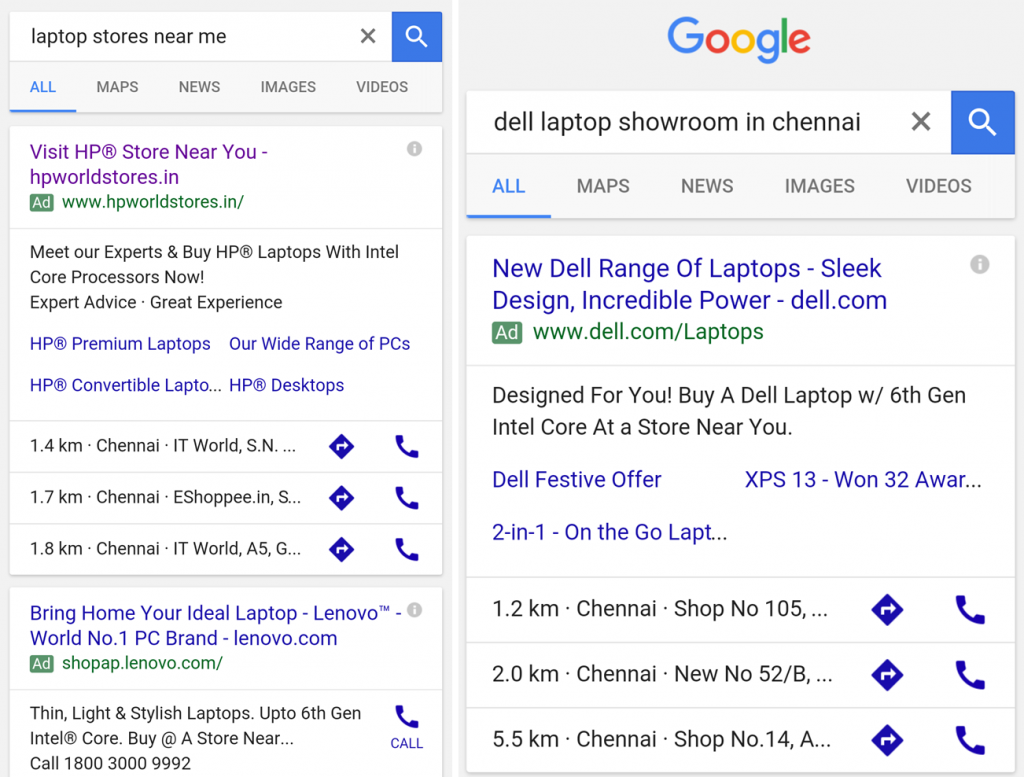 Also, ads can be shown to the people who search for the products using relevant terms. For example, one who is looking for a laptop store close to his location can be targeted using relevant search terms like laptop store near me, laptop stores in Chennai, which people normally use.
Another advantage of the PPC ads is that they can be targeted to the desired audience of a particular location, preferably places around their stores using Radius targeting. This way the ads are shown only to the people who might be interested in the product or service and more likely visit the store.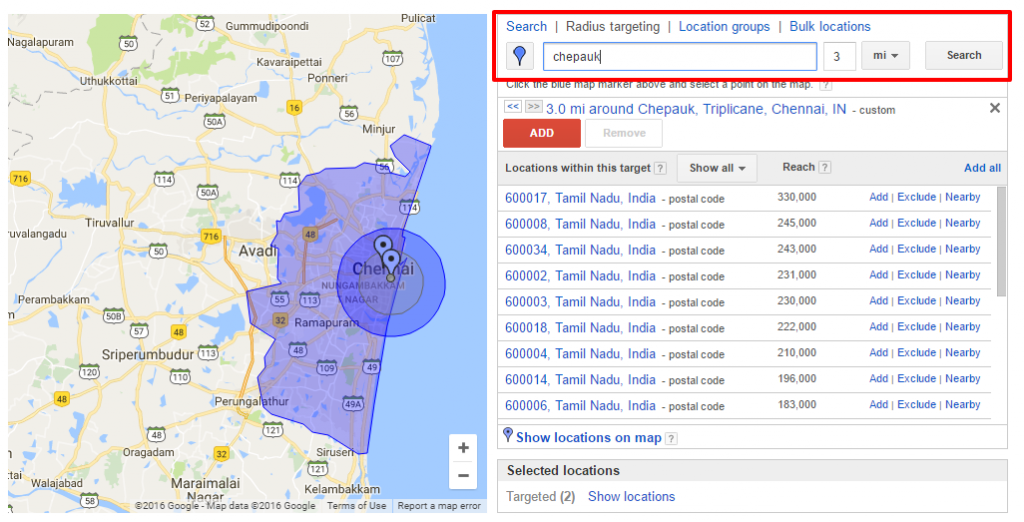 Since the retailer is charged each time these ads are clicked, showing these ads to a targeted audience will result in an increased conversion rate which will in turn result in an increased ROI. Where they appear is chosen by the retailer, but its ranking is decided by Google based on a number of factors.
This is the most traditional method by which offline retailers can show up on a customer's search field below top PPC ads without having to pay a penny. A link to the retailer's website automatically shows on the customer's screen when he/she searches for something relevant to the products offered by the local store.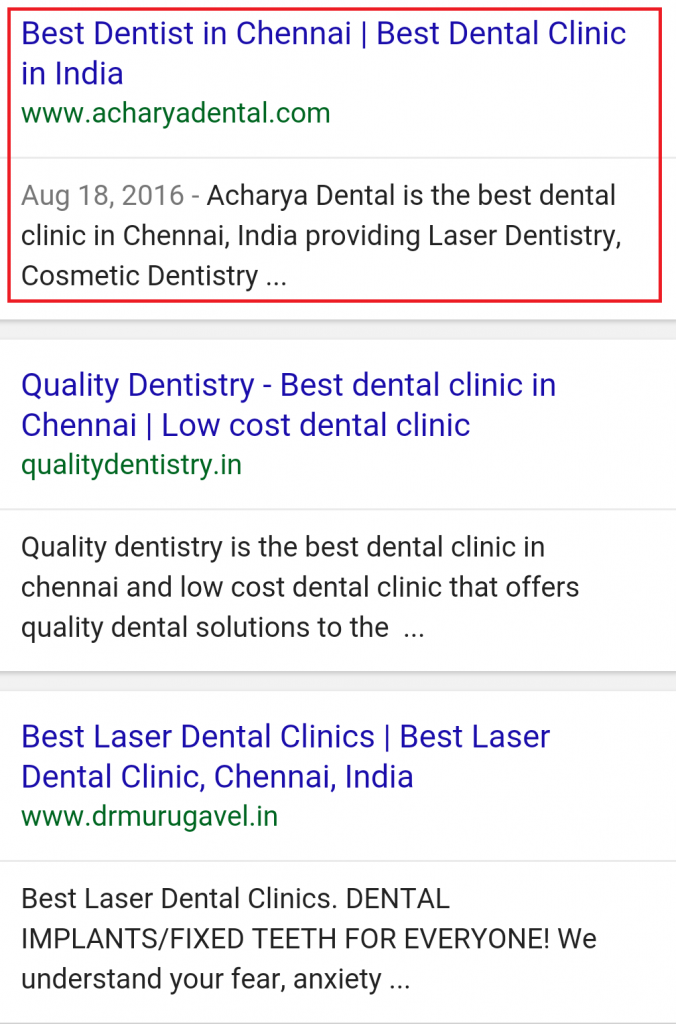 Where the retailer's website is listed is again decided by Google based on the relevance of content and other factors. What the retailer should ensure is to provide the right and relevant content on the website of the store so that it shows up higher in the  organic search listings. Hence, by this way the store can get a few more customers to visit its website by making sure it has a user -friendly website.
Google Business Local Listings
An important feature that drags customers to stores near their current location is the store locator available on Google. Using this feature the customers can know exactly how far the store is located from their present location and they can head straight to the store with the navigation feature of Google maps. Hence it is essential that all stores add their location on Google using Business map locator.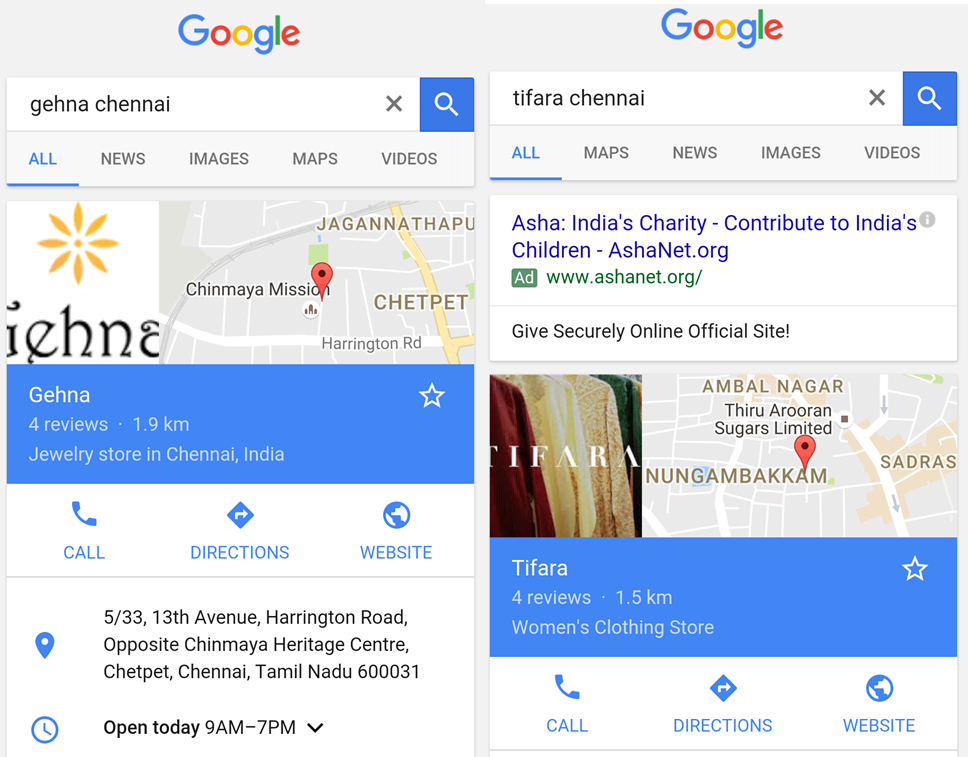 When a customer searches for something like textile stores, a list of textile stores nearby his/her location shows up with the address information of each store. By clicking on any of these stores in the list the customer can know exactly how far the store is and how long will it take to get there with the help of Google maps. Hence, if a customer knows that a store is close by to his/her location, then it drives the customer to visit the store.
In order to track the source of the leads that we receive through the above advertising methods, it's recommended to generate unique phone numbers for each advertising channel. This way we can measure the effectiveness of each channel.
Digital bridges the gap between customers and stores
Today the consumer's path to purchase is becoming increasingly mobile. Retailers that provide relevant, local information online will increase both reach and sales. While helping to drive customer in-store it will also help to enhance the customer's experience once he/she has entered the store. Mobile has reshaped the way the people shop, that is in a good way and retailers who make use of this in the right way will see themselves moving ahead.
When you are creating your first Adwords campaign, chances are high that you may miss out on some key points and settings. Even if you do create campaigns every day, there are possibilities that you may fail to notice a few things. Here's a checklist to help you ensure that everything is in place before you take your Adwords campaign live.
Account & Campaign level 
1. Campaign type
Ensure you have selected the right campaign type based on your objective.
Choose,
Search Network only – When you want your ads to be displayed on Google search results.
Display Network only – When you want your ads to be shown on websites which your targeted audiences visit. These sites are called "Placements".
Search Network with Display Select – When you want to ads both on Google search results and other websites.
2. Campaign sub-type
Ensure that the "All features" sub-type is set, so that you get all the advanced options & features like ad scheduling, ad delivery and advanced location settings.
3. Location Targeting
Check that you have selected the right location (country, city, district etc.) where you want your ads to be shown. You need to set the Targeted location if you want your ads to be shown only in certain locations.This ensures you do not receive unnecessary clicks from the locations not relevant to your business.
4.  Advanced Location settings
Ensure that you include and exclude locations through Advanced location targeting options, to make your targeting more effective.
Check if your option is set to,
People in my targeted location – If you are focusing the audiences who are living in the targeted location.
People searching for or show interest in my targeted location – if you want to show your ads to people who might not be living in your targeted but are searching for , or showing interest in the targeted location.
People in, searching for or show interest in my targeted location – if you want to target both the audience types listed above.
You also have the options to include or exclude places in the above criteria.
5. Conversion Tracking
Make sure that you copy the conversion code available in the "Tools – conversions" section and paste it in your Thank You or success page. This helps in tracking how productively the ad is being converted into leads. That can be a page sign up, purchase, phone call or app download.
If you are not familiar with how the conversion process works, here's a detailed guide you can refer to.
6. Remarketing
Ensure that you have created a Remarketing list for your campaign to track visitors to your website who you can target ads to later. This can be found in the audiences section under the Shared Library, in the left menu bar, as shown below. You can generate the remarketing code and paste it in all relevant pages of your site.
7. Bidding
To begin with, it is recommended to choose "Automated bidding", where Adwords sets your bids to help get as many clicks as possible within your budget. After  the campaign has run for a few weeks, you can switch bidding to "Manual" and set the Maximum you would be willing to pay per click.
8.  Billing
Verify that your billing information – country, billing address, and payment method have been added correctly.
9. Ad Delivery
If you have chosen the "All features" campaign sub-type, you will have two options to deliver your ad.
Ensure your option is set to ,
Standard – if your budget is limited and you want the ad to be evenly shown throughout the day.
Accelerated – if you want the ad to be shown as quickly as possible.
10. Ad Rotation
Make sure you set "Ad Rotation" when you have more than one ad in an ad group. This helps in choosing which ad to show more often. This setting consists of four options, namely,
Optimize for clicks – Ads receiving more clicks are shown often.
Optimize for conversions – Ads receiving more conversions are shown more often.
Rotate evenly – All ads in the ad group are equally shown.
Rotate indefinitely – All ads are shown for an indefinite amount of time.
Check if you have set "Rotate evenly" in the Ad rotation settings, so that you give preference to all ads initially and then change the settings later to either "Optimize for Clicks" or "Optimize for Conversions", according to the ad performance.
 11. Daily budget
Confirm that you have set  the default bid and the amount you are willing to spend daily.
12. Auto-tagging:
Verify that the Auto-tagging is turned on, under the "Preferences" section in the Account settings. This helps in tracking which keywords have brought visitors to your website and to which ad group they belong. Google Analytics uses auto-tagging URL and determines the ad performance.
13. Negative keywords
Ensure that you have added all negative keywords, that apply to the account, to a shared list under the "Campaign keywords" section in the Shared Library as shown below.
Confirm that you have applied the list to all the relevant campaigns in the account.
Ad group level 
While creating Ad groups, make sure you group together the keywords targeting a particular product or service ie. cluster the keywords in ad groups thematically. Make sure you follow the below mentioned best practices.
14. Number of ads
Check that each ad group has a minimum of two ads, carrying different Ad titles and Descriptions , so that they run alternatively. After evaluating their performance over a period of time, the poorly performing ads can be be paused.
15.  Mobile ads
At least one Mobile specific ad must be present in each ad group targeting mobile audience. You may notice certain truncated ads when you use mobile phones. It is because, those ads specifically created for the desktop users appear on mobiles. When you create ads,  make sure you also create a copy of the ad and check the "Mobile" in the device preference option. 
16. Keywords
Similar keywords should be grouped under each ad group. As a good practice, it is recommended that , each ad group contain no more than 10 to 15 keywords in it.
17.  Match type
Ensure that you use relevant keyword match types for optimal ad performance.
Ad level
Writing a successful text ad is really important to target potential customers. Hence, the text ad should be both compelling as well as relevant to what customers are searching for. Ensure that you follow the below mentioned best practices for ads:
18. Capitalization
Check if the first letter of each word in the ad description is capitalized. This is more for visual purposes. Capitalizing each word increases the visibility of your ad resulting in higher click-through rates and improved quality scores.
19. Period  
As far as possible, make sure the First Description line ends with a period (full stop), so that, it moves up to the Headline. This is called an "Extended ad headline". Most of the ads, with extended ad headlines stand out better on the search results pages resulting in better click-throughs on the ad.
20. Keywords
Confirm that the Ad title, Display URLs, & Description lines contain keywords in them.
21. Landing page
Check if the Destination URLs are directed to the relevant landing pages.
22. Extensions
Make sure you add all the relevant extensions to your ad. When the information in the ad text are not sufficient enough to showcase your product completely, Ad extensions help displaying additional information. Adding extensions also help the ad occupy a larger space in the SERP, which increases its prominence and visibility.
There are seven different ad extensions which can be found in the "Ad extensions" tab under each campaign.
Sitelinks extensions – Direct the users to the specific pages in the website and helps the users to find what they are looking for.
Location extensions – Direct the users to the nearest product store.
Call extensions – Call option making the mobile or tablet users to contact you directly.
App extensions – Take the users to the app store in order to download the product app.
Review extensions – Display positive reviews from various sources.
Call out extensions – Again a descriptive text to the ad, helping the user to explore more about the product.
Structured snippet extensions – Display additional landing page details.
Also, verify that all the extensions are linked to the relevant pages.
23. Repetition of Information
Make sure, no information already present in the Ad Description is repeated in the ad extensions. Remove or change it, if any.
24. Negative Keywords
In order to prevent your ads showing up for irrelevant keywords, make sure you have added negative keywords both at an ad group level and at a campaign level under the "Keywords" section.
25. Call to Action
Last, but not least, ensure that all ads have a Call to Action, which is the ultimate goal of any Ad campaign.
Whenever you create your next adwords campaign, keep this checklist handy to ensure that you don't miss out on anything important.
Is there any check you carry out that we missed including? Do let us know in the comments below and we will have it included.
[wpsp]