Here is a happy news for all you Snapchat lovers! Snap.Inc has introduced this cool and fun pair of spectacles to help you shoot videos on the go.
With Instagram now having the story feature, which is one of the major USP of Snapchat, snap decided to introduce a new hardware to stay ahead of the game. Although, the first time you hear it, it may sound like a replica of Google glass; the truth is, no it is not! The spectacles cost just one-third of the price of the Google Glass, and they look more like shades and are only used to shoot videos or photos. Experts say that you can compare them to a GoPro rather than google glass.
Interested to know further about Spectacles? We have all the info you need! About Spectacles
This device is a pair of wayfarers, which has an inbuilt camera of 115degree lens. Two yellow circles can be found at each end of the glasses: one is the camera, and the other hides a ring of LEDs that light up when the device is recording.
These glasses are paired with your Snapchat and the video recorded on this will automatically get stored in the Snapchat memories. They are available in three colours –  black, teal and coral and are priced at $130 each.
Every spectacle comes with a recharging case, USB cable for the case and a glass cleaning cloth.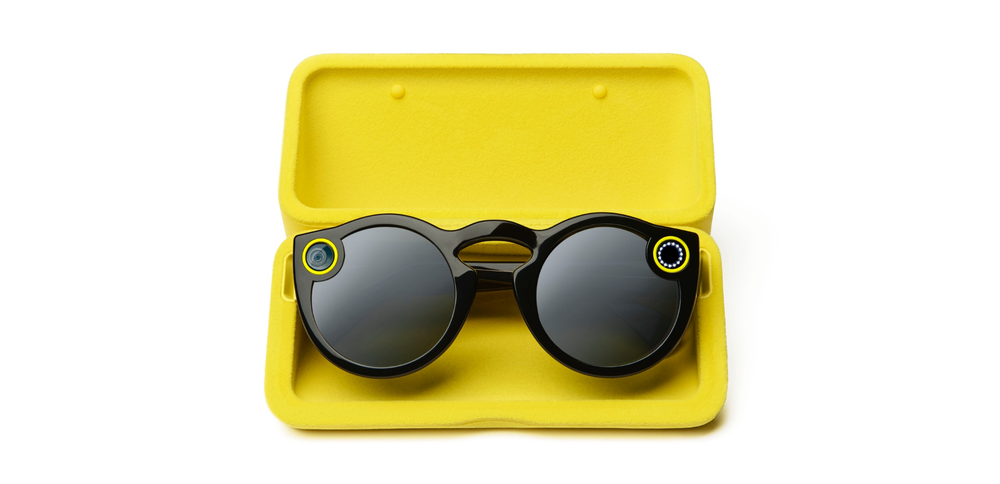 Here are few easy steps on how to use these glasses
Step 1: Pair it
Spectacles are compatible with both Android and IOS devices. To pair, wear the glasses and open the Snapchat app on your phone, click on the ghost icon and press the button on the top left corner of the specs.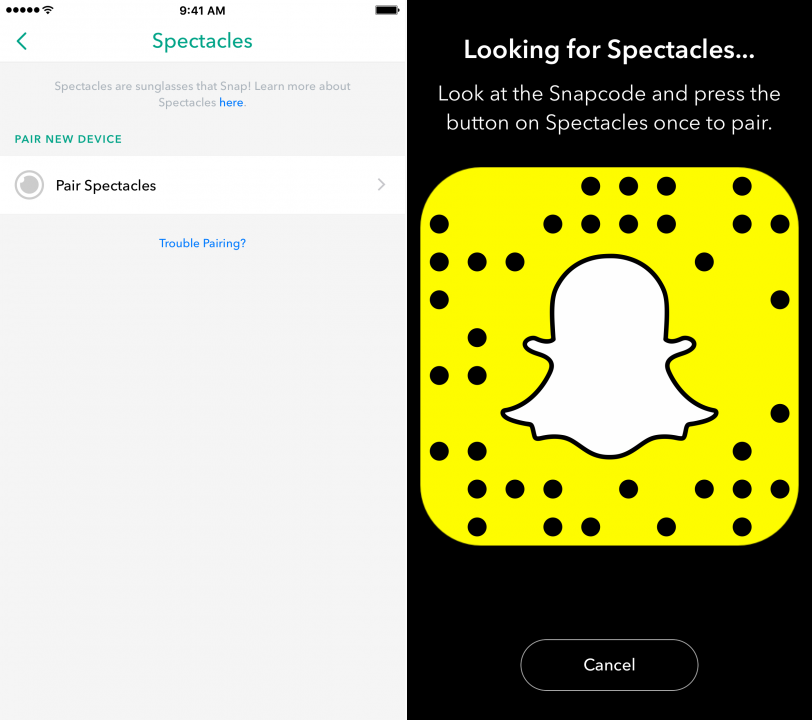 Step 2: Recording the video
Now the device is paired, and all set to record. Press the button on the top left a corner of the specs. A small LED light will switch on to indicate that video is being recorded. The spectacles will record a 10-second video if you want additional recording time then press the button again to add extra 10 seconds. The longest video one can record is 30 seconds. The videos are recorded in a circular format.
Step 3: Saving your snaps
The snaps are saved to your Snapchat memories automatically. In case, you do not have your phone with you then; the spectacles will store the snaps and later it can be transferred to your phone either via wifi or via Bluetooth for IOS devices.
Step 4: Charging the device
To charge your spectacles just place it in the case, which comes with the device or you can also directly charge it using the USB cable. However, experts in the tech space recommended using the case to charge. Usually, the charge stays for a whole day or two.
How can you buy them?
These are currently available only in the US. If you are visiting the US or asking your friend to buy it for you here is where you can find it. Snap inc. is selling them through a bright yellow vending machine, don't mistake it for a minion although it looks like one! These are called Snapbots that will travel around the country. You will be lucky if you spot one around your neighbourhood.  Snap is making them in a very limited quantity.
The Snapbots will be available at each location for a day. You can also track the bots current location using the map on the spectacles website.
Snap also gives you the facility to try on the glasses before deciding to buy them. All you need to do is use the QR code provided on the website and scan it to add a filter to Snapchat, which is for a limited time to try them on virtually.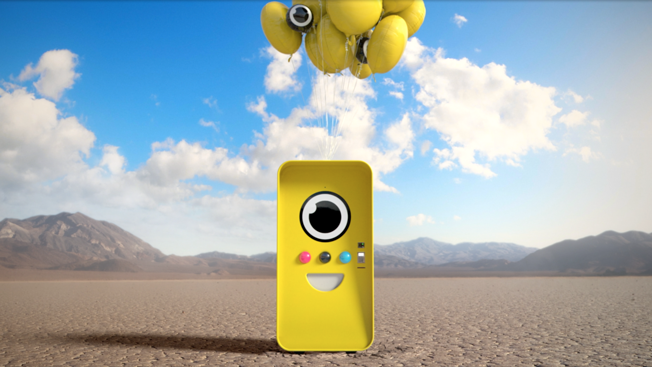 Spectacles for Business
Just like Snapchat, the spectacles can also be leveraged for your business. Here is how….
Live hands-free demo
Although Snapchat shares the same feature, the plus point about shooting on spectacles is that you can shoot the video while working on anything. Whether it is unboxing a product or a demo of a product, use this device and give your fans a complete walkthrough of it. (literally).
Promote a show and take them behind the scenes
Esquire Network a TV network used spectacles to promote their show by shooting a 90-second video. Another great way to leverage this is by shooting behind the scenes videos, which can give your followers a feel of getting a unique or an exclusive pass to the event.
A perfect way to portray and promote any location
Spectacles can be used to promote any location or space. Feature a ride, coffee shop, your apartment, office space, etc. using this device and make your audience feel like they are a part of the scene. If you are planning to sell a property or an apartment, this is an innovative way to advertise. Your target audience can get a complete view of the property.
Get customers to give live feedback about your product
Now, you can ask your clients, to give a live feedback about your product or a service. You can also create a story on your Snapchat account and ask people to add their reviews on there. This can be an excellent way to promote your brand.
For a fashion brand to be successful, the people behind it must understand, they are not just selling a product, they are selling an entire lifestyle! This has become increasingly easier to convey to the customers, since social media made their entrance. The use of social media in the fashion retail industry is on the rise, because of visual channels like Instagram, Snapchat, Pinterest and YouTube, simply because image is what these brands are selling.
Creating a solid, quality social media following should be a big part of any brand's social media strategy and these channels are providing the perfect platforms for engaging with users, in order to raise brand awareness, drive website traffic and generate sales. With this in mind, we present seven ways to leverage social media for your fashion business.
Show the personality of your brand!
A platform like Instagram is perfect for a lot of things; including sharing 'behind the scenes' pictures for your brand, like major fashion house Chanel or Dolce & Gabbana does. This will make your followers identify with your brand on a more personal level, and that makes them more likely to choose your brand next time. It also portraits a certain lifestyle, to which the consumer wants to belong, and again is more likely to choose your product.
To know more about how to use Instagram for your business.
Use the content from your followers
When it comes to fashion on social media, one of the great things is that your followers will often create a lot of content for you, and it is right there for the taking! User-generated content works like word of mouth endorsement, with the users advertising your brand by sharing photos of themselves wearing your products. These posts, ofcourse reach the followers and provides free advertisement for your brand, but even more important, you can also share these pictures from your own platform, which not only makes the user feel valued, but further more provides any potential customer with an even more relatable post. Companies like Calvin Klein and Nike has some dedicated followers, who always posts their brand.
If you have yet to build up a strong group of followers, that automatically posts pictures of your products and tags you in it, you can consider running a campaign, that urges people to compete in posting their favorite outfit (including your brand, of course!), giving them a chance to win a price from you.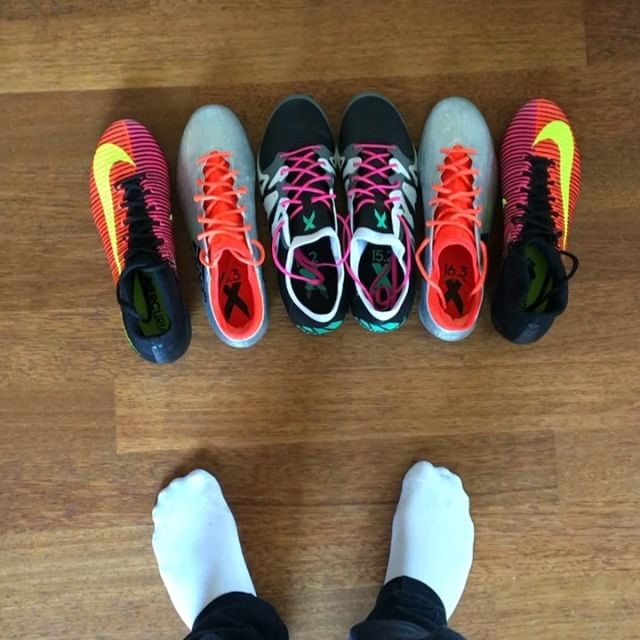 Influencer marketing
In today's world where people believe people more than brands, Influencer marketing has become the most effective way of advertising. Over the time, many brands from different sectors and industries have shifted their marketing strategy to influencer marketing. Tie-ups with popular influencers help brands reach the right target audience.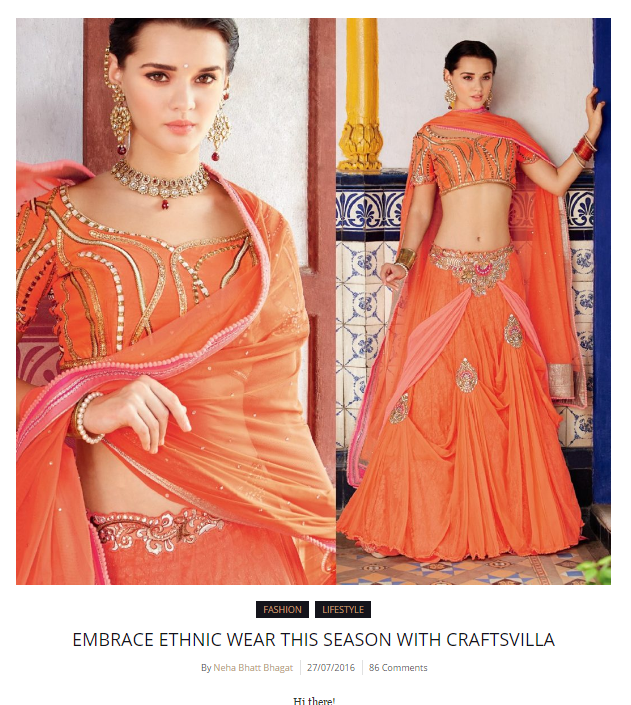 Craftsvilla a well- known e-commerce fashion brand achieved great results through influencer marketing. The brand did a campaign with famous fashion influencers across different social media platforms. Neha, one of the fashion influencers shared her experience with crafts villa on her blog and other platforms titled 'Embrace the ethnic wear this season with craftsvilla.' This post on Instagram received great amount of engagement from her followers.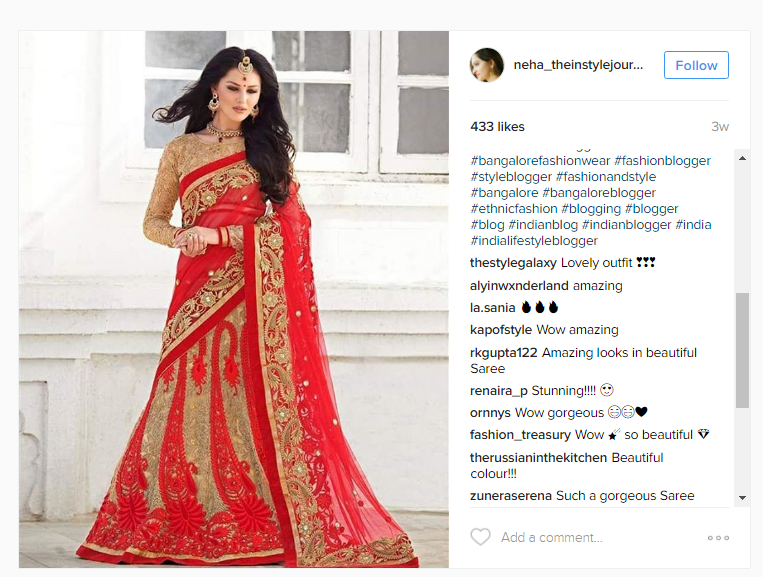 If you have not explored influencer marketing its time you leveraged this option. So, go ahead and try it out today!
Pin it
According to recent statistics, India has around 8.19 million Pinterest users. It is one of the fastest growing social platforms and allows users to save pins and create boards with anything from DIY projects to wedding ideas and fashion tips. Many fashion brands have used this platform successfully. It is a good idea for brands to explore Pinterest more.
Pinning just your products every time might make it monotonous for your users, hence, sharing some ideas or content related to the industry will be a great idea to increase engagement.
Gehna, one of India's leading jewelry brands has over 5,000 followers on Pinterest. The brand has created boards belonging to different categories based on occasions and festivals. This is an interesting way to showcase your products. It makes it easy for followers to pin jewelry that they like directly from the category they are looking for.

For more tips on how you can use Pinterest, find out here.
Videos
Videos are always more engaging than just images. Video options are available in every social media channel today, be it Facebook, Snapchat, Instagram, YouTube, etc. Top Fashion brands are using videos as a promotion tool. You can showcase your products, take your audience behind the scenes, live stream a fashion show, etc., which in turn will drive more engagement to your page.
Free people, a fashion brand from the US has leveraged the videos feature on snapchat to connect with their target audience. Since the brand caters to the current generation, they decided to reach them through a medium that is most used by them, which is Snapchat. The employees, take their fans behind the scenes by giving them tours of the showroom, models during photo shoots, etc. The brand also connected with their fans on a personal level through a campaign called "Question Wednesdays"where snappers can personally snap their questions to the brand's snapshot account. They even ask snappers personal and friendly questions. The overall involvement and engagement through Snapchat that Free People provides users ultimately creates a valued and elite relationship for the user.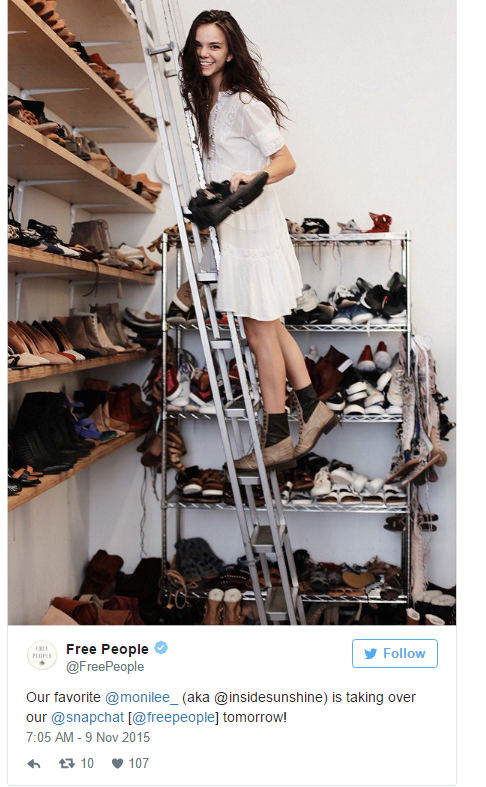 Snapchat is one platform that needs to be explored for your business. Check out how you can use snapchat for your business here.
Wider reach
Reach a wider set of audience by targeting the right audience through your Facebook or Instagram ads. Instagram has proven to be the most appropriate and a successful platform for any fashion brand to leverage. Create and place ads with visually appealing creatives on Instagram with a Shop now or Buy no call to action button.
Fossil, created a look by putting together products that would appeal to their target segment and at the same time communicate their brand's personality. They did this through an Instagram ad in which they used a very attractive image with a call to action button and also added a quirky caption.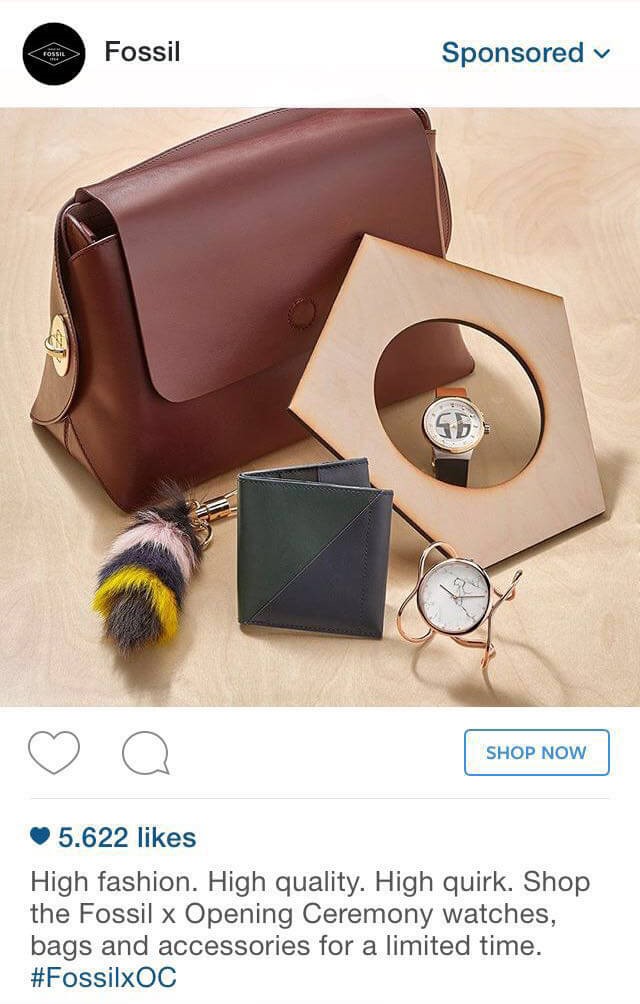 Enhance customer experience
Customer service is always key to any business. It is essential to make sure your customers are happy with your products and services. With social media you can do this by responding to their comments, queries, messages or tweets as quickly as possible. Also, ensure you come across as fun and exciting. People on social media do not want to interact with anything that is monotonous or dull.
Another way of making customer experience a delight would be by easing the process of shopping. With the introduction of social shopping, brands can use this feature to reduce the purchase process. Facebook shop is one of the best ways to do so. So, go ahead and leverage this feature for your brand today!
So, what are you waiting for? Go ahead and explore all these tips and tools today! Find the right one that will suit your business and make the best use of it.
– Other contributor to this blog is Stine
A picture speaks a thousand words, a phrase that we are all familiar with. Snapchat, a social media messaging app proves this phrase right.  Similar to Instagram, Snapchat allows users to share pictures and videos for a set amount of time with friends after which the picture self-destructs. It was launched by Evan Spiegal and Bobby Murphy in the year 2011. It is widely popular amongst the teens and young adults and this trend is starting to gain momentum amongst the other generations as well. At Social Media Week's around the world, Snapchat has become an increasingly discussed topic.
How to use it
Download the app
The Snapchat app is available on both google play and app store. Begin by downloading this app.
Source: Hubspot.com
Set it up
Once you have downloaded the next step is to sign up. Set up your account by entering your email, a username, and a password. However, it is advisable to choose a good username since Snapchat unlike other apps, does not allow you to change your user name once you set it.
Account settings: Adjust your privacy settings. To do this, click on the ghost icon above on the screen. This will lead you to the settings tab in which you can choose who can view your snaps and stories.
Profile picture: Snapchat lets you set an animated profile picture. Tap on the ghost icon on the top of your screen and click on your snapcode and then upload a picture of your brand.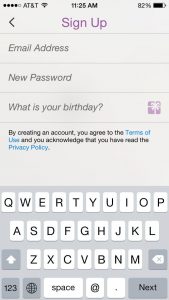 Look for friends & customers
Now that you are all set, it's time to connect with your friends. To add a new friend, click on the ghost icon and then say add friends, this lets you add customers or brand well-wishers either from your address book or by username or snapcode. You can also add fans by location.
Send snaps to your fans
To share a snap with your fans, open the camera and click on the circle button present on the screen below. You can also shoot a video for which you would have to press and hold the button a little longer.  You can also enhance the snap by adding filters, texts and images on it.
The latest Snapchat version offers you a variety of lenses that are fun to experiment with.  To use this, click and press on the screen, this would allow it to capture the shape of your face. Once this is done different lenses appear and you can choose and try different ones by scrolling left.
After you are done, you can send the snap by tapping the arrow in the bottom left side of the screen.
Share story
A snap story can be viewed by everyone on your friends/fans list. You can add multiple snaps and videos and this stays for twenty-four hours.
Follow the same steps as creating a snap, except instead of choosing few people to send it to, you need to choose 'my story' to post this.
Live chat
This feature on the app allows you to video chat with your fans. To start a video chat, click on the video button present below the chat tab. This can be an interesting way to showcase a new product launch or to talk about a new/interesting development with your brand.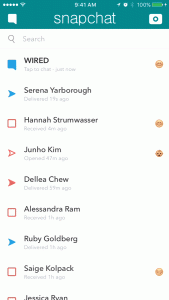 Source: www.wired.com
The emojis
Snapchat has different emojis next to your contacts to denote the different levels of friendships which is based on your snap chat activity. Be careful while using this for your brand as these emojis also need to represent the tone of not just your brand but the message being amplified.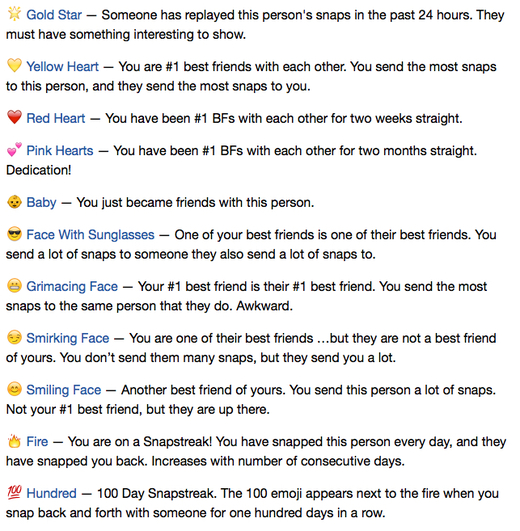 Source: askmen.com
How to use it for your business
Snapchat is one of the fastest-growing social networks. This medium helps you to come up with some fun, engaging and creative campaigns. The app's features like filters, geo-filters, adding text, emojis, etc adds the element of fun to snaps. Many brands have begun to use Snapchat as a part of their marketing strategy. Wondering how you can use Snapchat for your business? Here are few ways you can:
Live events
If your business is hosting or a part of an event, use this app to cover all the live happenings at the event. This way your audience members will be able to view your event live, no matter where they are.
MTV – Vmas Celebrity Story
Channel, MTV, created a live story during the VMAS, where they were updating snaps live from the event. They received around 12 million views on this platform. All the fans, no matter where they were, could view everything that happened at the award show. Watch this video here:
Behind the scenes
Take your fans behind the scenes. This is a great way to engage with your audience and get them excited. Capture some fun moments at work, like celebration or team lunch, etc. Experiment by using all the features of this app. This gives the users a different experience from what they would get from other social media platforms which in turn will make them want to engage with your brand on this platform.
Once the users get a glimpse of what is going on behind the scenes it will make them feel that they are a part of an overall process.
Contests & offers
Just like other social platforms like twitter and Facebook, you can host fun and exciting contests on Snapchat. You can use this medium to provide the promo code for a sale that is happening in your store or website. This is a part of the shopping trend and seemed to have worked well with a few of the brands.
Influencer campaign
In today's world, influencer marketing is one of the popular ways to reach a wide target audience. Tie up with influencers that have a high Snapchat score and a good number of followers on other social media platforms as well. Influencers who are avid Snapchat users will know ways to make the content even more interesting by using all the features of the app. Disney world  hired Mike Platco who's personal account gets close to 120,000 views per snap, as an influencer when they launched their Snapchat account.  Mike is a great story teller as well as an artist and he utilized these skills of his on his snaps around the theme park.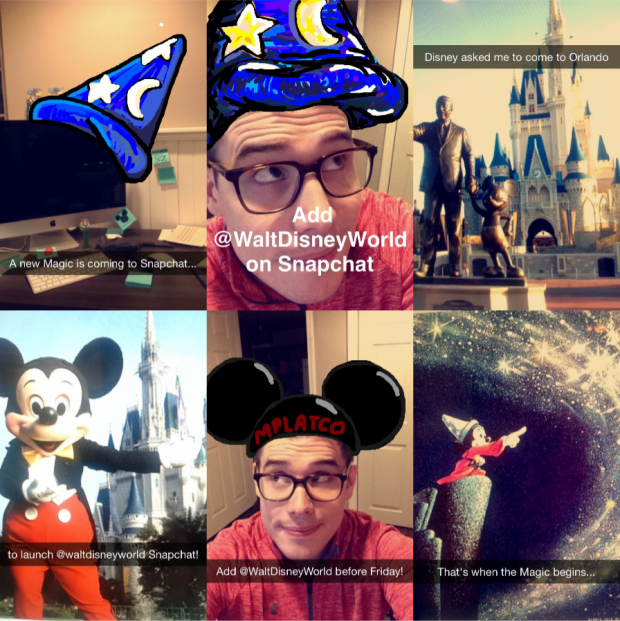 Source: http://www.socialmediatoday.com/
Demonstrate your products
Launching a new product? Create a buzz around it and get your fans excited and geared up for your product launch. Give them a sneak- peek or a preview of the new product.
Apart from product launch, many brands make use of this platform to give a demo of their products.
Burberry leveraged this medium to feature their new collection before the actual show early this year. This way the brand was able to increase the engagement with its fans by getting them geared up and excited for the actual show.
Source: www.postano.com
Geo filters & Sponsored lenses
Create and add Geo filters for your brand. Sponsored geo filters work well for many brands. Since this lets you add your logo or anything specific onto the filters. Sponsored lense is another interesting way to engage the audience. This helps in terms of branding as well.
Beats, the famous headphones company used the sponsored lense to promote their black Friday sale. Users were able to add the lense over their photo to create funny videos in which the user's eyes would get wide and their heads would move back and forth.
If you are not using Instagram or snapchat for your business, you are missing out on something! So go ahead and start exploring ways to leverage this platform.
[wpsp]