Being someone who was born and brought up in Chennai, I was excited to be able to spend 2 whole months in the city, doing something I'm passionate about in an agency that has an amazing vibe, culture and work ethic. Needless to say, a large part of me was very nervous and anxious on my first day at Social Beat. Setting that aside, I was also excited and curious to see what was in store for me. Currently pursuing an MBA in Communication Management from Symbiosis Institute of Media and Communication, Pune, I was looking forward to putting all the knowledge gained so far into play as much as learning new things from the organization.
The internship period began with a two-day induction process for all interns where we were given a brief understanding into the various departments at Social Beat and how they go about their work. This process was extremely useful as it was able to bring me on par with how things function here. To break the ice, we had a Pani Puri challenge at the end of the induction process which was a lot of fun even though I barely managed to eat 7!
I believe I got extremely lucky to have had the opportunity to work for a company that gives you the freedom to explore and expand your creativity, something not all interns are given the liberty to do so. The work culture and environment is extremely warm and comfortable and what is amazing is that everyone across teams is very approachable. Not one person hesitated to take few minutes out of their busy schedules to help me with a proposal I was working on or simply educate me on their expertise. A big shout out to Sundar, Bindhya and Pournima for this.
The internship was a great learning experience as I got to work on interesting clients such as Forum Fiza Mall, Aura Events, India Home Health Care, TVS Motor Company, Dr. Mohan's Diabetes etc. Being under the Social Media Marketing team, I got to develop campaign ideas and content posts for their social media pages. Aside from this, I had the chance to make pitch proposals for exciting brands such as Altis Properties, Feathers Hotel, Leela Palace – Goa, Choosemybicycle.com and much more. Life is all about getting out of your comfort zone, pushing yourself and expanding your boundaries and Social Beat enabled me to do just that. On that note, I'm not big on writing blogs but I managed to write one for the website and I consider that a big win.
Learning a textbook version of digital marketing does not have any effect unless it's put to work and practised. At Social Beat, I was able to dive deep into the field and understand how ads were made on Facebook and Google and the attention to detail that's given to content, targeting, scheduling and the budgeting as well. I learnt that there is so much that goes in the back end of Google Adwords, SEO, Content Marketing, Website design and Pitch Proposals than just what the book says.
The Monday review meetings, Friday Chit-Chat, help bring the team closer to each other and on the same level on each other's work. This blog would be incomplete if I didn't mention the birthday celebrations at Social Beat. Apart from the delicious cake (I've had enough for a lifetime in the 2 months I spent at Social Beat), the idea of having everyone around to celebrate your birthday with is quite a memory to hold on to.
Lastly, I would like to extend my gratitude to Vikas for giving me this opportunity and for the guidance and support especially when it came to proposal making. Krithika Ramani, for training and giving me the space to make mistakes (I don't think I'll ever go wrong with FB ad targeting again) and learn as well as pushing me to my maximum limit and finally for being my first and best mentor ever. I would also like to thank Lalitha, Sandhya, Allan, and Kanthi, for their valuable inputs and for so easily accepting me as one of their own.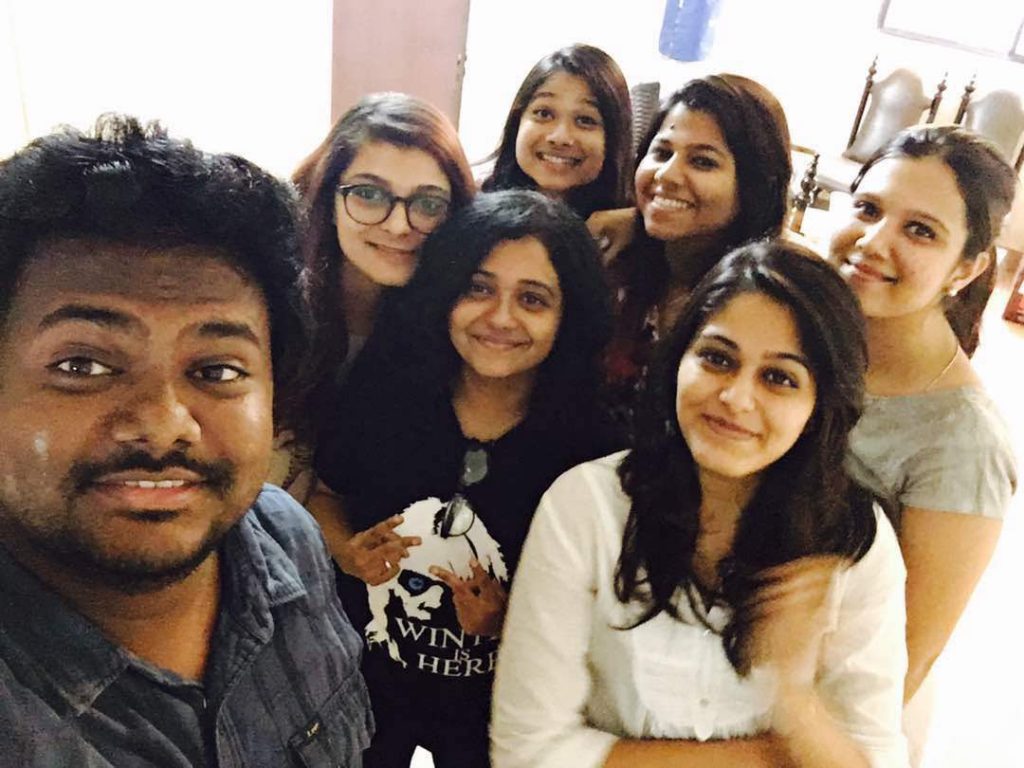 Social Beat is a good place to work and they are driven towards achieving their goals. The hustle is always on. I'm taking back so many valuable learnings in the field of digital marketing and amazing memories of client meetings, ideating, drafting proposals, review meetings, tea breaks, lunches at 291, birthday cakes and friends for a lifetime! Thank you, Social Beat.
Numbers always have a story to tell; they give the right push and guide the carefully designed and executed marketing strategies to greater success. Measuring the success of your social media marketing campaigns is the only way to know the effectiveness of the campaign. With more and more social media platforms mushrooming, it is essential to have a tool in place that will help you analyse the performance of your marketing strategy.
Here are some of the top tools for advanced social media analytics. Their tools are beneficial if you are looking to analyse your data across multiple social media platforms.
Amplifr is a one stop solution for all social media analytics, while also letting you schedule posts. Some of its exciting features include traffic and conversions analysis per post, Google Analytics integration and automatic UTM tagging. Amplifr also provides the analytics in real time. In addition to this, you can also keep track of what your competitor is doing. It is open to unlimited projects and unlimited users and allows retrospective analysis of the updates as well.
Price: $5 Per month per social media page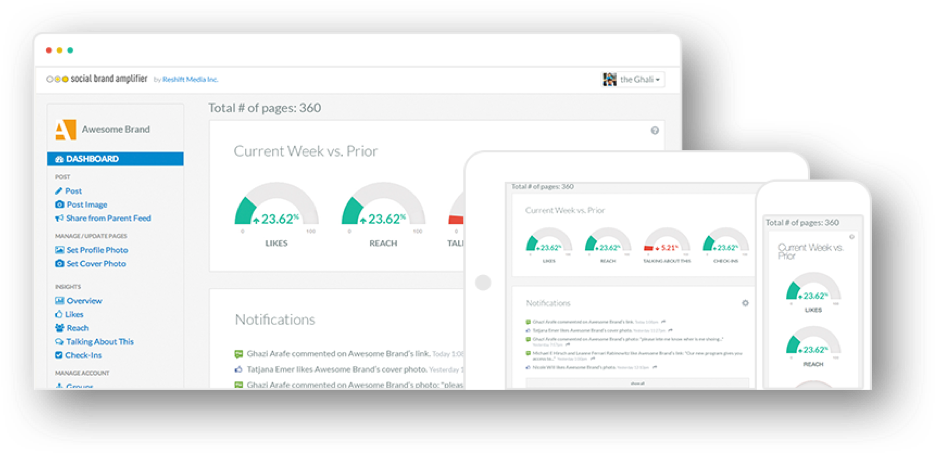 Keyhole provides an in-depth analysis of a brand's impact on Facebook, Twitter and Instagram. It tracks all the updates – hashtags, keywords and metrics in real time and calculates the reach, impression, high engagement period and the top shared posts. It also has an interesting feature called the influencer tab, which allows the use of the data to guide the influencer outreach.
Price: $89 – $3,000+ USD per month
Brandwatch offers a range of tools that work across multiple social media platforms. It is considered one of the best tools for tracking your social presence. Apart from tracking, Brandwatch also lets you track your brand's reputation in real time. Brandwatch also provides information on the internal and external environment within which, the business resides. From mining consumer insights to conducting market intelligence, Brandwatch provides the space and flexibility to make informed business decisions.
Price: Unique to each plan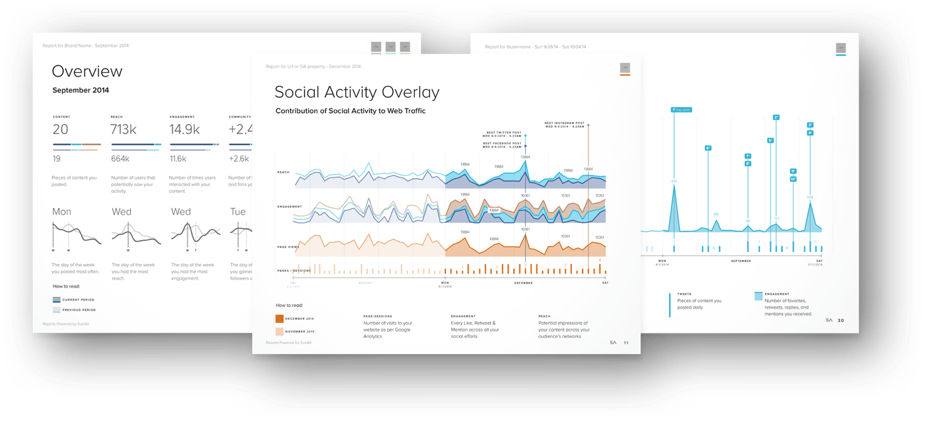 As the name suggests, with Sumall you can attach unlimited social media handles across different platforms. The features include goal tracking, performance graphs and insights based on comparisons of the previous period. Depending on the users' preference, SumAll sends out a weekly or monthly report containing a summary of all the information. This information is also saved on a single interactive web chart for easy viewing.
Price: 7-day free trial following which it's $99 per month.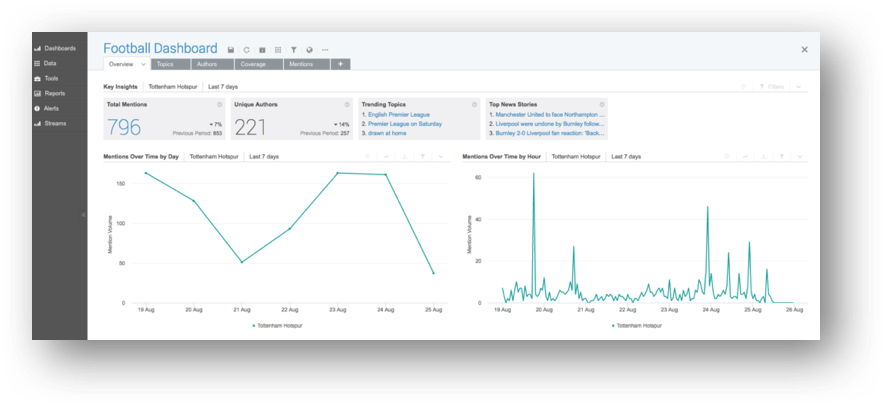 A unique feature that stands out with AgoraPulse is that it can be used across multiple languages. It lets you manage all social media messages in one place. It tracks engagement across various social media channels and provides information on the number of mentions and measures how frequently they share your brand's content. This helps in expanding the social reach and understanding the consumer's perspective of the brand. Best of all, AgoraPulse allows the user to export the data as a PowerPoint file that can be customised to suit the user's requirements.
Price: $29-$199 per month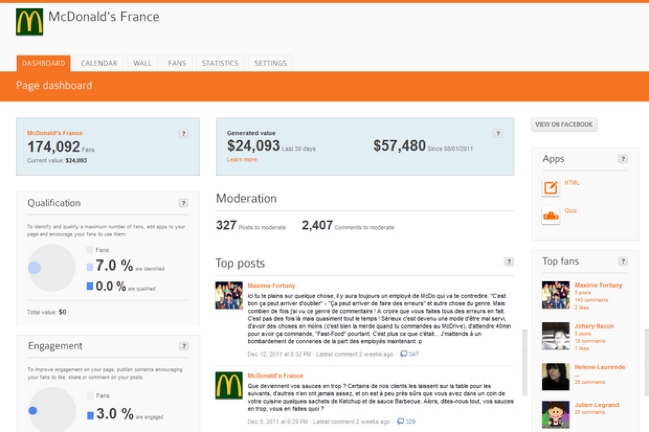 If you're looking to see how you are doing compared to others in your field, then Quintly is the right tool for you. It provides visually appealing stats on engagement such as likes, shares, comments, followers 'growth and they are depicted through graphs. These graphs provide information on the performance of your brand across various social media platforms. Quintly covers Facebook, LinkedIn, Instagram, Google+, Twitter and YouTube and it has a free tool for Facebook analytics, specifically. It works on a dashboard method, and the metrics can be customised to suit the user's requirements.
Price: $129+ per month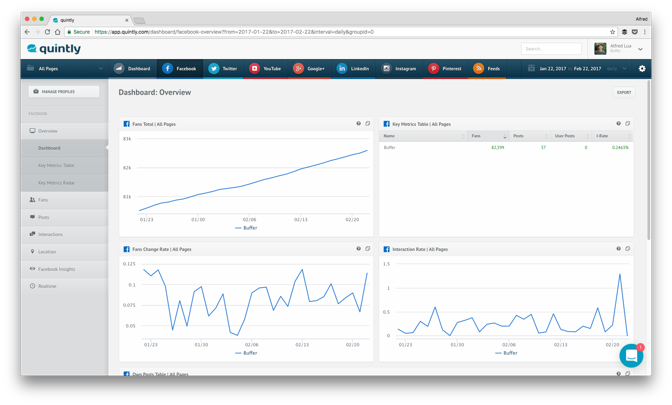 Unmetric not only helps you with accessing competitor's performance and strategy, but also helps you identify who is on the top in the industry. The tool also allows you to understand and study what posts have worked and what haven't. Additionally, it also gives social media benchmarking, content analysis, campaign analysis and social media data & analytics.
Price: $1,000/month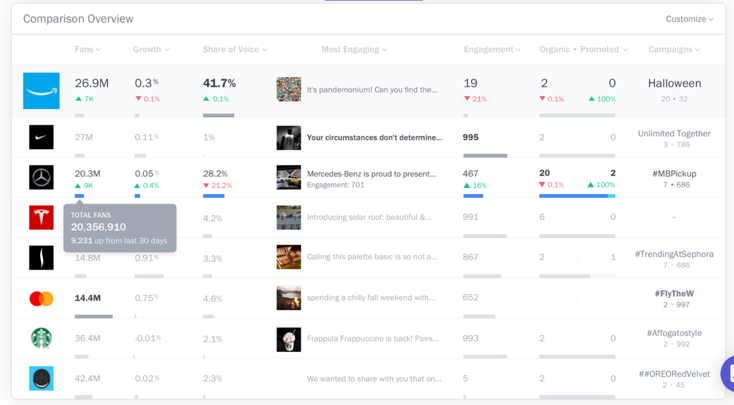 Simplify 360 has different products like social listening, reporting and engagement. The social listening tool gives you the latest updates on your competitors as well as your social pages. Social analytics helps with competitor benchmarking. With the help of a publishing console, you can handle and manage accounts better under a single platform. Another unique feature is the social CRM that will help you manage your reputation. This tool has number of other features such as easy data access, social customer service, contact management, easy integration, and profile comparison along with customer satisfaction.
Price: Custom pricing depending on the plan's & needs.
Sprout Social is an ideal tool to streamline and enhance conversations between the customer and business. Sprout Social has many handy features like Smart inbox, monitoring, social CRM, publishing, mobile, collaboration, analytics and account structure to make relationships and communication simple between businesses and customers. You can use this tool for all your social platforms such as Facebook, Instagram, Twitter, Google+ LinkedIn and much other.
Price: $99-$249/Month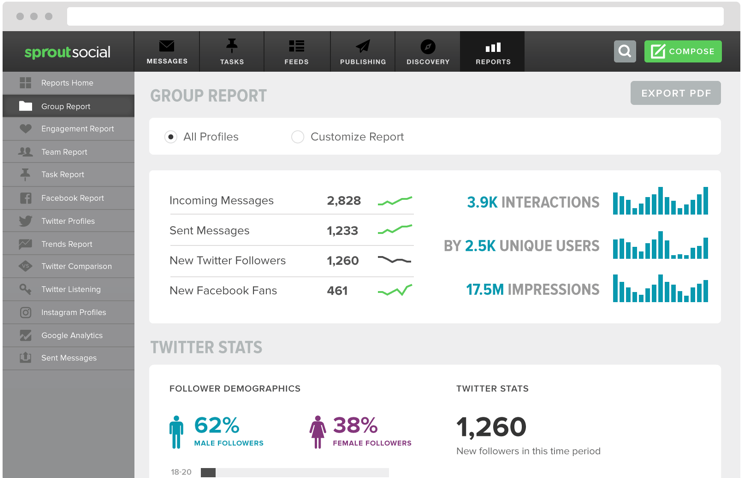 When it comes to analysing social media content of various competitors, there is no tool better than Buzzsumo. Additionally, it also helps in identifying key influencers and getting in touch with them. From brand monitoring to competitor research, content insights, and content research and discover, this tool covers all that you need for successful social media content strategy. Price: $79- $559/Month
With real-time analytics, Meltwater lets you, monitor, track and measure the success of the social media campaign. Meltwater gives you relevant data and insights that will help you understand your target audience better. It's a one stop shop for monitoring, analysing, engaging, discovering and also reviewing various case studies for your company and industry. Another significant feature is that you can also consolidate the entire social search under one roof and receive all the relevant news and data in real time.
Price: Custom pricing depending on the needs.
Buffer co-exists as scheduling and an analytical tool. What makes buffer a great tool is that it suggests the best times to publish your content suited to your target audience. Buffer has an interesting feature where it highlights the best performing post when a particular post exceeds average performance.  It also allows the user to track and analyse performance across Facebook, Twitter, Google+ and LinkedIn.
Price Range: Free – $2550 USD per year
Similar to buffer, Hootsuite is a user-friendly cross-platform used for both scheduling and analytics tool. Hootsuite's real-time analytics keeps you ahead of the game and lets you spot trends as soon they pop up. Additionally, it also allows you to measure your social media ROI and make smart data-driven business decisions with confidence.
Price Range:  30-day free trial – Individual plans to Organisational plans ranging from Rs.1260 to Rs.32000 per month.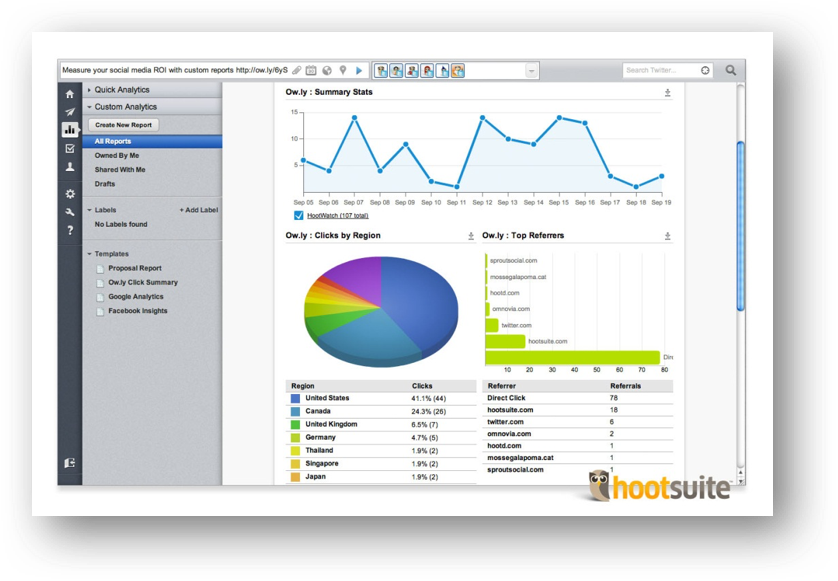 Which one of these tools would you use for your business? Let us know in the comment section below.
[wpsp]