With the advent of technology and social media, a consumer's journey to make a purchase has become very complex. Consumers can now easily discover new brands on various social media platforms and are researching multiple brands, choosing to compare the pricing/offers before making a final decision. This new consumer decision journey has given rise to a highly evolved and aware consumer. 
So, how can brands modify the marketing funnel to engage with this new digital-age consumer? The full-funnel approach is one of the most significant aspects of a marketing strategy as this helps brands convert the prospective audience into customers. This can be done on digital platforms by showcasing relevant messaging to the target audiences, moving them along the funnel from 'Awareness' to 'Consideration' and finally 'Conversion'. 
Most marketers, however, tend to focus on the bottom-of-the-funnel directly and optimise all digital campaigns to drive consumer action. However, this could lead to increased cost per acquisitions and lower conversion rates. While performance-based campaigns are key as these drive business results, it would not be an optimal strategy to focus on these alone as consumers need to be aware of the brand and build an affinity towards the same before making a purchase or enquiring.
With the shift from traditional to digital, it is also essential that a brand adapts their marketing funnel with a digital-first marketing strategy. This approach implies that it is essential for the brand to have a mobile-first approach for all digital assets in order to reach and engage with potential customers. Brands should leverage Accelerated Mobile Pages to improve the speed of landing pages and interactive ad formats to ensure the best experience for consumers. 
Create brand awareness by using video for top-of-the-funnel campaigns
In the first stage, the focus should be on creating awareness of the brand and its legacy. It is considered a good idea to leverage short videos in this stage to engage with potential buyers. Brands should also look at highlighting the benefits for the consumer by showcasing how the product or service can help them and resolve a pain point. 
The top-of-the-funnel should be looked at as a process of casting a wider net to reach potential consumers. The users at this stage might not be familiar with the brand and only be cold prospects. Using the full-funnel marketing strategy, brands could push consumers towards the next stage of the marketing funnel.
Brands could explore various options like masthead on YouTube or Reach & Frequency campaigns on Facebook/Instagram to drive the high-impact reach for the brand's top of the funnel strategy. One other interesting option could be to explore vernacular videos for brand awareness depending on the brand's target audience. With the launch of Jio, smartphones and data plans have become quite affordable, leading to increased consumption of vernacular content. In the current scenario, brands should look to adopt a multi-lingual marketing strategy to tap into the next billion users. 
Which Ad Inventory To Explore?
YouTube: Bumper Ad, Masthead, TrueView For Reach are the best ad inventories to explore using YouTube.
Facebook/Instagram: Reach & Frequency Campaigns and Brand-Awareness are instrumental in ad inventories to explore using Facebook/Instagram.
What metrics to track?
The metrics to track go as Cost Per Thousand Impressions and Cost Per Video View.
Keep In Mind: As brands, avoid using product-specific/sales material in this stage of the funnel. 
Prompt video viewers to consider the brand
Users who engage with the brand's top-of-the-funnel activity will have to familiarise themselves with the brand through more details about the product/service via relevant content. It is recommended to leverage the power of thumb-stopping content to re-engage with these users. Brands should share more context about the product/service so that consumers could consider engaging with them and finally making the purchase. The middle of the funnel should be looked at as a broad set of interested audiences who are not customers yet but are strongly considering the particular brand. 
At this stage, the key focus should be on showcasing educational content in order to build trust and consideration for the brand. Case studies, Blog posts, White Papers, Ebooks, etc. are simple yet very effective tools for the brand's middle of the funnel strategy. On Facebook, brands could explore Instant Experience ads which can help nurture intent and further drive engagement.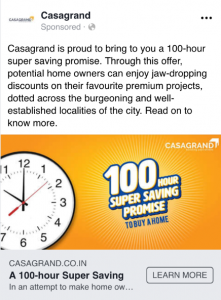 Which Ad Inventory To Explore?
YouTube: Bearing Ad Inventory in mind, Trueview In-Stream Ad is typically explored on YouTube.
Facebook: In terms of Ad Inventory for Facebook, the way to go is through Traffic, Engagement, and Video Views.
What metrics to track?
To track metrics, CPC, Ad Recall and Landing Page Views are taken into account.
Keep In Mind: Alongside sharing educational content, brands should start positioning their product/service at this stage. 
Drive the brand's most engaged audiences to convert
Once users are aware and have developed consideration for the brand, it is time to drive action with focused creatives and clear Call-To-Actions. At this stage, the consumer is already aware of the brand and is in a ready-to-buy frame of mind. With the right communication strategy, the users can easily convert into customers from a prospect lead. The focus here is to make the final pitch and keep it straight forward with the brand's product/service details and pricing. Some potential buyers might require the extra push in the form of a time-bound offers/discounted prices to make the final decision. In the last state of the funnel, brands should highlight why consumers should opt for their product/service instead of their competitor's as part of the content strategy.  It might also be interesting to segment different audience types based on demographics/behaviour and show customers highly personalised content in this stage to drive the conversion. 
By following a full-funnel, approach brands should be able to generate high-quality leads as the users have gone through the entire customer journey of awareness and consideration before purchasing or enquiring from the brand. This is especially important in industries such as Real Estate where the purchase cycle is relatively long, and consumers are continually researching options.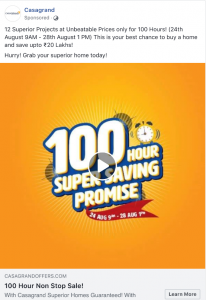 Which Ad Inventory To Explore?
YouTube: TrueView For Action is often explored bearing YouTube Ad Inventory in mind.
Facebook: The best Ad Inventory to explore using Facebook is Lead Gen/Website Conversion.
What metrics to track?
CPL is typically used to track metrics. 
Keep In Mind: Showcasing a time-bound offer in this stage can create an urgency and prompt consumers to take action. 
For a more in-depth explanation on full-funnel marketing, take a look at this video:
Analyse those leads, work on strategies that converts them to customers, and drive revenue to the business. At the end of the day, a full-funnel strategy involves a lot of work and time, but with an efficient marketing machine, the battle is half won. 
Facebook Marketing has become an integral part of any digital marketing strategy and it has revolutionized the way we look at the online marketing industry. Over the last 12 years, Facebook has seen a 360-degree shift, transforming from a simple social networking site to the face of a multi-billion dollar company allowing brands to find new customers, increase their sales, create brand awareness and much more. When we ran an industry survey amongst CMOs and Brand Heads across India we found that close to 90% Brands in India are already leveraging Facebook. Advertisers are spending more money than ever before on Facebook as it has emerged as one of the biggest platforms to engage with their target audience. Keeping this in mind, new features are being regularly added to Facebook and marketers have to constantly make alterations to their strategies to ensure their content is still reaching its target audience. Below are a few points that have been gathered keeping in mind the recent changes which may give us clues as to what 2017 will hold for both consumers and businesses. You may also find it interesting to read our book on Digital Marketing Insights for 2017, which can be purchased on Amazon.
Less Is More – Page Posts & Organic Reach
Following the decrease in the organic reach of Facebook page posts last year, Locowise conducted a small study to analyze how page posting frequency impacts reach, engagement and negative feedback.
The study reveals that pages that posted once a week or less on their official page reached an average of 15% of the audience who liked their page per post. Interestingly, pages that posted two to four times a week reached only 10% of the page audience and pages that posted once a day reached a lower average of 8.42% per post. This means that organic reach drops with an increase in the number of posts, and over posting content is a common mistake marketers tend to make on FB. This also means that the quality of content and FB posts needs to be extremely high and we are likely to see many brands evolving into fewer but highly engaging posts.
Another study by social@ogilvy reveals that for large pages with more than 5,00,000 Likes, the organic reach has seen a remarkable decline when compared to other smaller pages. It is believed that marketing managers can expect the organic reach to further approach zero in the future. The detailed analysis and data interpretations along with the recommendations are available to read here in the full white paper.
The number of users on Facebook has doubled from 845 million to 1654 million over the last five years. There are more brands than ever who are joining the bandwagon of Facebook marketing and these brands are posting multiple posts every day. All of this creates more noise and unimaginable amounts of content that will simply be filtered out and never reach the news feed of a specific user. With so much information to be filtered, Facebook uses complex algorithms to pick and show content to users they are most relevant to them and those that they are most likely to engage with.So it can be assumed that increased brand post frequency is aiding in the drop of organic reach.
However, the only exception to this organic reach debate was seen in the news & media industry.  The organic reach of news publishers seems to remain steady, even with a higher posting frequency. Here's the result of analysis of 3,318 profiles, by Sotrender.
Videos – Future of Marketing For Brands
Videos are the next step in the social media evolution and will most likely dominate the online advertising and marketing industry. As per the stats by Facebook, users watch an average of 100 million hours of video every day and most of these are on their mobile devices. Daily views have increased from 1 billion to 8 billion in the last one year. These stats are proof that users have started consuming more of video content and it is essential that brands leverage this in their favor to engage with the potential customers. Video content is the best medium for storytelling and is a great opportunity for brands to connect with their audience.
Live videos were one of the major updates announced earlier this year by Facebook. This gave live videos prime placement in the Facebook app and also adds new ways to find, create, share, and react to them. This move efficiently makes live videos one of the central features of Facebook. Live videos offer a new way to interact on a platform that can feel so familiar that it risks feeling stale. Broadcasting live to your social circle gives you a certain thrill or even just watching a friend's live broadcast, can bring in a fresh feeling of excitement and make you want to interact on the same old platform in a new way. On an average, Facebook says people are commenting 10 times more on live videos than they do on regular videos. This clearly means that brands must explore Live videos over recorded videos as this would help drive higher engagement levels with the audience. Facebook also rolled out an update where advertisers could add a video element for FB Carousel Ads.  The shift towards video as a tool for marketing is evident and is definitely here to stay.
We also have an interesting blog on how to create low cost videos to tell your brand story – in case you are creating videos for the first time.
Mobile Is King
The fact that a business needs to have a mobile-friendly website is much talked about and is not a new concept. Last year, Google announced that, for the first time mobile searches surpassed desktop searches.  This eventually led to a new situation where Google's algorithm started to penalize sites that were not optimized for mobile devices.  For the last few years, marketing experts have been stressing on the fact that there is an obvious need for businesses to optimize the sites for the ever-increasing number of mobile users. Facebook Inc announced that it has over 142 million users in India, of which about 133 million access the social network via their mobile devices. This means that a staggering 90% of users are using facebook on their phones in India. It is essential that marketers who are trying to engage with and attract potential customers in order to redirect them to their website, ensure that their website is mobile optimized and are able to leverage every micro moment of Indian consumers.  In today's Smartphone era, mobile-optimization is the norm and an essential item that can no longer be placed on the back burner to address later.
Ads are Inevitable
A few years ago, advertising on social media platforms was a very niche concept with not too many players in the market. In this new age of online marketing, many brands have become aware of the importance of ads across various social media channels, especially Facebook.  Today, with the various targeting and advertising options on Facebook, we can reach out to millions of potential customers in any part of the world. Facebook advertising is a strong tool that can be used by brands to meet their marketing objectives.
Facebook ads allow you to choose from a wide range of possible adverts including but not restricted to Page Post Engagement, Clicks to a website, Conversions on Website, App Installs, Video Views, Lead Ads etc. Over the last few years, Facebook has evolved into a paid marketing platform more than an organic one so it is essential for marketers to leverage the power of the various adverts available. You can read our detailed guide on measuring ROI from social media.
Shop On Facebook
In an attempt to make it easier for brands to reach out to potential customers and drive sales on mobile devices Facebook has started rolling out the Shop section in phases. This section allows a brand to list out their products and let consumers browse through the catalog and purchase products that they like from within Facebook. The social network does not charge you to add a shop section to your Page nor does it take any percentage of the money you make through it. In the upcoming year, more businesses will start selling stuff directly from Facebook as this new section is set to change the way we look at e-commerce and social selling. Ofcourse it also has had Product Ads for E-commerce companies for a long time now – these can be also be leveraged parallely.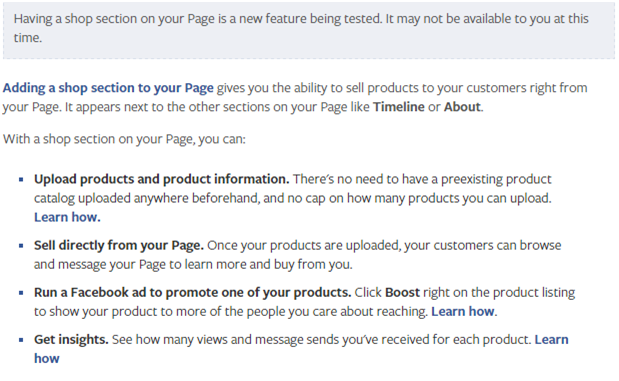 We have left out Instagram Marketing from this conversation, as it warrants its own blog. We are also seeing some interesting developments around Instagram analytics and Instagram targeting going forward.
Do let us know what other features you expect FB to evolve in the coming months.
Social recruiting is one of the latest recruitment methods in the industry. Recruitment has seen a 360-degree shift in the way how employers connect with potential candidates. Professional recruiters and employers have moved away from traditional methods like newspaper ads to newer techniques and are using social media channels for talent acquisition.  Social recruiting is the latest trend where recruiters use social media channels to source and recruit candidates instead of direct sourcing or job boards. Today social recruiting is not just a novelty, it's a must have for any successful recruitment strategy. Below are 9 essential tips to keep in mind for your social recruiting strategy.
1.    Content is king
The importance of content marketing has grown significantly over the last few years. Content marketers are constantly focusing on creating content that would be suitable for prospective clients/customers. However, one target segment that most marketers tend to overlook is prospective employees. Various content marketing techniques can be used to attract and engage with potential employees. Even if the company is not hiring at the moment, it is considered ideal to create content that would appeal to prospective employees. So, in the future when you need to hire someone, you are already on your prospective employees' radar.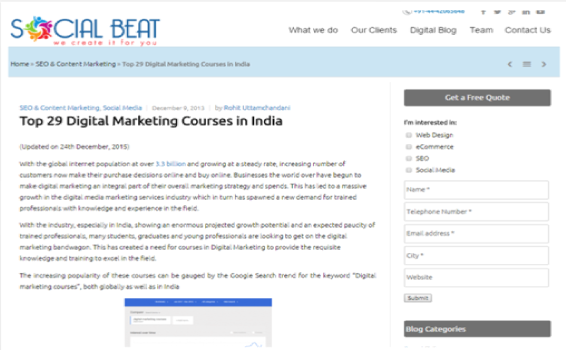 Below are a few other ways in which you can leverage the power of content marketing as a part of your social recruiting strategy.
Showcase employee experiences/testimonials
Create content around the work culture of the organization.
Showcase the fun team activities/outings
Leverage current employee's expertise to create content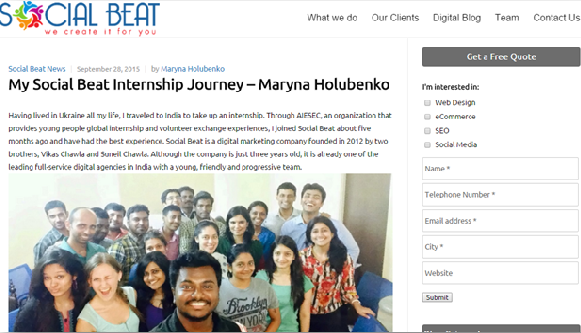 2. Rise of Facebook recruitment
Facebook's substantial talent pool along with its numerous ad types and thousands of possible ad targeting parameters, make it the perfect platform for companies to find and engage with potential employees.
An easy way to do this would be to create a job advertisement for the open position and target the relevant audience segment in order to reach qualified candidates. Facebook allows you to target people based on multiple criteria's so you can filter and reach only those who are the right fit. To begin with, the simplest way is to target people based on their age, gender, and location.  For more advanced options, you can decide to show your ad only to people of a certain education level, field of study and colleges that they have graduated from. For an example if you are looking to hire an MBA from a premium B-school for a managerial role then you can choose to deliver your ad only to those who would be the right match.
3. Twitter – A recruiter's secret weapon
When it comes to talent acquisition it helps to be where all the people are and there are over 23 million registered Twitter accounts in India. Twitter is considered an open social network, and it is very easy to use Twitter to connect and build relationships with relevant active users.
Build your twitter following
It is essential to ensure that you engage with the people from your target talent pool and that they follow you on Twitter. If you don't have these relevant followers and you tweet about a job opportunity then it is highly unlikely that you will see any good results out of this activity. An effective way to do this is to search for these people and follow them. So, how do we search and find people on twitter?
A useful but rarely used feature of twitter is the advanced search. It is the simplest way to look for people by keywords or cities they live in.
Search for relevant hashtags and see who are the people using it or alternatively you could pick a trending topic that is relevant to your industry to see who is talking about it and follow them.
Once you find a few appropriate people you can see if they are part of any lists and then you can find other people on that list who are likely to have similar interests.
Third Party Tools such as followerwonk, a Moz app helps you search twitter bios. This could be an ideal way to search for potential candidates as most people would have their industry/designation details along with other interests or passions mentioned in the bio.
Another interesting and simple way is to use search engines like Google/Bing to literally X-Ray twitter for the information you need. For example, if you are looking to connect with SQL Developers you can go to Google and type site:twitter.com chennai sql~develop –jobs and you will find relevant accounts on twitter with those keywords in the city specified by you.
Listen & engage
You can use Twitter Advanced Search to listen in on relevant conversations and engage with the right audience. You can also save the searches in order to be able to continuously monitor the specific keywords. Tools like Hootsuite are very useful to listen and monitor any conversations that you feel are relevant to your business. This can help you curate content you are interested in, find people, discover content and much more. Also, you can use tools like IFTTT, which can help automate the monitoring and listening process.
Twitter Ads
Twitter ads can be intimidating for those of you who are trying it for the first time. Read our Complete Guide to Twitter Ads and see how your brand can leverage twitter ads, in order to help your social recruiting strategy.  Interaction on Twitter is by and large seen as less intrusive, when compared to other forms of traditional communication (emails, phone, text) as well as other social networks. This means that recruiters can not only reach out to, but can also easily be very social with potential employees before the formal hiring process begins.
4. Find the perfect hire on LinkedIn
The recruiting process is constantly evolving and it is essential to stay ahead of the game. However, LinkedIn still remains the top social recruiting tool. With the changing face of the recruitment industry, LinkedIn is a must-have for every recruitment team.  LinkedIn groups and sponsored job postings are the most common and effective ways of attracting the right talent. There are other paid LinkedIn options, which include plans specifically designed keeping in mind, the needs of a recruiter. For an example, Talent Finder lets you access every single profile be it 2nd degree or 3rd degree connections. You have access to premium search filters with the focus on industry, company, years of experience etc.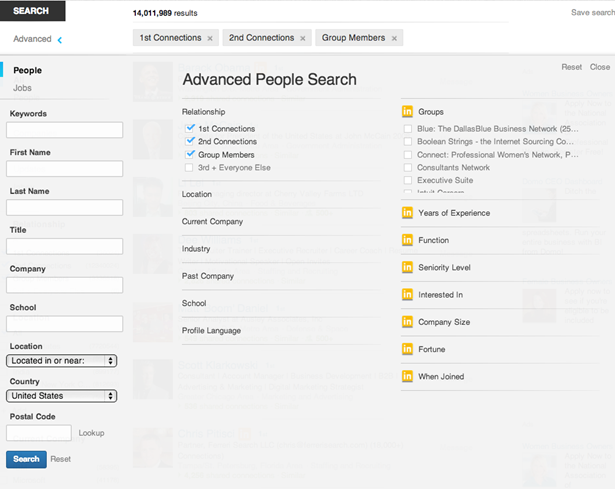 5. The good old e-mailer
Some candidates with a certain technical skill set may not be very active on social media and hence it becomes difficult for recruiters to reach out to these candidates. In such a case, it is advisable to send E-mailers for specific job openings to a relevant database, which can help garner an excellent response.  It is essential to ensure that you have a remarkable subject line that can cut through the clutter and entice a candidate into reading more. It is okay to experiment a bit until you find the tone and style that is best suited for your brand. It is recommended to constantly A/B test to optimize, and measure key metrics like open rate, click through rate etc. Mention all essential details about the position and clearly specify what action the candidate needs to take if he or she would be interested to apply for the position. We could redirect the users to our social media channels or LinkedIn job posting from the e-mailer in order to take the next step in the hiring process.

6. Career Page is a recruiter's best friend
In order to have a successful new-age recruiting strategy, a well built and descriptive career page is absolutely necessary. A career page does not have to be necessarily fancy but it must highlight the value proposition.  The page should explain the key benefits of working with your company and why candidates must choose you over any other company. An essential thing, over and above all of these is to ensure your careers page is mobile optimized and the process of applying to an open position is as easy and short as possible.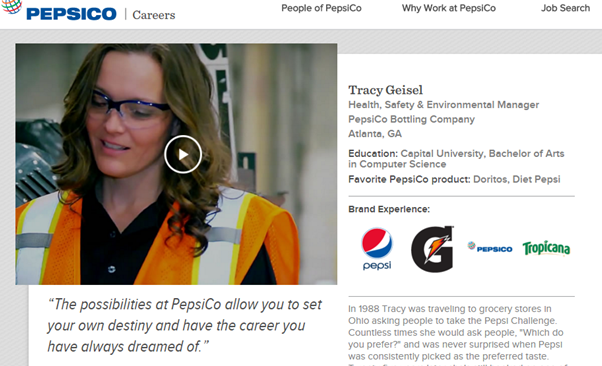 7. Building a social talent brand
A company's talent brand is nothing but how their vision and corporate culture are perceived on various social media platforms. This plays an important and immense role in not just reducing the cost of hiring for a company but also its ability to attract top quality candidates. Google, for an example, does a great job when it comes to talent branding. They look like the best place to work and that has become one of their biggest assets in their hiring process. Keep in mind, that it is essential that your company's image, in words, photos, and videos, is consistent across Twitter, Facebook, Instagram, Pinterest and all other social media platforms.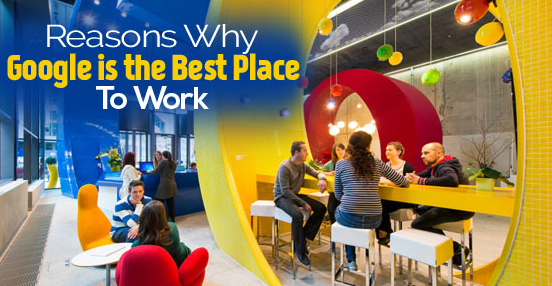 8.  Turn employees into brand ambassadors
There is nothing more powerful than your own employees speaking about the company and its work culture when it comes to attracting and hiring the best talent.  Creating content that goes viral is a difficult task and it is essential to learn how you can multiply your reach. For example, if you have 1000 employees and say 60% of them share your social media content with their followers and each of them has an average of 400 followers then you have just reached 240,000 more people. Yes, there might be common connections but even if you have reached two-thirds of this number then it is a notable reach. Encouraging employees to follow and share your content on social media is an essential step and you can definitely see positive results out of this simple activity and increase your social media reach significantly. Read more on 100X social media reach by turning your employees into brand ambassadors.  According to a survey by Monster, more than 65% of candidates tend to consider an opportunity for a new job role if they happened to come across such information from existing employees on social media channels. So this is a complete win-win situation and has a positive impact on your social recruiting process.


9. Showcase the fun on Instagram
Instagram is the secret to catching the attention of passive candidates by telling them a great visual story about your brand and also showcase what it is like to work with you. The stories could focus on things that potential candidates would desire in their prospective employer. On Instagram, the trick is to give users a glimpse into a space that they would otherwise have no access to. In this way, brand awareness is created and an employer can reach out to both current job seekers as well as passive candidates.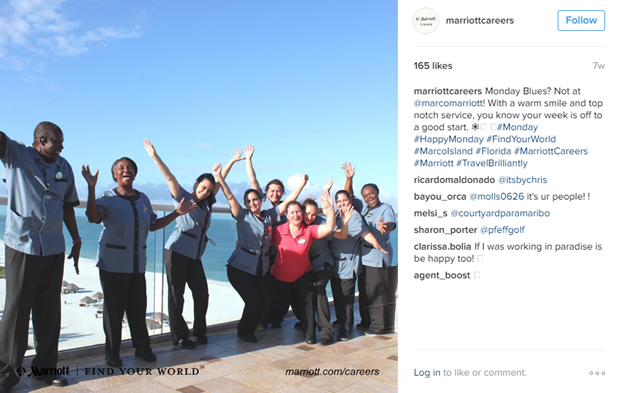 [wpsp]