Since becoming a Google Premier Partner a year ago, we have constantly pushed the bar up to leverage Google AdWords and other advertising channels to deliver the best ROI. We are happy to announce that Social Beat is the only agency in India that is shortlisted for the Google Premier Partner awards for both Search Innovation & Display Innovation category. Below are two case studies showcasing some of the work we have done.
Success in Search Innovation for India's leading self-publishing company
We work with Notionpress, India's leading self-publishing company and our goal was to increase the number of leads by reaching out to potential and budding authors. The publishing space is an extremely competitive space, we used Google Search campaigns a key channel to achieve this goal. Right from creating a structured AdWords campaign to daily optimisation of the campaigns, we experimented with every feature that Google offers such as
RLSA & IF function
Understanding that the people who already know us and have interacted with us through the website have the highest potential to convert as a lead, we used the RSLA feature to do just that. This feature helped us target the website visitors to convert them into potential leads. This audience, however, was from different categories and their search queries were different and we couldn't show them the same ad.  The messaging needed to change and utilising the "IF Function", we were able to dynamically change ad copies to RLSA audiences where we created a sense of urgency, which helped in increasing the conversion numbers.
Keywords of different match types to expand the audience
The self-publishing industry in India is not only a competitive one but also a fairly new industry. In order to understand the market and deliver the best results, we had to constantly think of something new and experiment with different strategies. As part of this strategy, we used keywords of different match types to engage with our target audiences to the maximum extent. This process gave us a broad list of keywords to target and understand what exactly people are searching for and gave us a 3X increase in lead flow.
Managing negative keywords
When we tried out keywords of different match types, not only did we identify many more keywords to target but also found certain irrelevant ones. These keywords were not ideal for our client so we constantly managed and added them to the negative keywords list so that it does not affect the quality of our leads. Over 6000 such words were identified and managed and this list continues to grow every day.
Use of dynamic keyword insertion to show relevant ads to the target audience
Targeting a wide variety of keywords from different categories meant that the ad copies cannot be constant. It needed change depending on what people are searching for. Using the dynamic keywords insertion, we were able to dynamically change the ad copies based on the search query and connect with our target audiences very well, thus contributing to increase in conversions.
Leveraging CPA bidding option
We explored the CPA bidding mode to optimise the bids automatically and moved most of the campaigns to this. We started focussing on other aspects such as changing the bids based on devices, hour, time and day of the week and so on.
Leveraging Dynamic Search Ads
We used Dynamic Search Ads, which is normally used for e-commerce business as DSA provides additional text on the headlines which is not possible through the expanded text ads. This unique method helped us expand our keyword base, thereby helping us get more conversions.
We also worked on creative writing and focused on engaging ad copies in increasing the number of leads.
Results
With the help of search campaigns, we were able to achieve a whopping 561% increase in the number of conversions, and 154% increase in CTR with optimal CPA. We also had a weekly check in with the client on the quality of leads. With this effort, we were able to reduce the % of qualified leads and improved the final conversion of leads to sales.
Success in Display Innovation for South India's leading real estate company
Casa Grande, a leader in the real estate space in South India, came to us with the objective of driving sales to their properties through Google Display advertising. With the help of every functionality that Google offers, such as responsive ads, similar audiences and smart display ads, we were able to drastically increase the number of site visits and conversions for the brand.
Tapping vernacular content
In India, vernacular content via digital has been growing at a fast pace in India. Of the literate 74%, only 10% read English while the rest consume content in the vernacular medium. In fact, according to statistics, Hindi Internet users (at 201 million) are said to outnumber those accessing the web in English at 199 million by 2021. Keeping this in mind, we used vernacular language as part of our advertising strategy as well as a part of our overall digital media strategy. For a real estate company such as Casa Grande, the audience is spread across Tier I, II and III cities and are not just restricted to the metro cities. It is also true that some of the metro city audiences are more comfortable with the regional language.
Purchasing a property not only involves a lot of money but is also an emotional decision so it is highly essential to talk to them in a language they are comfortable in. We tried out display ads in Tamil, which not only helped us reach a varied set of target audience but also played a substantial role in generating high-quality leads.
Doubleclick Bid manager
When Google Adwords stopped language targeting in Tamil, we quickly turned to Doubleclick and got a license to use the platform. With the help of Doubleclick Bid Manager, we were able to explore placements outside of Hindi language, which helped us achieve great success for Casa Grande, whose target audience is predominantly non-Hindi speakers.
Smart Display Campaigns
In order to always keep a track of the latest trends in advertising, we contacted our Google support team to get us whitelisted and try out new features in the beta stage itself. Our client was delighted with the huge jump in ROI generated with a visible increase in conversions.
Similar Audiences
When the concept of similar audiences was introduced, we immediately tried it out for some of our clients and realised the huge potential it has. We've also executed new features such as similar audiences to generate sales and help our clients broaden their reach.
Common Strategies used for both Search & Display
Proprietary CRM for better attribution
Knowing the source of the leads generated from various platforms is highly essential. This helps us to identify which campaigns, placements, topics, and audiences are driving qualified leads in order to improve our quality and quantity of leads. Using this, we are able to understand which platform and source are working better, thereby knowing exactly where to put our money to achieve better results.
A/B Testing to understand consumer behaviour
 No advertising works well without knowing what the target audience exactly wants. Keeping this in mind, we constantly test and refine our landing pages in order to improve the % and quality of conversions that we get. We use Crazy Egg, Zarget and Optimizely for the same. From the designs to the call to action, our team proactively uses heat maps and test various permutations and combinations to understand the consumer better and give them exactly what they want. For example, we did this exercise for our Casa Grande and understood that most of the target audience is looking for floor plans and brochures when they click on the ad. So, the landing pages were optimised to give them just that. This increased our lead flow massively.
Competitor Tracking
The publishing industry being a highly competitive one with reputed and well-established players such as Amazon, we not only need to keep trying something new but also keep a track on the competitors. We use SEMRush and Ahrefs to explore the activities of our competitors to stay ahead of them in our campaigns. We also get new Campaign/Ad Group/Keyword ideas by analysing the competition.
Scripts and Third Party tool to automate smaller tasks
As a team, we are constantly on the lookout to do more in less time and deliver big for our clients. In order to automate the day to day tasks, we use scripts and third party tools, to expand and optimise the campaigns. This process saves us a lot of time and cuts down monitoring simple monotonous processes, which in turn helps us focus on other aspects of optimizing the ad campaigns. It also helps in keeping a close track of the Google Adwords Account Health Score to optimise the campaigns.
Effectively leveraging Google Analytics and Audience Insights
We use advanced audience insights to understand our customer and target them. It also helps us with creating smart remarketing lists and use it for RLSA to get better conversions and results out of our advertising efforts.
One of the key reasons that we were able to produce such results is due to our ROI driven focus. To ensure that we push our boundaries and achieve the set targets for our clients, our team relies heavily on knowledge sharing and staying up to date on the new trends. We look forward to continuing pushing boundaries for our clients.
By now many of you would have come across the latest feature released by Google Adwords called "Account Health Score for Search". It can be found in the opportunities tab of the AdWords interface, where it displays a certain score along with a list of suggestions to improve your account health across various parameters, as shown in the image below.
So What's this "Account Health Score for Search" all about?
This is a beta tool introduced by Google that analyses the AdWords account and grades it based on how well the Search Network campaigns are configured. It comes with a set of recommendations that when implemented, will help in improving the score and performance of your search campaigns. The score is between 0% and 100%. The better your campaigns are configured, the better it performs in terms of conversions and cost per conversion (lead or online sale). While starting a new ppc campaign or optimising an adwords campaign can be quite tedious, this tools gives you a ready checklist.
How to check the score and get started?
When you click on the get started button, you'll be taken to the page where all the live search campaigns currently running in your account will be listed along with its health. Additionally, it also gives you a set of recommendations to improve the score for every campaign as shown in the image below: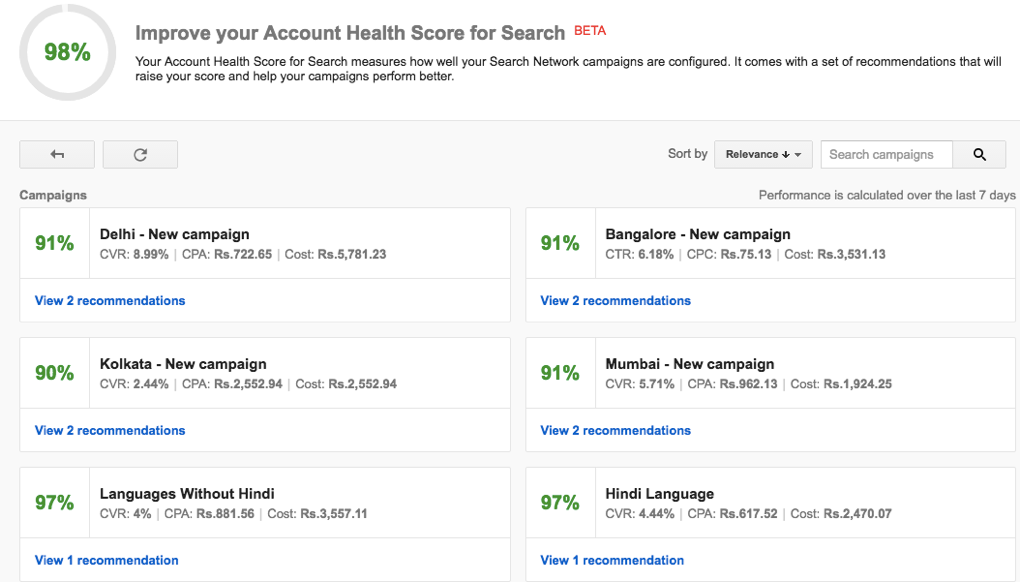 Does the account health score matter to you?
For all businesses, there are a certain set of goals that needs to be achieved to succeed and ward off the competition. Some of the most important goals of businesses are as follows:
Increasing Website Traffic
Increasing CTR
Increasing CVR
Increasing ROI
Reducing Waste Spends
Increasing Traffic to Your Website:
If you don't get any traffic to your website or the landing page, it will be similar to living in a ghost town with no people. Nobody wants that and paid traffic is one of the quickest ways to acquire your customers. While running search ads, Google recommends a certain set of suggestions which helps you in increasing the traffic to your website. They're as follows:
Adding call extensions – The utilisation of call extensions will help in increasing the traffic to the website by driving calls to your business.
Ad groups with keywords – An ad group without keyword is like an aeroplane without fuel. To enable your ad groups to run, add at least one keyword to each ad group.
Ad groups should have enough keywords – Adding additional, relevant keywords can help you reach potential customers who aren't seeing your ads. Hence you should have enough keywords to have higher traffic to your website.
Ad groups with active ads – Your ad groups won't be active until at least one of the ad copy is live. Hence, if you want your ad groups to run, then create at least one ad in your empty ad groups.
Showing ads on Google search partners – Even though Google has a vast inventory and reach in the world, targeting Google search partners will increase the number of people who can see your ads, thereby helping you in obtaining additional traffic to your website.
Using a recommended daily budget – When your budget gets limited, it will impact your ad delivery which in turn will result in losing out on reaching out to your potential audience. Hence using a recommended daily budget will help in gaining additional traffic to your website.
Increasing Click Through Rate (CTR):
Click Through Rate (commonly referred to as "CTR") is a commonly used metric by digital advertisers to measure the success of an online advertising campaign. The higher the CTR, the more effective the marketing campaign will be in bringing traffic to a website. Google has listed out some set of recommendations for achieving higher CTR. They're as follows:
Adding Callout extensions – The purpose of adding Callout extensions is to improve the CTR. It gives more information about your business in addition to the message conveyed in the ad.
Ad groups should have multiple ad variations – It's a well-known fact that every individual has different preferences and likes. Hence, having multiple ad variations would help in connecting with your target audience well, thereby increasing your CTR.
Adding Sitelink extensions – Sitelink extensions are individual sections of the website through which you could direct your potential customers so that they can quickly find what they're looking for.
Using first page bids for high-quality Keywords – There's a saying that we can bury the dead body on the second page of Google's search results. If you want to get quality traffic and high CTR, then you should use first page bids for at least high-quality and valuable keywords.
Increasing Conversion Rate (CVR):
Every digital marketer in the world can acknowledge that conversions are the lifeblood of any online marketing campaigns. The main goal of running a lead generation digital marketing campaign is to acquire customers for your business. Measuring the conversion rate is a crucial metric for all digital businesses. For increasing the average conversion rates, Google suggests to implement a particular set of recommendations which are as follows:
Using conversion tracking – Using the conversion tracking will aid you in keeping track of which clicks are turning into customers or leads thereby allowing you to optimise your account to target the best clicks.
Using an optimised ad rotation setting – Based on your goals, you should use appropriate settings for ad rotation. If you want to increase the number of conversions, then "Optimise for conversions" option to get the maximum out of it.
Using Enhanced CPC – Enabling Enhanced CPC raises your bid for clicks that are more likely to lead to a sale or conversion and lowers your bid for clicks that are less likely to lead to a sale or conversion.
Increasing Return on Investment (ROI):
ROI is typically the most important measurement for advertisers because it shows the real effect that AdWords has on your business. While it's helpful to know the number of clicks and impressions you get, it's even better to know how your ads are contributing to the success of your business. Hence, Google has set of recommendations to implement for getting better results. They're as follows:
Using a mobile-friendly site – With mobile usage rising at an exponential rate, having a mobile friendly site would help your customers to have a better experience on the device they use the most.
Using standard (optimised) delivery – Using optimized delivery of ads will help the advertisers in spending the budget optimally by showing the ads on the most relevant searches throughout the day. This helps in improving the ROI as your ads will always be shown to your intended target audiences whenever they are searching for your products and services.
By implementing these suggestions, it can definitely help in improving your ROI to some extent. To know more about ROI, check out – Measuring ROI of Digital Marketing.
Reducing Waste Spends:
No in the world can create a perfect campaign in one go and forget about it all together. Every advertising campaigns need to be fine tuned and optimised on a continuous basis. One of the important ways to improvise effectiveness of the campaigns is to reduce the waste spends. For this Google recommends you to do the following:
Adding negative keywords – Having a proper negative keyword management system would help you in reducing the wastage of spends and thereby helping you to ensure that your ads only appear on relevant searches.
Conclusion:
Our recommendation is to make use of this tool and implement all the suggestions provided by Google. It helps you to take advantage of many features that Google has to offer you and get the best out of your advertising efforts.
[wpsp]