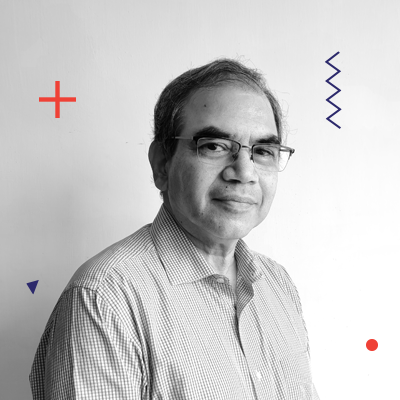 DAVID APPASAMY
Head - Brand and Strategy
David Appasamy comes with an experience of over 35 years in companies like ITC Ltd, Mudra DDB and Sify. Technologies covering Business Strategy, Brand & Marketing Management, Digital Marketing, and Audience Engagement. Served on the Multi-stakeholder Advisory Group (MAG) advising the UN Secretary-General on Internet Governance in 2010 and 2011. Co-Chair, International Chamber of Commerce's Task Force on Internet & Telecoms Infrastructure & Services from 2006 to 2011.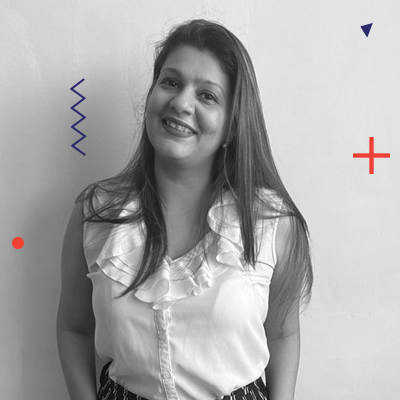 RACHNA GANATRA
Head – Business Development & Strategy
Rachna is a Business Development & Strategy Consultant. Her work experience of over a decade encompasses Marketing Analytics and Business Development in multiple verticals, i.e. Technology, Healthcare, FMCG and E-commerce. Her ultimate mantra in life, she says quoting Marianne Williamson, "Atonement means putting love first.. in business as well as everything else". An avid movie and theatre buff, she is also very social. If you suddenly realise the office has become noisy, you know who the culprit is.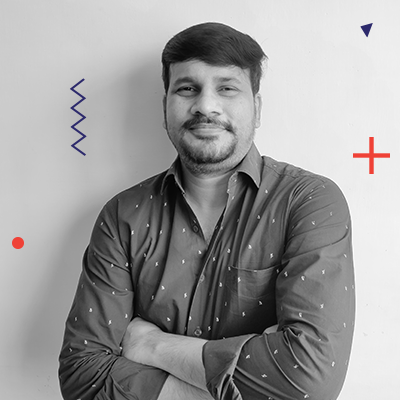 PURUSHOTHAMAN K
Head - Design
Purushothaman has a decade of experience in web and graphic design, he has honed his graphic design skills to produce the wow effect with ease. With quick turnarounds and plenty of work, Purushothaman manages to still live with his mantra "Live and make others happy". During the weekends, he enjoys playing cricket, watching movies and driving like the Fast & Furious cast!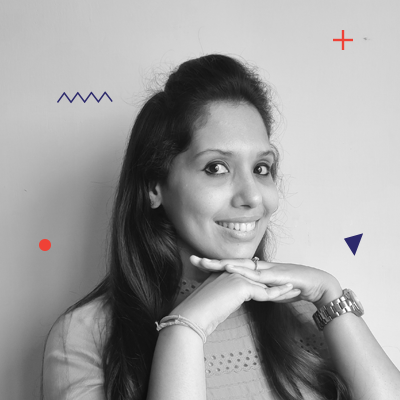 PANISA SHAH
Head – Creative
Panisa is a graduate with honors in Electronic Media and has completed a diploma in marketing management. Art has been a part of Panisa's life since her childhood and she loves to use bold colors and abstracts. Living by the mantra "Passion drives perfection", she aims to be recognized amongst the top creative designers in the world. In her free time, she is an artist, a shopaholic, and a cook.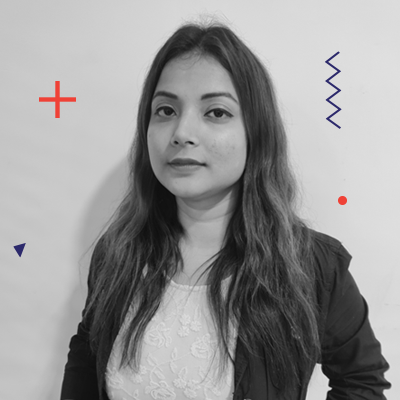 TUHINA BAPULI
Executive Vice President
Tuhina has over 10 years of core marketing experience across brand awareness, consumer marketing, brand building, MICE, trade meets, dealer engagements with CHA, IT, FMCG, Apparel, BFSI, and Automotive brands. Brought up in Delhi, she is enjoying her current location – Bangalore. She is a voracious reader, loves dogs and has a Labrador. She enjoys one on one conversations on just about anything and likes to cook and host friends. The quote by Roy T. Bennett "It's only after you've stepped outside your comfort zone that you begin to change, grow, and transform" sums up her attitude towards growth and transformation.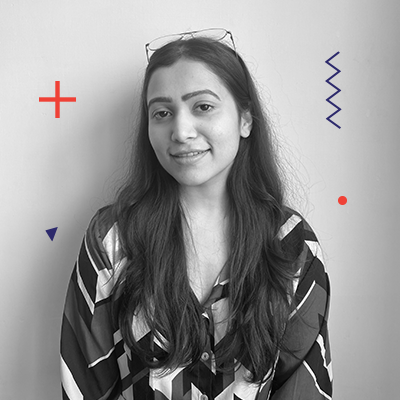 PRATIKSHA SINHA
Executive Vice President
Pratiksha's forte has always been performance marketing. In the past 6 years, she has built her expertise in creating and executing a GTM strategy for some big brands like Piramal Realty, TATA Housing, Mahindra, Shapoorji, Viacom, SBI Life, Swiggy, AJIO, and eBay to name a few. She is highly data-driven and has strategised branding and performance campaigns across Google, Social and other mediums for clients from Real Estate, Ecomm, BFSI, FMCG, Entertainment and Gaming vertical. When not working, she likes to spend her time working out, reading and on Netflix. She is a huge fan of dogs and loves to spend most of her free time on weekends in pet cafes.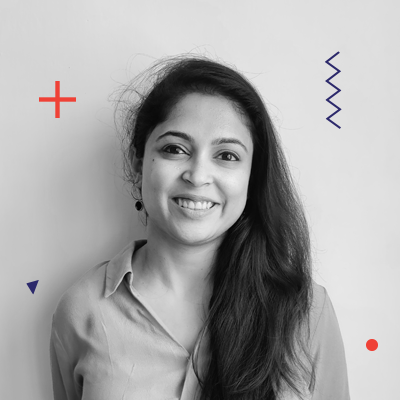 ARUSHI GUPTA
Business Head - Influencer.in
Arushi has over 7 years of experience ranging from project management, marketing, and sales and has formerly worked at the British Council and Cambridge English Language Assessment. She enjoys identifying a problem, conceptualizing a solution to execute it. She is a management graduate from the London School of Economics (LSE) and a graduate from Lady Shri Ram College, Delhi (LSR). In her free time, she likes reading, traveling, exploring new restaurants and binge-watching Netflix.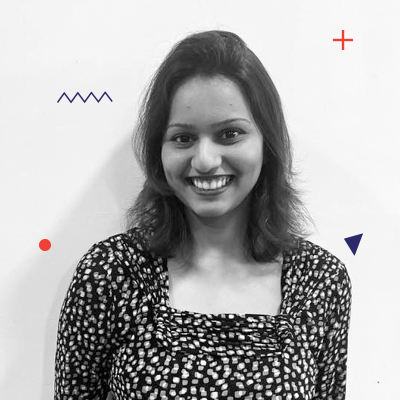 NANDITA RAMAN
Associate Vice President - Content & SEO
With over 8 years of experience in Content Marketing, Nandita has worked with brands across sectors including B2B and B2C to improve their discoverability online and increasing their organic traffic and organic leads. She also works with brands across India to craft their multilingual marketing plan. In her free time, she loves reading, taking long drives and finding eco-friendly ways to live!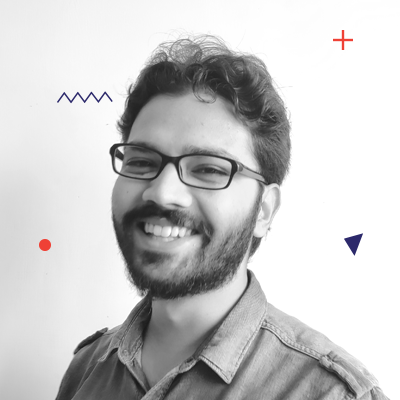 VIMAL MICHAEL
Associate Vice President - Technology
Vimal has completed his Masters in Computer Application from Marian College, Kerala and was previously, a Tech Superstar for an eCommerce company. He loves the finer things in life and enjoys meaningful conversations on various topics. He's fun and exuberant. Expect him to catch you off-guard with his quick wit. He's a convergent thinker, and you can bank on him to solve any problem.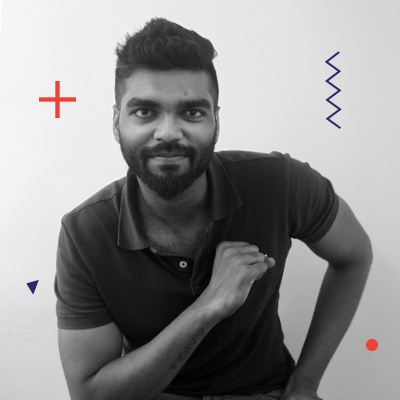 JAYANTH JONATHAN
Senior Manager - Video & Creative Strategy
Jayanth is a Computer Science Engineering graduate from Loyola-ICAM College of Engineering. Anything that requires quirky creativity gets him ticking. He loves everything associated with music, photography, film & writing and is a guitarist/singer & photographer/blogger himself. He has now found solace in Social Beat for his creativity and his love for communication, to go hand in hand. He aspires to create innovative digital solutions with his little twist.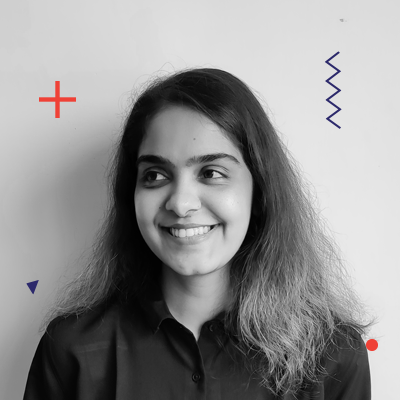 DIVYA RAM
Senior Manager - Video & Creative Strategy
Divya has a Masters in Media, culture and communication from New York University. Before taking on her current role as Video Project Specialist, she worked as a Production lead at a full-service ad agency in New York for little over 3 years before moving back to Chennai, her hometown. She loves learning about people, cultures, places and understanding different perspectives which contributes to her penchant for video storytelling. Divya is a trained Bharathanyam dancer, enjoys reading, theatre (Broadway being top on the list of things she will miss about living in New York City) and traveling – discovering new places and their history.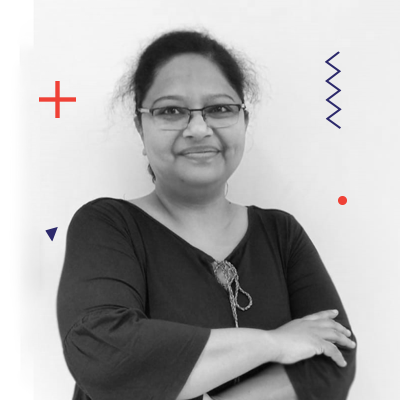 Moumita Samanta
Senior Manager - Creative Copy
Moumita is an ever-curious content creator and a passionate writer with intense interest to draw inspiration from daily mundane and people of all kinds that she interacts with on a daily basis. An avid reader, she loves to study ancient philosophies like Stoicism, Taoism and likes. She is also interested in medical thrillers, travel stories and international cuisine. She loves to cook for her loved ones and also to experiment with different types of cuisine, her favourite being the Bengali cuisine. Born and brought up in Kolkata, Moumita loves her art and music and being a Physics major, she sees magic in technology. It gives her immense pleasure when she notices humility around and she makes sure that she remains courteous and humble as she goes about her life.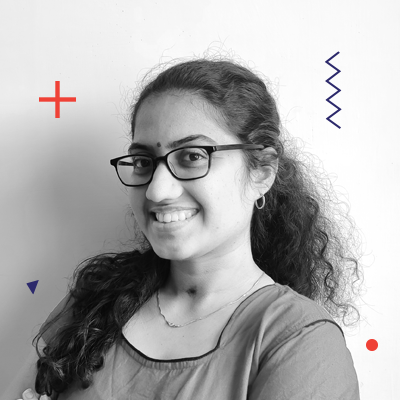 KANTHI SRIPATHY
Senior Manager - Creative
Kanthi has completed her undergraduate degree in information technology. Given her passion for design, she has recently embarked on a career in design at Social Beat. Her interests included travel and reading. She believes that The world is a book and those who do not travel only see a page and aims to travel the world.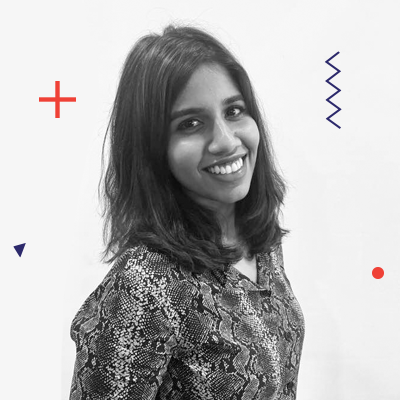 AYESHA RAFEEQ
Senior Manager - Content Marketing
Ayesha truly believes that content is at the core of every business. She loves the challenge of marking the grey zone between what readers like to consume and what brands want to portray. With over 5 years of experience as a content marketer, she specializes in innovative content strategies that are optimized to track well with leading search engines like Google and YouTube. She has contributed to the organic growth of top brands, especially in the sector of healthcare and finance. In her free time, she loves traveling, catching up with friends, bingeing on Netflix, and keeping up with celebs on social media.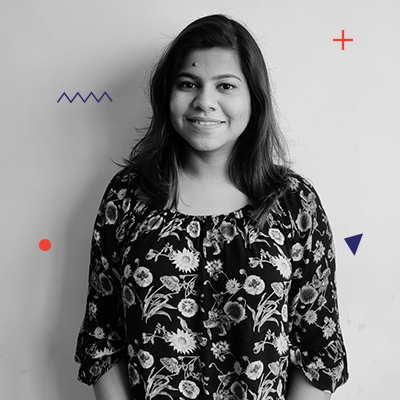 LAVANYA U
Senior Manager -DigiGrad
An ambivert, Lavanya completed her PGDM in Marketing from Loyola Institute of Business Administration after a BCom in Marketing Management from MOP Vaishnav College. An unbiased foodie, her love for food is also extended to all forms of social media. A ticket to any place new and an animal of any kind are all that it takes to make her day, she calls herself a wanderer at mind and a survivor at heart!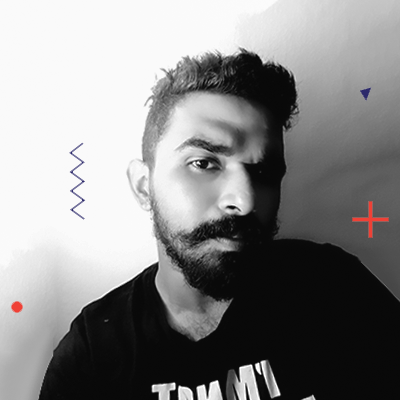 NITHIN KUMAR
Manager - Creative Design
Nithin Kumar is a pixel-perfect Graphic Designer who takes great pride in creating visually stunning designs. With an MA communication degree from Madras Christian College, Chennai, and 3 years of experience in graphic designing he has developed creativity, originality, and strong visual sense. During his free time he would either hit the road on long tour or be in search of new food to munch on.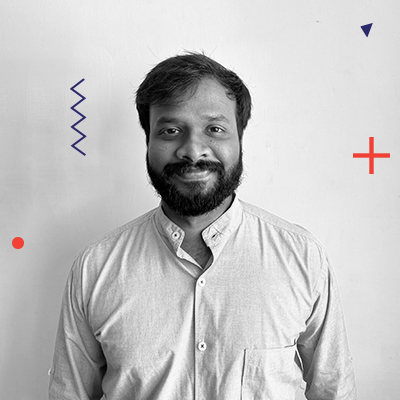 Mukhesh R
Manager - Creative Design
Mukesh is a Visual Communication graduate from D.G.Vaishnav College Chennai, has an experience of over 7 years in design and advertising. He believes that cinema as an art form has helped him in painting a picture of how to make sense of the real world and has helped him with his work. Consuming art in the visual form takes up a large chunk of his life. He makes it a point to go to the international film festival that happens in Goa every year. Apart from spending most of his time in front of a screen.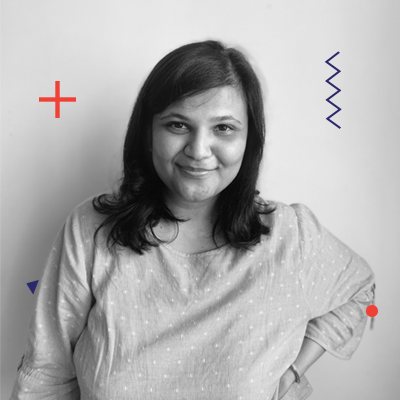 KASHMIRA PATTNI
Manager - Creative Copy
Kashmira is a postgraduate in Journalism and Communication and was a Music Journalist with a leading Media House in Mumbai. For the love of words and puns, she stirred things up and switched from the field to the desk. Usually found daydreaming of fancy places or busy binging on Netflix and dog videos.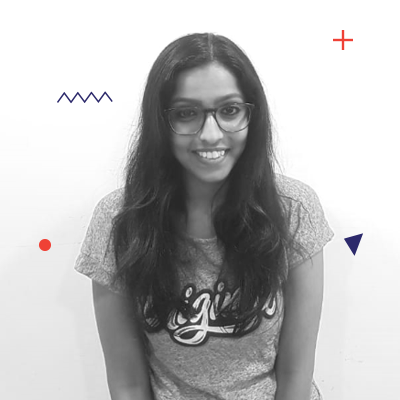 NIRUPAMA V
Manager - Creative Copy
A writer that's been at it for as long as she can remember. If you see her in the pantry pouring herself a 7th cup of coffee, know that it's because she is powered by caffeine. Talk books, Rajinikanth, neurology, volunteer work or cute 'animals' and you'll have her hooked! For now, she's a copywriter chasing a pappy pipe dream!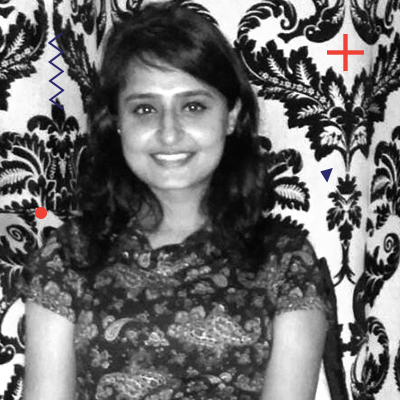 Nupur Narindra
Manager - Human Resources
A B.Tech graduate in Information Technology and Post Graduate in Human Resources Management from NMIMS, Nupur is a Delhite settled in Bengaluru. Punjabi by nature and food habits, of course, she absolutely loves talking to people! Her interests led her to the HR field where she gained years of expertise in Talent Management, Client Management, Talent Advising, and Recruitment. She is extremely process-oriented, data-driven, organized, and goal-driven with strong work ethics! When not at her work desk, she loves to photograph, read, travel, or simply go for a drive and explore new places. Her simple life mantra is to 'stay ethical no matter what and karma shall follow'!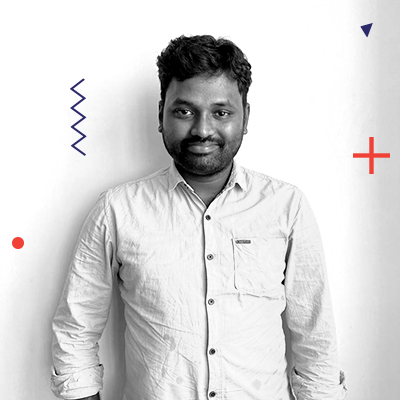 VEL MURUGAN
Lead - Web Developer
Velmurugan is a developer and is passionate about creating dynamic and responsive websites, customizing modules and setting up scalable servers. He enjoys tweaking the user interface to generate more leads or transactions for the clients. His mantra in life is "No Pain, No Gain". He enjoys watching movies and dining with his friends.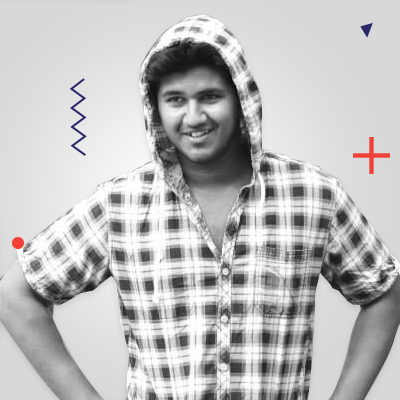 MOHAMED RIZWAN
Lead - Video and Motion Graphics Editor
Mohamed Rizwan has completed his graduation in visual communication and MA from Madras Christian College. His dad helped him realize his potential in terms of creativity when he got to see him working on PowerPoint and MS paint and that is where his journey began in the design field. His disliking for Mathematics and his passion for designing pushed him towards VISCOM. He stepped into individual film making with the help of DSLR and YouTube and figured out the video editor in himself. With 6 years of experience in video making, he has had the opportunity to handle versatile projects. He is better at holding a joystick than holding a mouse since he has a big addiction to video games.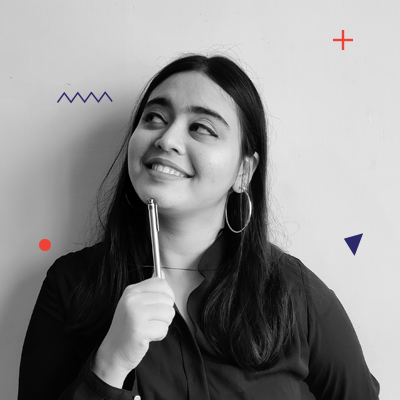 ANANYAA DESIKAN
Lead - Video Scriptwriter
Ananyaa formerly worked with CNN-News18 in Noida for 11 months. She holds a post-graduate diploma in Journalism from ACJ and a bachelor's degree in Journalism from M.O.P Vaishnav. Occasionally, she moonlights as a comic artist and loves to make newsy comics. Her love for all things new inspires her to learn and experiment. This proud Chennaite aspires to eat in every new restaurant or cafe that pops up in the city.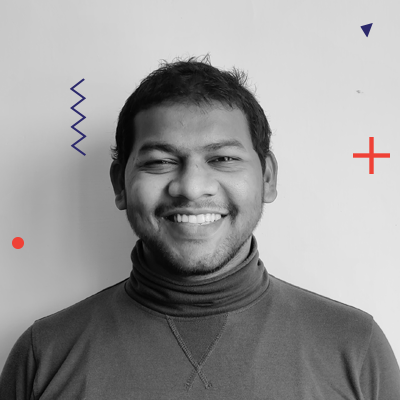 Senthamil Selvam
Lead - Accountant
A graduate in Computer Application, Thamil is really passionate about financial accounts, computerised environment, and statutory compliances. Having undergone three years of training in an auditing firm, he has handled various statutory problems. He was also a TDS Rectification Analyst at UCO Bank for 2 years. Besides all of this, he loves chess, DIY crafts and learning foreign languages such as Korean, Russian and Georgian. His mantra in life being, "Learn as much as you can, Forget as much you learn".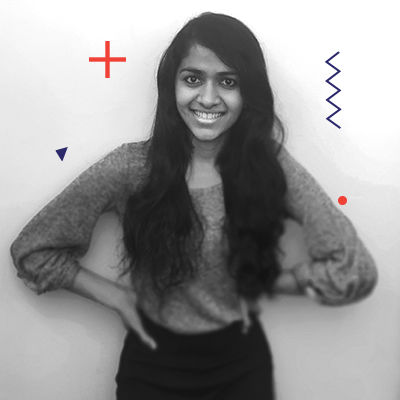 Shana Paulose
Lead - Design
Shana Anna Paulose has a degree in visual communication and a post-graduate diploma in graphic design. With five years of experience in the advertising field, she loves analysing and solving design problems. Ever since she learnt how to hold a pencil, art has been a part of her life and she enjoys experimenting with colours and forms. She loves food, sport, sleep and travelling.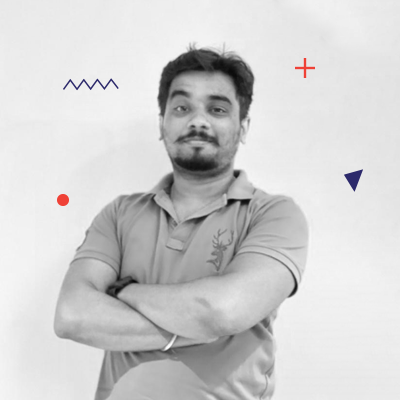 Nikhil Prabhavalkar
Lead - Creative Designer
Nikhil Prabhavalkar has done his graduation in Commercial Arts and has a career experience of over 6 years in this field. He is hardworking and honest with his work and principles. He is a very passionate person with an interactive nature and an innovative way to tackle all the new challenges thrown at him. He loves to try new cuisines, draw, play cricket, travel and immensely in love with playing dhol in his leisure time.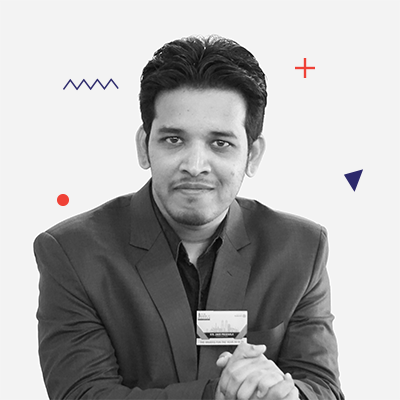 Zakir Presswala
Lead - Creative Designer
Zakir is a Commerce graduate and has been a part of Students Council, NSS and Joint Secretary for Commerce Association in his college years. He is a creative, artistic and ambitious designer who loves getting his hands dirty in design. An introvert with a talent for thinking outside the box and coming up with innovative ideas and designs, he has over 10 years of experience specialising in digital design and multimedia marketing with a strong track record of creating impact visual communications that build brand identity and engage customers. In free time, you will find him writing poems and thoughts in his diary which he rarely puts up on his social media. He is an adrenaline junkie who's crazy for adventure sports. His motto in life and work is, "Power comes in response to a need, not a desire. You have to create that need."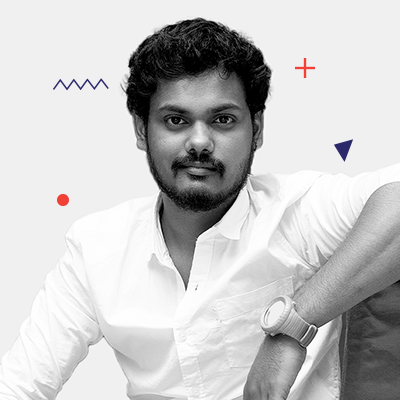 Ruthra Moorthy
Senior - Creative Designer
Ruthramoorthy.M is from Chennai and is a graduate of SRM Arts and Science College in E-Media. With over 5+ years of experience in creative design, he has worked in companies like SHAREit, RR Donnelly and with a news channel. He has a lot of interest in social media advertising. He spends his leisure time watching movies and playing videogames. He also is into photography. He believes in continuous learning.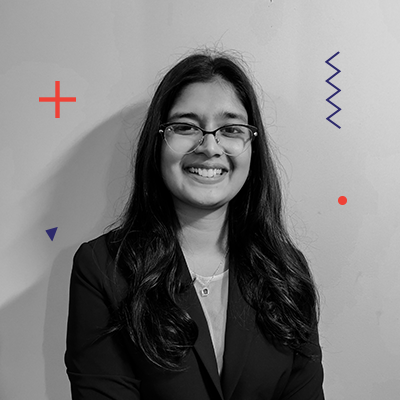 Srishti Agrawal
Senior - Creative Designer
Srishti is a graduate from NIFT and with over 3+ years of experience in the design industry. She always looks forward to taking challenges and exploring new fields. During her free time, she has several things to keep herself busy, such as sketching, dancing, cooking, listening to music. She also loves to travel and believes in "An ocean breeze puts a mind at ease".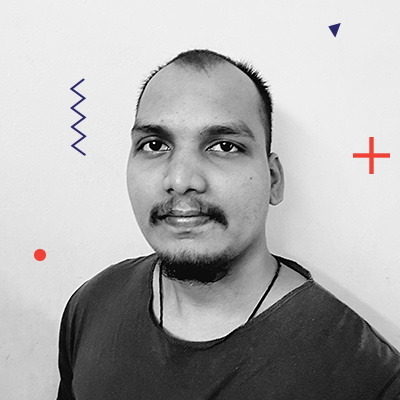 Praveen P
Senior - Creative Designer
Praveen is a Viscom graduate from DG Vaishnav College and is all about Art & Design. He believes in his creative soul to do anything in the graphic design industry. Loves to explore different places and meeting new people and gathering experiences. In the meantime, he plays the guitar, loves exploring different music genres, collecting die-cast cars, and loves anything that's vintage!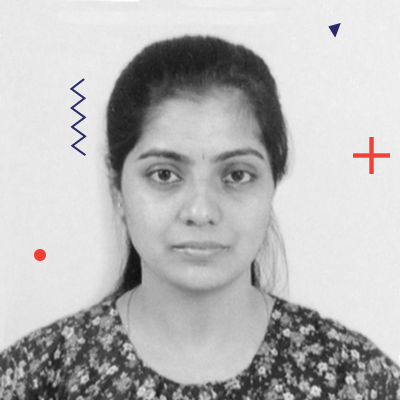 Navya Venkat Krishna
Senior - Creative Designer
Navya is from Bangalore and she previously worked as Sr Designer in an NGO (Brighter India Foundation) for the past few years and has recently worked with ThinkAhoy. She gets super excited to work with different people. She knows, she has some big shoes to fill!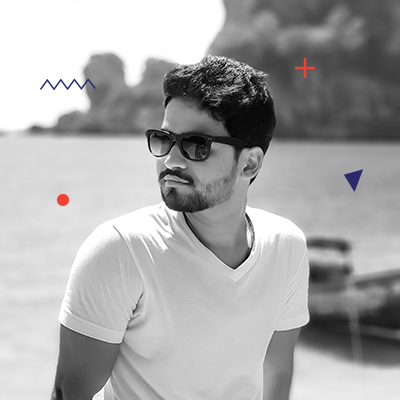 Kamalesh Khedekar
Senior - Creative Designer
Kamalesh Khedekar is an experienced graphic designer with a demonstrated history of working in the marketing and advertising industry. He is an art and design professional comes with a degree in BMM, focusing on Advertising from D.E. Society's Kirti M. Doongursee College. His hobbies include photography, painting, playing cricket, singing and playing the guitar. He also is into travelling and trekking.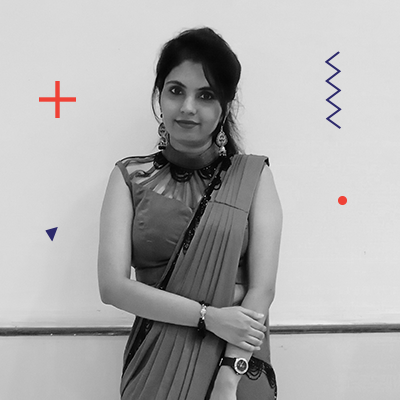 Payal Parihar
Senior - Creative Designer
Payal has completed her BCA from Pune. She has 6 years of experience in the graphic designing field. She is very passionate about her work and has been a hardworking person throughout her career. She enjoys new and challenging projects that push her to learn more in the great world of design. Apart from work, she takes interest in crafting a lot. She loves cooking different dishes too.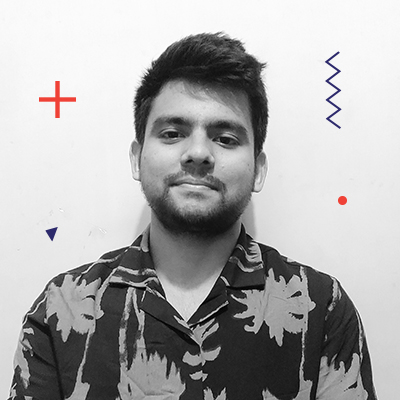 Aman Raj
Senior - Creative Copy
Aman is a media graduate from Manipal Institute of Communication. As a Real Madrid fan, he believes in teamwork and mutual respect. You can usually find him in a corner with his earphones plugged in, trying to weave some words together. He also likes to watch movies to escape reality sometimes!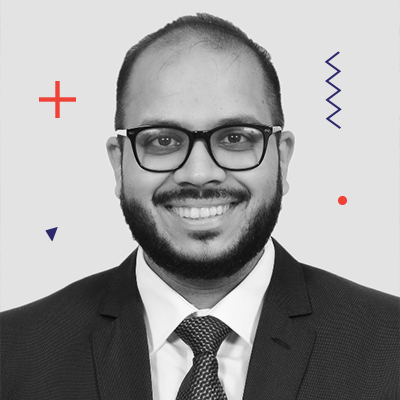 Kishan Prasad
Senior Specialist - Content Marketing
A chemical engineer from Manipal first, Kishan switched his career into the world of digital content through his love for sports. After a stint in the content team of a reputable sports website, Kishan pursued his MBA in Marketing and Analytics at Great Lakes Institute of Management. He enjoys binge-watching shows, playing any game possible, and loves it when someone either matches or enhances his sense of humour and creativity.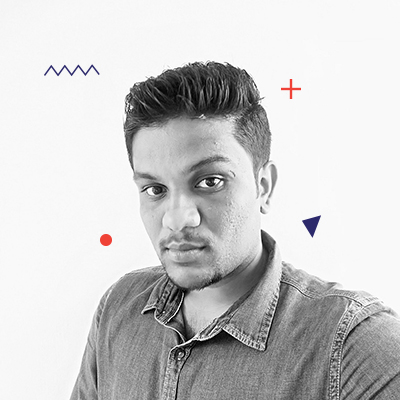 Prasanna Venkatesh Rajaram
Senior - Creative Designer
Prasanna Venkatesh is a graduate of Amet University & learned graphic design to channelize his passion and creativity towards useful work. He loves exploring designs and illustrations. He likes movies and also likes to tell stories through art and design. Also, he is interested in photography and creative poster making!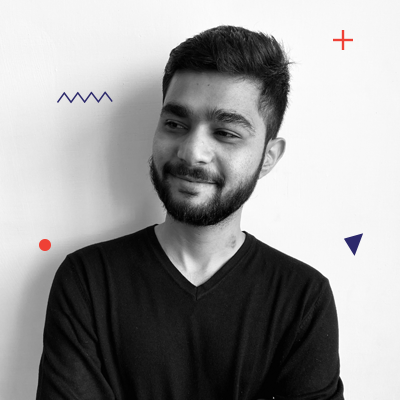 Antriksh Jain
Senior - Web Developer
Antriksh is graduated from DG Vaishnav college as a B.sc mathematics student & also holds a degree in software engineering from NIIT institute. He loves to code to the core and never says no for it! He enjoys learning about new developer tools and the latest in web technologies. He is Snooker and Cricket freak.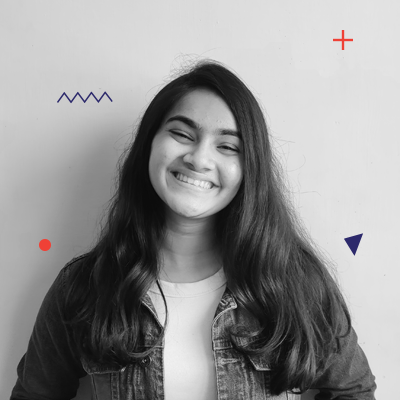 MITSU JAIN
Senior - Creative Designer
A Visual Communication graduate from M.O.P. Vaishnav College for Women, artist, and writer by passion and designer by profession, Mitsu works on the lines of perfection. Creativity is a way of expressing is what she believes in. She loves being a fashionista especially when it comes to outfits. She has worked with The Pixelate, Karan Shetty Photography (Mumbai) and Liquid Stone previously as a Graphic Designer. She aspires to open an Art Gallery named 'NEFELIBATA' which means living your world of imagination which is her secret to life. She adores pandas and is a foodie. The only give and take policy of hers is a smile.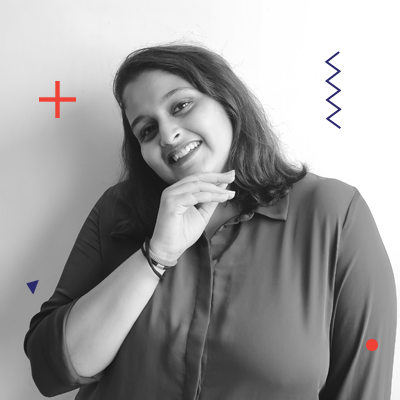 POOJA SURESH
Senior - Creative Designer
Pooja is a media graduate from M.O.P Vaishnav College. She has interned as a creative designer at UMM Studios and as a photographer at Edge Design house. Dedicated and passionate about her work, she believes in always giving her 100%. Other than designing and photography, Pooja loves dancing, She has represented India at the finals of the world of dance championship in Los Angeles.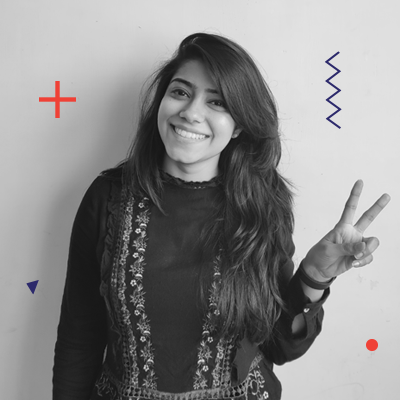 RAKSHITA JAIN
Senior - Creative Designer
Rakshita is a graduate from M.O.P Vaishnav College and has a diploma in Fashion Designing from INIFD. She has worked with Renasci by Ritika Arya Jain, who is one of the top designers in Chennai and has helped in designing and styling outfits for Bollywood and Kollywood celebrities. Her love for creating visuals and graphics has driven her to Social Beat. She is also a Watercolor artist and Brush lettering artist and owns a page on Instagram called PixartbyRakshita. In her free time, you can see her doodling or learning something new.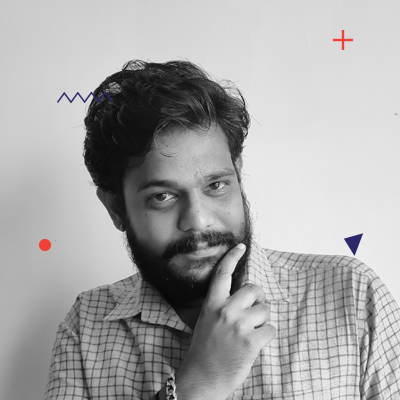 MAHESH KUMAR
Senior - Web Developer
Mahesh Kumar completed his engineering in Computer science and has four years of experience in web development. He spends most of his time with his family and friends. Apart from that, he spends time playing cricket and hearing music.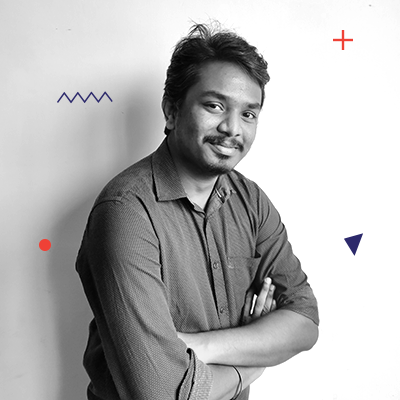 PRADEEP BABU
Senior - Video & Motion Graphics Editor
Pradeep Babu believes he was destined to be a Media Man. He pursued a Bachelor's in Visual Communication and a Masters in Journalism and Mass Communication. He happens to be one of those Filmy types who enjoy strong storylines with emotional appeal rather than humor. He loves to take photos no matter what time zone it is and he always lives in Instagram-AM. He is happy to be in the thick of the video scene at Social Beat and hopes to continue to explore his talents.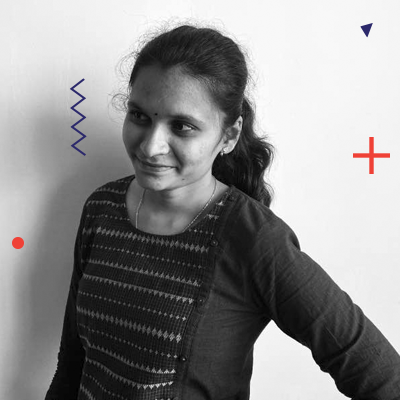 Kiruthika Kotteeswaran
Senior - Web Developer
Kiruthika is an Information Technology graduate from R.M.D Engineering college. She creates a user interface for websites along with mobile responsiveness. She can fix issues on cross-browser functionality efficiently. She continuously tries and implements new animations on websites. She is more friendly and communicative. Her hobbies are listening to music, gardening and watching movies.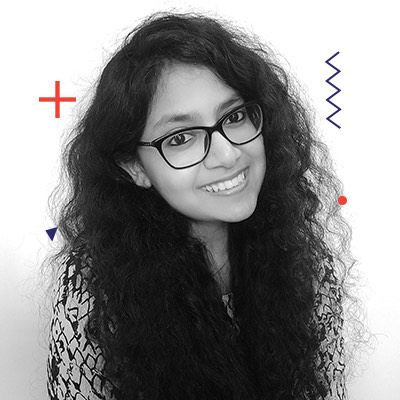 Monika Manickam
Senior Specialist - Content Marketing
An ardent lover of the arts, Monika has always had a knack for expressing her ever-flowing thoughts by penning it down or painting a canvas. It was all too natural for her to pursue a bachelor's degree in Media & Communications. A passionate feminist, she is never afraid of having difficult conversations. In her free time, you can catch her baking (No, quarantine did not make her do that!), reading, experimenting with different art mediums and adoring pictures of cats on the internet!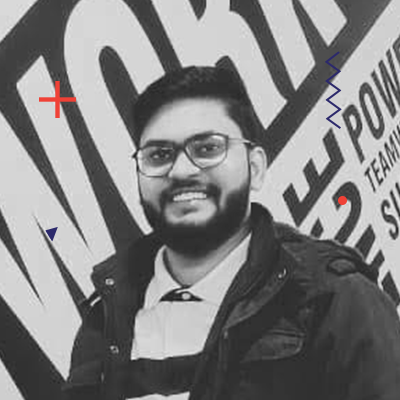 Devesh Singhal
Senior Specialist - SEO
Devesh did his Masters in Marketing from Graphic Era University Dehradun. He has 4 years of experience in SEO and has worked with multiple brands - both domestic and international. He leveraged their organic search on SERP that resulted in organic traffic and leads. In his free time, he loves to hang out with friends, explore new places and spending quality time with his family.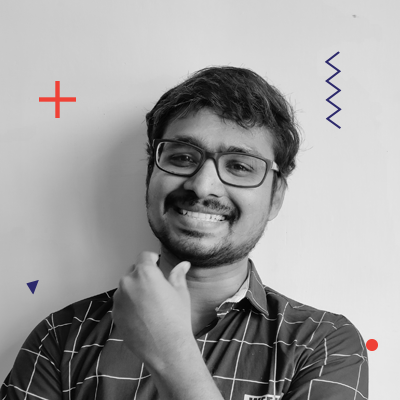 ARPUTHARAJ R
Senior - Accountant
Arputharaj has completed his BBA Graduate from Aditanar College of Arts and Science, Tiruchendur and has 5 years of experience in accounting. He is passionate about taxation and accounting. He loves spending time chatting on WhatsApp, traveling and watching movies.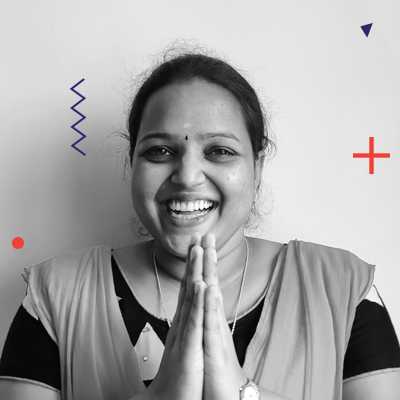 SOWMIYA SHANMUGASUNDARAM
Senior - Quality Analyst
Sowmiya Shanmugasundaram is a computer science and engineering graduate from Annamalai University, Chidambaram. She is a Quality Analyst and has 3.4 years of experience in manual software testing. She is a keen observer by nature which gives her the edge in her line of profession. Her hobbies are reading, listening to music and gardening.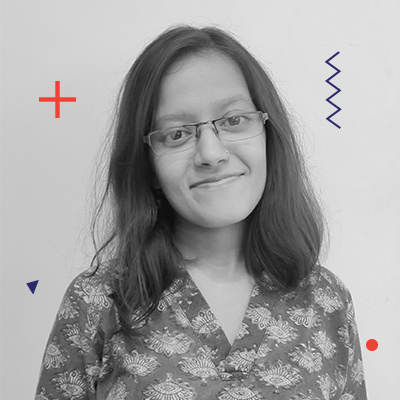 Akanksha A
Senior - Creative Designer
Akanksha is an artist with a degree in Bachelor of Fine Arts from Chitrakala Parishath, Bangalore. Art has been her hobby and now a part of her career as a creative designer. The world of advertising interests her as an artist and helps her to communicate with people, through design, photography, doodling, sketching and more.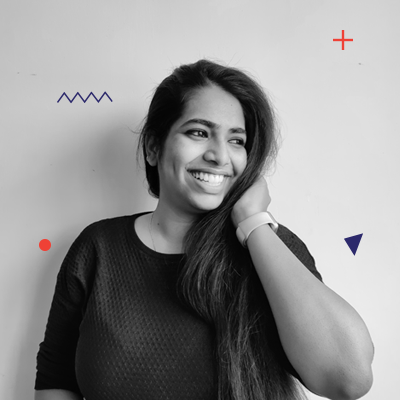 NEVEDHA PANDURANGAN
Senior Specialist - Human Resource
An extrovert who finds energy in interactions with others, Nevedha Pandurangan is a commerce undergraduate and a Human Resources postgraduate from D.G Vaishnav college. She's not only a great team player but also manages to find sunlight on the gloomiest of days. Her passion to travel and to meet new people and make new acquaintances is off the charts. Moreover being a bootstrapper with an elegant attitude is also a food connoisseur with a zest for new restaurants. Lives by the motto " vouloir c'est pouvoir ".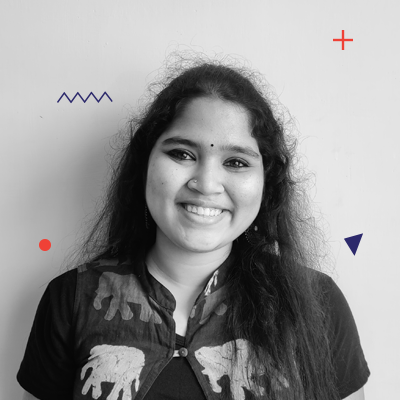 SAISMRITHI GOVINDARAJAN
Senior - Video Scriptwriter
Saismrithi Govindarajan is an Electronic Media graduate from MOP Vaishnav College for Women. Her love for art and DIY projects started at a very young age and has now branched out through 'Attapotti', a business venture selling handmade notebooks and customized merchandise. A very 'punny' person, she enjoys performing on stage and gets a kick out of making people laugh.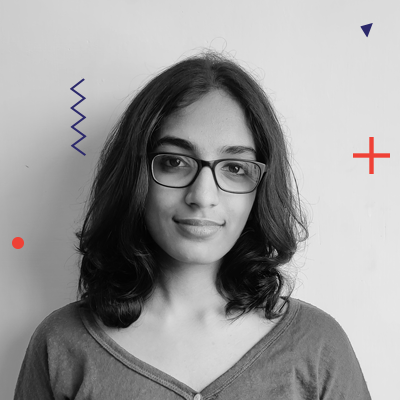 HARSHITHA SURESH
Senior - Creative Designer
Harshitha, is a sketch artist, singer and aspiring guitarist, apart from devouring all things pop-culture and social media. Over the last few months, she's been touring with Ilayaraja, as part of his orchestra. Being an Electronic Media graduate she has a knack for trying to transform the gazillion ideas in her head into something beautiful and strives to do it every day.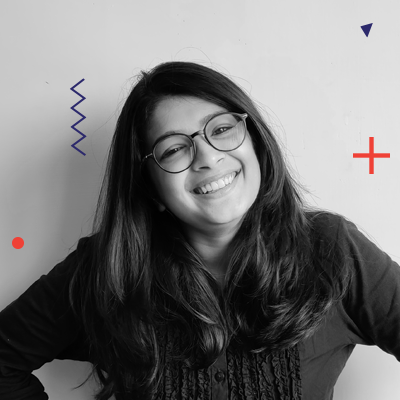 KHUSHI DAKSHA
Senior Specialist - Video Project
Khushi Daksha, short for Khushali Gondalia, is a recent graduate in Psychology and Economics from St. Xavier's College, Mumbai. Prior to that, she studied at a school in Upstate New York as an exchange student. She believes this exposure has shaped her personality and helped her to confidently step out of comfort zone. A pleasing personality and a life long learner, she is fond of basketball, football, dancing, and long drives. She is active with the Rotary club and contributes to social service projects. She is also very fond of dogs.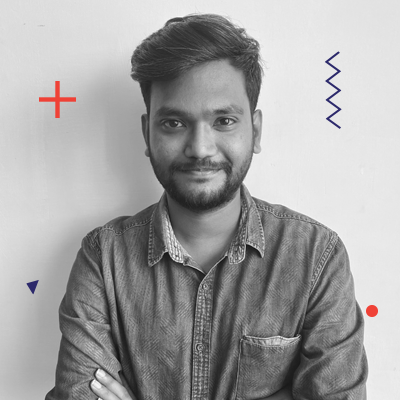 SREE RENGAVASAN R
Senior Specialist - UX
An engineering graduate and night owl who loves everything about computers and the digital world, Rengavasan has been working as a UX Specialist with 4 years of experience. He loves his job because it's always fun and creative and apart from work, he spends most of his time writing codes to automate the boring stuff. He loves to cook and is a big fan of cheese and chocolate.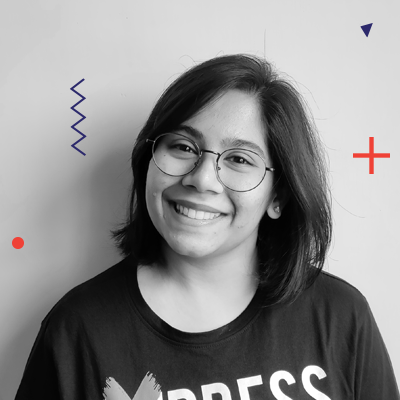 Mubena Khaliq
Senior Specialist - Human Resource
An ambivert by nature, Mubena's top 3 favorite things are coffee, curd-rice, and good books. She loves long drives and is an avid k-pop fan. In her free time, she can be found learning new languages and exploring new cultures. She is a Business Administration graduate and a Human Resource Management post-graduate from M.O.P. Vaishnav College for Women.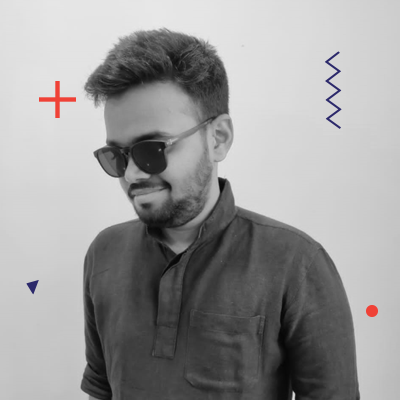 GAURAV KADNURRAO
Senior - Web Developer
Gaurav, A computer science graduate from the Hindustan Institute of Technology and Science, is interested in various fields like Web Development, Augmented and Virtual Reality. Gaurav's goal is to make this world a better place for the future generation and his favorite hobbies are to watch anime and read comics.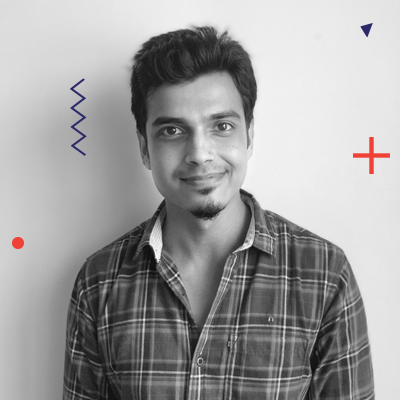 ASFAAN MOHAMMED
Senior - Creative Designer
Asfaan has experience working for an E-commerce giant in imaging and catalog departments and handling multiple events in a high-end mall. Having completed his Visual Communication, animation and then MBA, he has never let go of his passion for designing and photography and ensured that one day it becomes his career.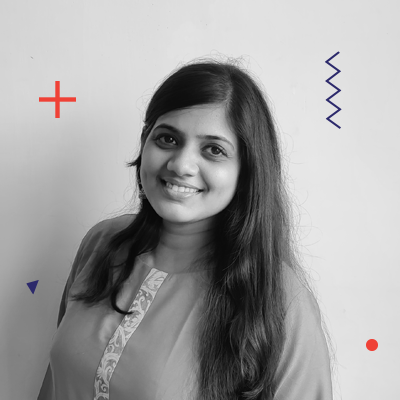 SHALINI K.S.
Senior - Web Developer
An Electronics and Communication Engineering graduate from ST.joseph college of engineering. She is a typical Chennai girl who loves to dance, enjoys music and outdoor activity. Her hobby is playing shuttle, drawing and watching tv. She is a quick learner, adaptable to any environment and highly motivated to work as a team.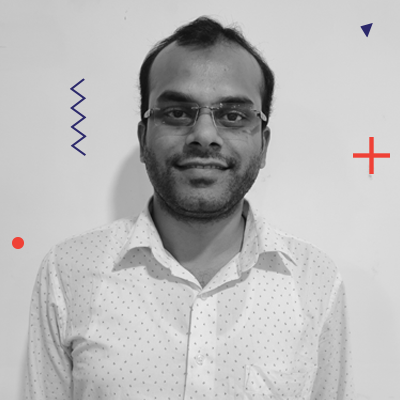 SIRAJUDDIN H
Senior - Web Developer
Sirajuddin is a Computer Science Engineering graduate from Visvesvaraya Technological University and has 2.8 years of experience in web development. He loves keeping himself updated on all the latest trends when it comes to web technology. His hobbies include watching movies and listening to music. He is also a huge fan of Cricket!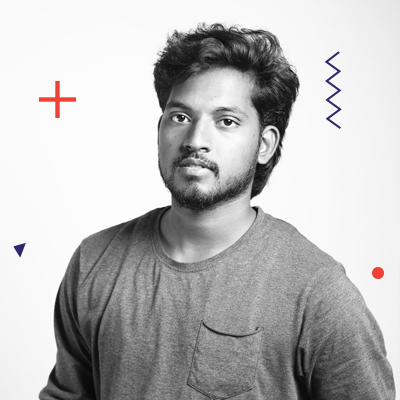 Ajith Kumar
Senior Specialist - Video Project
Ajith has completed his Integrated Electronic Media from Anna University, Chennai and has always been outstanding in the school both in studies and sports. After venturing into media studies, his love for direction, video production and creating ideas came alive. He has worked as a consultant and director in a leading branding agency and also worked as an assistant director and production coordinator in a popular reality show for a famous Tamizh TV Channel. He has also worked with on many corporate videos, ad films, and documentaries. He is a passionate football player who has played District level and Divisional level matches and runs a football club to teach young players. He stays up late at night gulping cups of coffee, to work on creative ideas and to watch his inspiration - Cristiano Ronaldo's every single match. In his free time, he hits the road for long trips to escape from the real world.
Vishak sivaprasad
Senior - Creative Designer
Vishak is a creative graphic designer who likes to use his illustrations to communicate and present ideas with precision and clarity. He enjoys associating creative design with marketing concepts while maintaining their existing brand efforts. He loves exploring innovative poster designing and likes to keep himself updated on the latest design trends. Previously, he worked as an in-house Graphic Designer for Flipkart. He is an ardent fan of gaming and spends his free time gaming his nights away!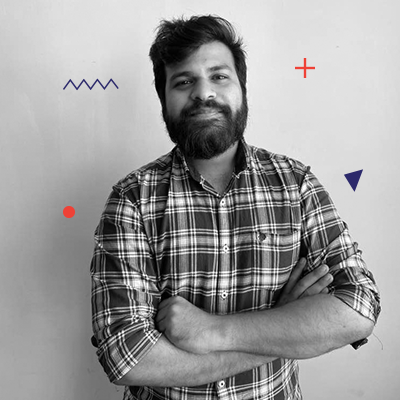 Naveen Kumar
Full Stack Developer
A hardcore foodie by heart, Naveen sometimes gets lost between finding semicolons and designing web applications. He enjoys reading books about investments, entrepreneurs and businesses. He loves investing and researching companies as well.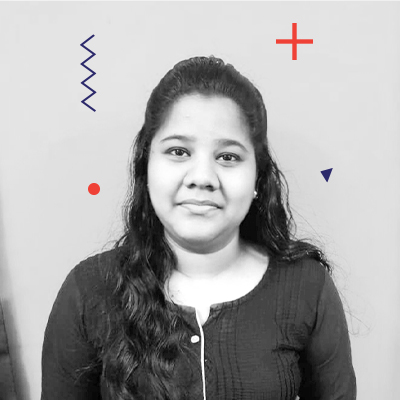 Priyadharshini K
Senior - Creative Designer
Priyadharshini has completed her post-graduation in Electronic Media. She is a passionate learner of art & design. She enjoys new challenging projects that push her to learn new things. She is an all-time doodler and a foodie who is always ready to explore. She never says a NO to chai and music!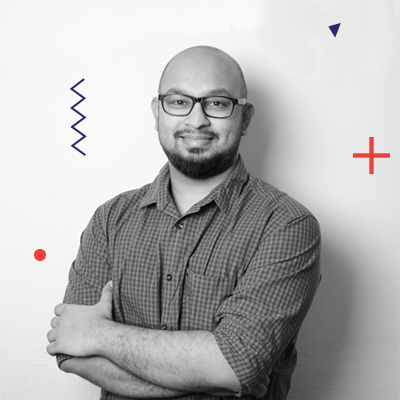 Bimal Thankachan
Senior Specialist - Video Project
Bimal is a filmmaker, musician and foodie. A Young India Fellow and an engineer, he was drawn to film and photography as a medium to capture stories and freeze moments in time. A multi-instrumentalist and songwriter, he considers music as an introspective force that helps him make sense of the world. He is also an avid foodie and loves to discover the history and cuisines associated with different cultures and spaces.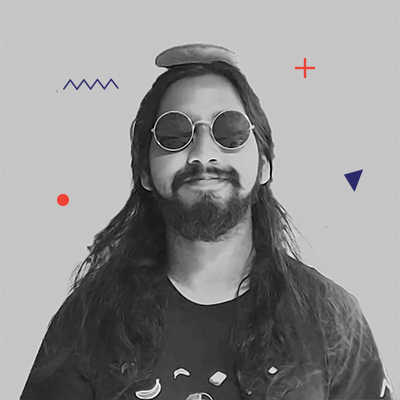 Shashwat Srivastava
Creative Copywriter
Shashwat is a full-time writer and musician, and with his assemblage of English Literature and Creative Communication, he loves to write long sentences just to befuddle readers every now and then. An artist with a proclivity to science, he makes sure to never lose the train of logic in his flights of fancy. Guitars, a keyboard, and lots of chicken; what else does one need in life? A seer once predicted that the wrong joke to the wrong person will be the cause of his death.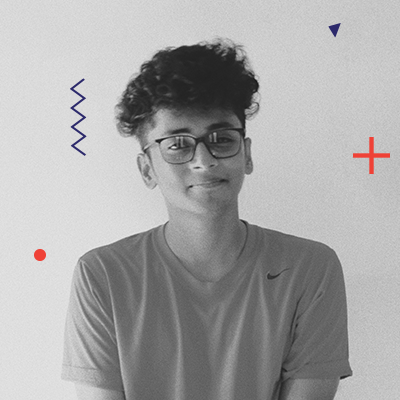 Alan Joseph
Creative Designer
Alan is a Graphic Design graduate from Mahatma Gandhi University, Kerala. He's a huge fan of 80s/90s aesthetics, Dieter Rams and his take on Design, graffiti and typographic designs. When he's not in front of the computer working away, you can find him reading anything he gets his hands on or listening to music.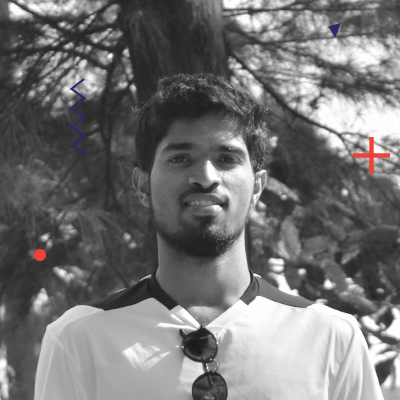 Kavin R
Creative Designer
Inspired by Leonardo da Vinci and his works, Kavin always aspires to be a polymath. Previously, he was into Engineering and later he had changed his path to design and its variants due to his immense passion for art, from a very young age. His interests and hobbies include painting, reading, gaming, exploring tech, playing football and tennis.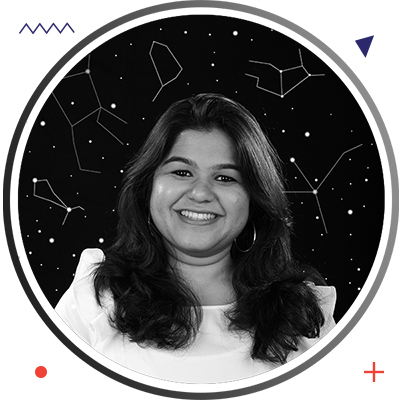 Soumyata Chauhan
Creative Copywriter
Soumyata loves detours - both on the road and in life. After completing her bachelors in Urban and Rural Planning from C.E.P.T University, Soumyata decided to change gears and dive straight into the world of media and communication. She worked as an entertainment reporter with the Zee Group for over three years after pursuing Journalism and Mass Communication from Xavier's Institute of Communications, Mumbai. Over 1000 published articles, a YouTube show, several celeb interviews and 10 kilos later, Soumyata bid the entertainment industry adieu and enrolled herself at MICA's prestigious advertising course - CCC. Other than writing quirky copies for brands; Soumyata enjoys travelling, exploring new restaurants, reading mythological-fiction, trying new recipes in the kitchen, re-watching F.R.I.E.N.D.S and populating her online shopping wish lists.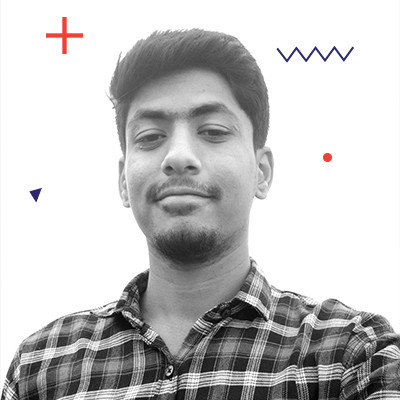 Punith kumar
Creative Designer
Punith Kumar has an Undergraduate degree in Visual Communication from SRM University and comes with three years of experience in graphic designing. He started sketching portraits during his school days and that was when his love for the creative side of things started. He is a big movie addict and he also has an interest in photography. In his free time, he plays volleyball. He likes gardening and he is a bird lover as well!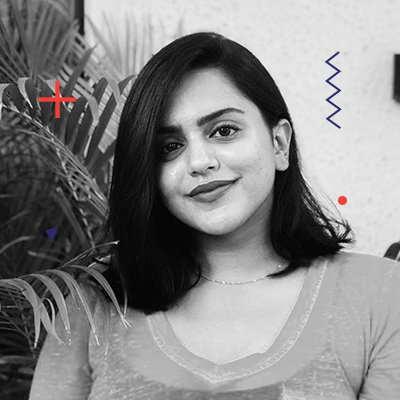 Parinita Venkat
Specialist - Content Marketing
Being an ex-thespian and journalism student; Parinita brings a unique blend of creative, responsible and engaging content. Writing has always been a form of self-expression for her. When she's not writing, she likes to pamper "doggos", teach makeup and watch "The Office".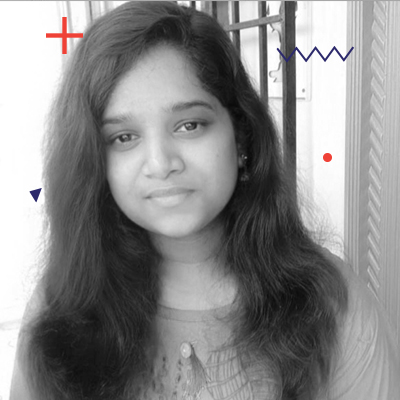 Harshini Arunachalam
Web Project Coordinator
Harshini is a person who is positive about every aspect of life. There are many things which she likes to do, to see, and to experience. She is an Engineering Graduate from CIPET and she wishes to be unique and to explore challenges and opportunities to prove herself. In her free time, she likes dancing, listening to soft music and cooking.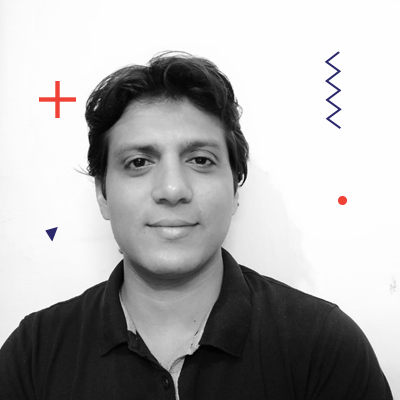 Prashant Yadav
Specialist - Video Project
Software-Engineer | Ex-Infoscion | Ex-mobile-developer. Kerala, filter coffee and Idlis rekindled his passion and love for writing. In Pune, Prashant was part of various theatre communities for over 5 years where he acted and wrote stage-plays. He has been part of short-filmmaking - writing stories, dialogues, and just anything that can engage and entertain people. His hobbies are reading, running, swimming and listening to music enhances his creative work. He wants to create something that truly inspires people.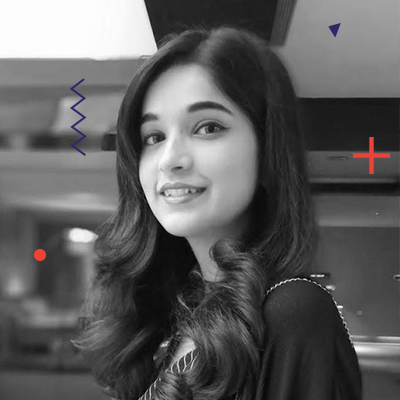 Drashti Modha
Creative Designer
Drashti is a commercial artist with 4 years of experience. She is dominated by the creative side of the brain. Understanding the design philosophy and figuring out what brings the wow factor drives her. Perfectionist to the pixel, she craves an organised way of work. You will usually find her behind a coffee cup. She loves reading, painting, exploring new places and she enjoys watching horror movies.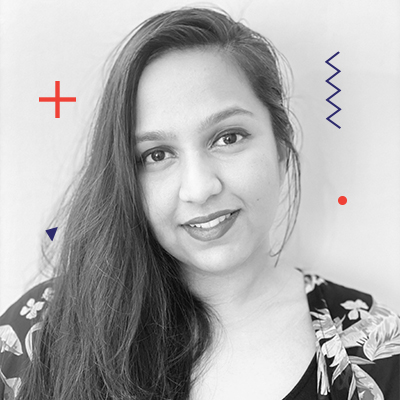 Uthra Venkatesh
Specialist - Content Marketing
Uthra is a Masters of Communication graduate from Bond University, Australia. Working as a product specialist at Apple, she loved using her creative abilities to help educate, empower and enrich people's lives driving her now pursue a career in content marketing. Prior to this, she was a former national tennis player in India, her highest ranking being No. 40 in the u-18 category. She is also an avid singer and songwriter, a chocoholic, and a travel enthusiast. In her free time, you can often see her strumming a few tunes on her guitar or planning her next outdoor adventure.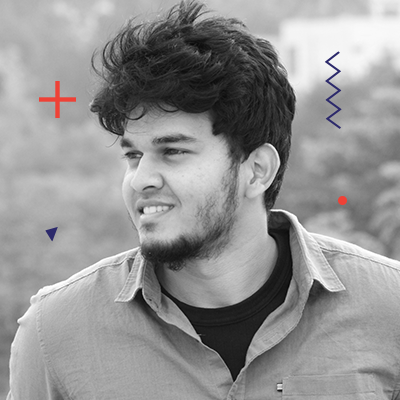 Alfred Christopher
Video & Motion Graphic Editor
Alfred is a media graduate from VIT University Vellore and has a PG in correspondence. He also has two-plus years of experience in Motion Graphics. He is a passionate learner when it comes to media and design and also loves a bit of innovation in all his works. Apart from designing, he loves cooking, a big fan of gaming, and a cinephile!!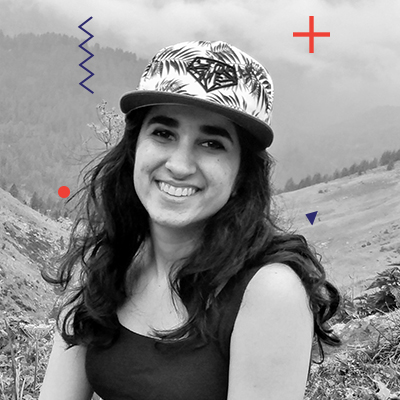 Twinkle Moolchandani
Creative Strategist
A painter from childhood, Twinkle is a nature enthusiast who loves symmetry and organic shapes. Having done her master's in Creative Advertising, she is passionately driven to create not only aesthetically pleasing creatives but also insightful and emotionally driven strategies. A big-time workaholic, fitness enthusiast, and a party lover, Twinkle loves to keep finding new hobbies to engage herself in. Part-time, she is also a proud pet parent of a dog, guinea pig, fishes, birds, and a wild cat. Cooking, traveling, and driving are her go-to therapists. An enthusiastic and fast learner, she always looks for opportunities that will contribute to her growth.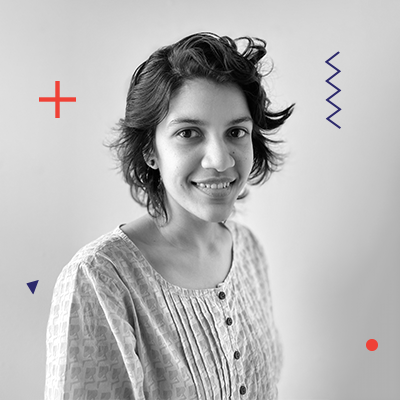 KYRA DE SOUSA
Creative Designer
Kyra is a fun-loving, creative persona that spends her time doodling, illustrating characters and playing with various mediums of art and design. She is continuously improving her skills as a designer. She gets her inspiration from nature and her surroundings. She is adventurous and open to learning from new experiences.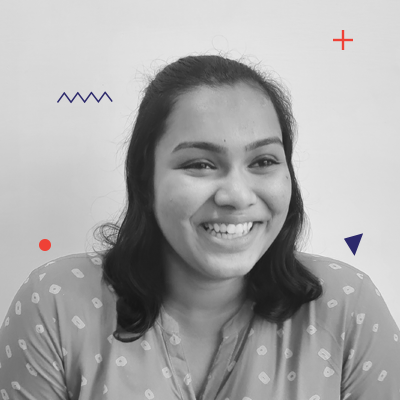 AISHWARYA ASHOK
Director / Video Coordinator
Aishwarya Ashok is an Electronic Media graduate from M.O.P. Vaishnav College and is a film enthusiast and has previously worked in the Film industry as an Assistant Director for a trilingual film named Aval and two web series ('Ctrl Alt Del' and an upcoming series called 'Auto Shankar'). She has also assisted the production of multiple ad films and corporate films. She has also been one of the official photographers for Indian Super League editions 1 & 2. Watching movies, spending time on the beach, traveling and photography are things she likes to do when she gets some time off work. She tries her hand at Photoshop now and then to produce alternative collage art.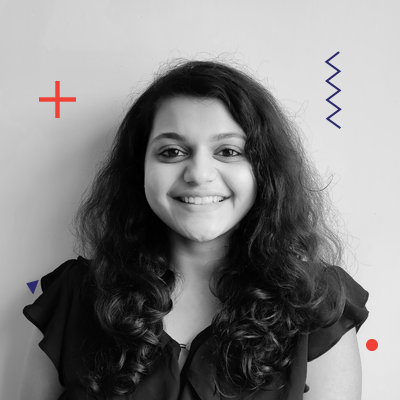 MEGHNA PARIKH
Creative Designer
Meghna is a Visual Communication graduate and has always loved to be in the creative and art sphere. Her love for doodling and creating designs has now grown to a field that she wants to pursue in life. Like most of us in the creative field, colors, stationery and aesthetics are the things that bring her joy. Apart from designing, she has a growing interest in yoga and the one thing that makes her happy for sure is animals.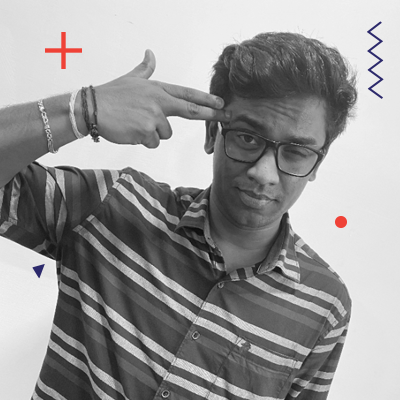 NAGENDRA PERUMAL
Video and Motion Graphics Editor
Nagendra is a B.sc Visual Communication graduate from DG Vaishnava college and also did VFX course in image creative education. He has one year of experience working as a VFX artist for Hollywood movies and his passion for film making pushed him towards editing and motion graphics. He is a film addict and his major hobbies are playing basketball and online gaming.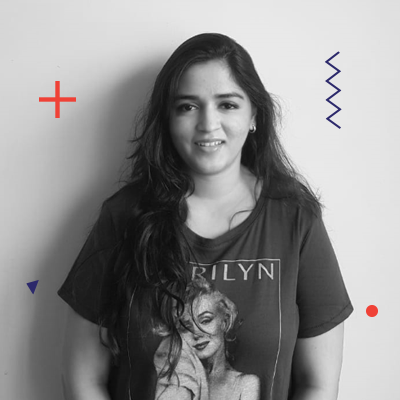 PREKSHA BOKARIA
Creative Designer
Preksha has recently graduated with honors in BA Graphic Design from Middlesex University, London. Before this, she has done a diploma in Graphic Communication from Nanyang Academy of Fine Arts, Singapore. She has previously interned with Rubecon, Untitled Graphics & JWT Chennai. She wishes to be a designer who creates designs that inspire and motivate people while leaving a lasting impression. Besides designing, she loves to travel, cook & shop, literally lives to eat and also tries to do her part for the environment.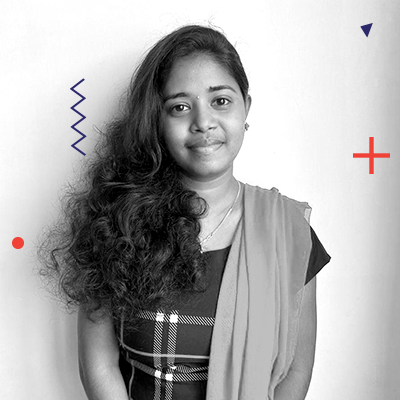 ABINAYA DEVI
Specialist - Accounts
Abinaya enjoys her role as Accounts Specialist at Social Beat! She is a B.Comm C.A. graduate from SVC College, Madurai. She is a creative person when it comes to making TikTok videos and does exactly that in her spare time. She also feels that she is a very fun-loving and friendly person!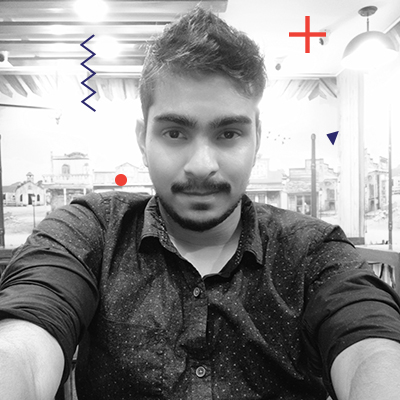 KARTHIK S KRISHNAN
Creative Designer
Karthik, who likes to go by KK, loves to work in a challenging atmosphere where his skills are validated. He feels that no design is good without a cup of coffee and some music. His passion for photoshop is infinite when he listens to futuristic EDM. He strives to be a perfectionist and a problem solver. During his free time, he loves to share his ideas by making videos for his YouTube channel. His stress busters are EDM and music production.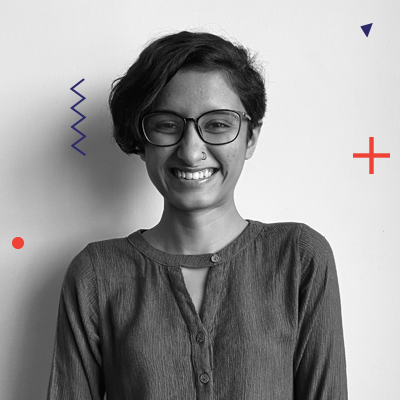 Madhuvanti M
Specialist - Video Designer
Madhuvanti is imaginative with the ability to envision stories from everyday life. She's an artist who influences and connects with her audience on topics like mental health, politics, and gender. She loves traveling and spending time on the beach. She's a music enthusiast and a lot of her art is influenced by the music she listens to and the people in her life.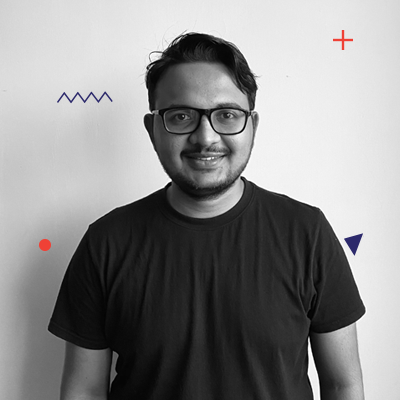 Abhinav Gorthi
Specialist - Video Project
As the name suggests Abhi-Now is quite fond of puns (and memes). He's an MBA in marketing, but he often feels that his degree is as important as 'ueue' in 'Queue'. Abhinav is passionate about cinematography & traveling and loves making travel videos in his free time. Also, he's a tennis player and a trumpeter for a band called Rhythmic Energy.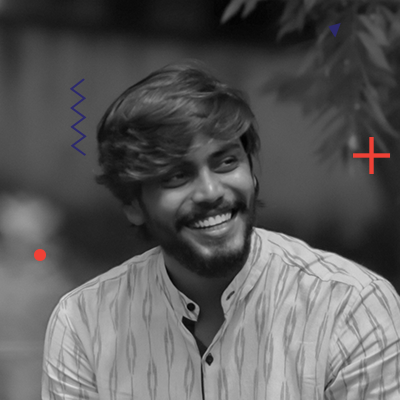 Naresh Raja
Specialist - Video Project
As a passionate media graduate and film fanatic, Naresh has always had an urge to develop stories for films and ideas to produce quality video content. Working as an associate director in an advertising production house based out of Chennai, has provoked his interest in developing stories for films incorporating brands in them. Apart from this, Naresh is a bit obsessed with commercial films and regional content. Though he is not a pro in sports, he has a huge craze over street cricket and badminton.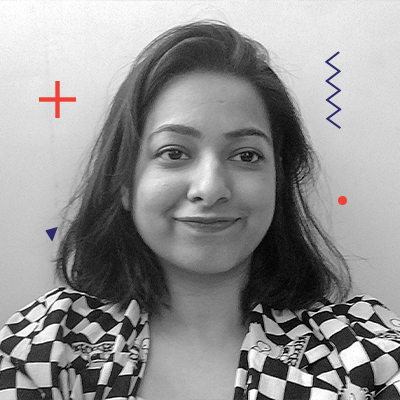 Khushi Agrawal
Creative Designer
A graduate of Journalism and Mass Communication, Khushi was awkward even when she first talked to Alexa. Creating, exploring, and learning are the three words that she swears by. In her free time, she makes playlists, cries, dances to Bollywood songs, cuts her own hair, Netflix, and stresses. She is someone who doesn't like to be put in a box. One of her passions includes shitposting about aunties on social media. One can probably find her wearing some thrift fit or her dad's old jeans as she is a nut for the environment.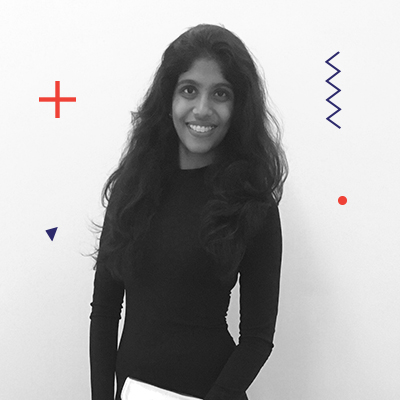 Harsha Vivekanandan
Specialist - Human Resource
Harsha is a coffee lover. She is a commerce undergraduate and has a postgraduate degree in Human Resource Management from Vaishnav College. Unlike most of us, she is scared of dogs. She finds pleasure in a good ol'cup of cold coffee paired with waffles and ice cream and enjoys her fun and hardcore morning workout. A Star Wars enthusiast, she is an avid admirer of the blockbuster franchise.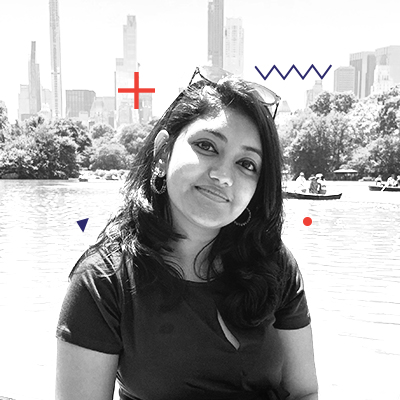 Sruthi LY
Specialist - SEO and Content
Sruthi is a Marketing graduate who draws heavy inspiration from the wise words of Steuart Henderson Britt who once said "Doing business without advertising is like winking at a girl in the dark. You know what you are doing but nobody else does." While she has an on-again-off-again relationship with fitness, she is always up for some hot chocolate or How I Met Your Mother trivia.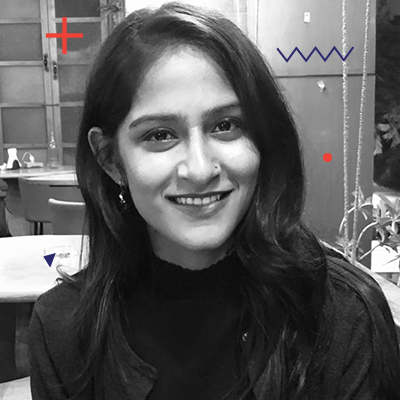 Shreya Tyagi
Creative Copywriter
A CCC graduate from MICA, trying to build a place in the world of advertising. Apart from advertising, Shreya is a big movie and TV series buff and is currently on her 100th Friends' rerun. Her world revolves around dogs! She has taken care of around 100 dogs till now and wishes to do this forever. A person who is constantly scrolling through Pinterest looking for inspos, but failing to use any of the pins in life.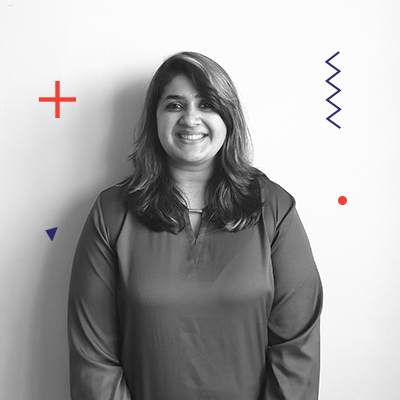 Sukhpreet Kaur
Specialist - Human Resource
Sukhpreet is a Chennai born Sardarni who is currently settled in Bangalore. She is an MBA graduate in Organizational Leadership and Strategy (OB & HR) from Alliance University with 3+ Years of experience as an HR professional! A biker at heart who got Leh'd in 2018, she has been dying to get back on those roads again! A dog lover, movie buff, travel enthusiast!Her life's motto is Khao, Peio, Aish Karo (eat, drink and enjoy). Oh, she also enjoys curd rice and butter chicken!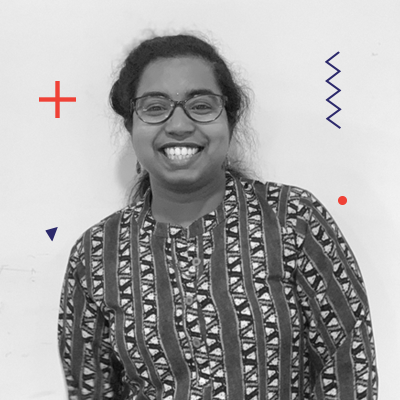 Roshini M
Web Developer
Roshini is a B.E computer science and engineering graduate from Bangalore Institute of Technology, Bangalore. Her interest includes reading novels, cooking, listening to music. She's a crazy pet lover and a foodie too. She's enthusiastic to learn new technology.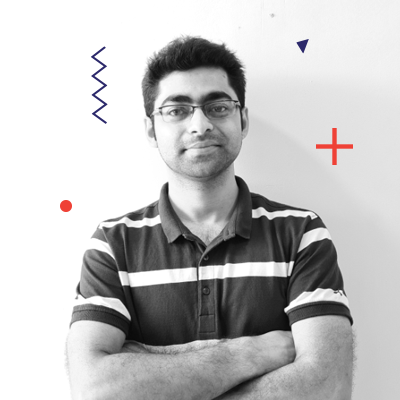 Sayantan Rudra
Web Developer
Originally from Kolkata, Sayantan has pursued his Masters in Computer Applications. He is interested in Web Development and Ethical Hacking. He loves cooking and is a big-time foodie!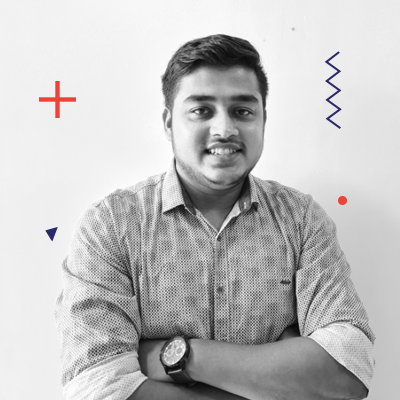 Vivek Patro
Creative Designer
Vivek is a graduate from Arena Animation. He holds 2+ year of experience as a creative designer. He has a huge interest in designing and loves to learn new things every day. He enjoys listening to music and loves travelling to new places. Workwise, he tries to innovate, a little, every day. His mantra is to give his best no matter what.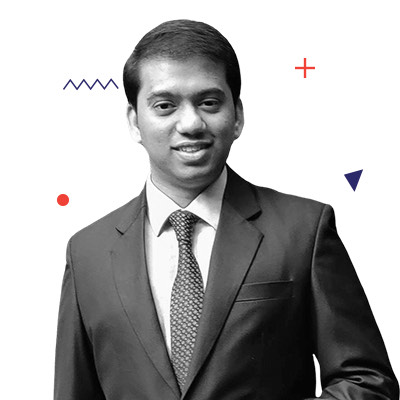 Edward George Dsouza
Specialist - SEO
Edward is an MBA with a Major in Digital Marketing from FLAME University, Pune. Previously, he worked closely with the sales team while editing code which gave him an insight into the use of technology for businesses. He has an eye to spot errors and a drive to fix them immediately. When he isn't working, he likes singing karaoke, writing poetry and thinking about the nature of things.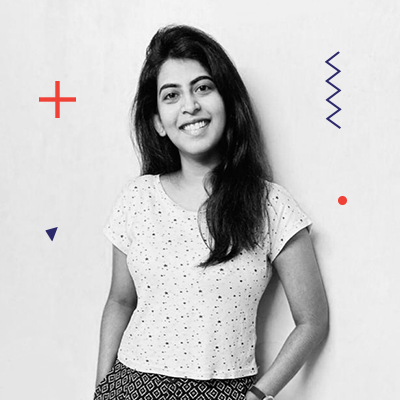 Nivetha Sekar
Specialist - Content Marketing
Nivetha is a former journalist and a graduate of Asian College of Journalism. She is a news junkie who worked as a video producer for The Federal of Puthiya Thalaimurai and interned with News 18 Tamil too. She has worked on several investigative stories and written stories on gender issues, politics, food and lifestyle. An avid reader, you can often see her smelling old books from the shelf and piling up more new ones. Her interest to learn new English words and hone the language every day enabled her to achieve state first in communicative English in class 12. She aspires to speak English like Shashi Tharoor someday. Her love for writing emerged early when she maintained a personal diary and naturally aspired to take up writing professionally. She loves baking and when not eating pizza or pasta at some cafe in Chennai, she is seen messing up the kitchen at home making them.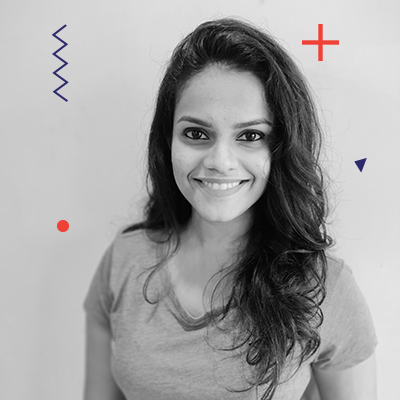 Shimna Nambiar
Specialist - Video Project
Shimna, born and brought up in Mumbai has done her schooling and graduation in Mumbai and PGDM from Ramaiah Institute of Management, Bengaluru in Marketing & Human Resource. On the extra-curricular front, she has been active in cultural and sports events, especially badminton. Also has been part of the organizing committee for various events held in college. In her free time, she likes listening to music, dancing and enjoys Netflix series. Other than internships that she has done in the past, this would be her first job and she is quite excited about it!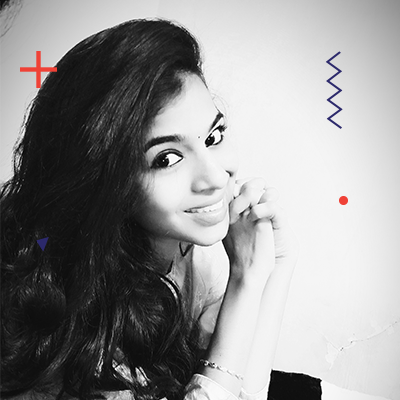 Ragavi N
Specialist - Accounts
Ragavi has completed her B.Comm (Accounting & Finance) and her MBA (Finance) from Madras University. She absolutely loves cooking and takes up tailoring in her leisure time. Her dad and mom are her heroes and she absolutely adores them to bits. She is super extroverted and loves spending time with people and talking to them.