Over the last few years, digital marketing has played a key role in the advertising and branding of an organization.  Apart from uplifting the brand image, going digital also helps in reaching the target audience which, in turn, aids in generating leads and promoting sales.
One such industry that has tried, tested and achieved significant business growth with digital marketing is Real Estate and there is more to come in 2018. The last decade has witnessed a lot of real estate activity in the online space. A lot of property buyers and sellers do vigorous research online before they ultimately make the purchase or sell the property offline. Hence, making sure you have a strong online presence is of utmost importance to make your brand name stand out in the real estate industry.
So, what makes digital marketing such a vital tool for developers and home seekers alike and how is it going to progress going forward? To find out, let's take a flashback to how it all began.
Real Estate and the Internet of Things 
A couple of decades ago, properties were considered a luxury investment. Only the richest of rich could afford the exorbitant prices stamped on the various housing projects. Even the process of purchasing a property was a long and tedious one. Home seekers had to collect and sign an endless flow of documents while also searching for a broker who could strike them a good deal for the desired property.
The Internet of Things has drastically changed the way buyers make purchase decisions. It is now a known fact that online reputation management can make or break your brand. Simple online searches take buyers to their desired property while documentation has become quick and paperless. Access to a multitude of properties has opened the doors for buyers with any financial background to have no hesitation while going for a purchase.
Brokers haven't lost their place entirely; they have been able to tap into the power of the digital space and give home seekers a more refined and transparent property searching option. The increase in consumer mobile traffic has prompted brokers to bank on app marketing. Few of the trending apps are listed below:
Plabro: Trending in Delhi, this app has a back-end algorithm that shows a user's preferences and provides property updates based on those preferences. It also shows analytical data on real estate trends.
Smart Agent Connect: Like Facebook for Realtors, this app lets realtors create business circles and take part in real estate deals over a short, quicker timeframe. It also lets realtors create custom websites and provide functions for complete Customer Relationship Management.
While a complete shift from traditional marketing to digital marketing is not going to happen anytime soon, real estate developers have notably increased their digital marketing budget over the past year. In 2015, statistics showed a 25 percent increase in marketing spends across the Real Estate industry, with an estimate of over 600 crore spent on digital marketing alone. One of the factors that influenced the budget increase is consumer behaviour, and with new improved numbers showing up for the forthcoming year, that scale in marketing budget will only go up.
Digital Media Facts & Stats (December 2016)
462 million Internet users
200 million active social media users (over 60% college are college students)
3% of Indians accessed the Internet via mobile phone
The digital marketplace has grown by 33% between 2010 and 2015
77% of online users buy products exclusively on social media
50% of shoppers buy online based on social media influence
74% of buyers rely on influence for making purchase decisions
The sale of physical goods through the digital space amounted to 16.8 billion dollars in revenue
These astounding statistics show just how powerful the Internet of Things has become and it also holds true for developers who seek the digital space for marketing their products.
Digital Marketing for Real Estate Stats (July 2016)
14% of home buyers search for tips on how to purchase homes more effectively
42% of home buyers have used the Internet as their first search medium
82% of home buyers trust online agents as good information sources
92% home buyers have searched for homes the Internet
The benefits of digital marketing
Marketing techniques are open to evolve and get better over time. Additionally, if you are an ardent user of the digital space for marketing your products, you know it comes with numerous benefits. Apart from the urban space, digital marketing is evolving in tier 2 and tier 3 cities of India as well. Real estate developers are yet to realise these benefits and are only scratching the surface when it comes to taking full advantage of what digital marketing has to offer. Here's where digital marketing gives real estate developers an edge, with a multitude of digital marketing trends to expect in 2017.
Cost-efficient: Needless to say, there is a lot of money that goes into a real estate project. Digital marketing offers free publicity at comparatively lower pricing to that of traditional marketing, so it's no surprise that marketers in the Real Estate industry are taking full advantage of the cost efficiency.
Increased exposure: Considering the numerous housing projects that vary in size, location and cost, having a digital marketing strategy lets you expand your overall reach and even customise that reach towards a selected target market.
Performance Analysis: Digital marketing offers numerous ways to keep track of an advertisement's performance in the competitive marketplace, making it easier for real estate developers to understand what marketing technique works best for their products.
Creative licence: Be it an apartment, independent house, villa or plot of land, there are numerous ways for developers to showcase their products in the online marketplace.
Brand building: To succeed in the vast industry that is Real Estate, developers need a strong and reputable presence. Having online presence is considered the next best brand building technique.
Marketing techniques that work wonders
For any company which is hoping to succeed in the digital space, there are three goals every digital marketer must try and achieve:
Building the brand
Acquiring customers
Customer engagement
Let's look at some digital marketing practices (in the Real Estate Industry) that will help achieve the above-mentioned goals.
1. Building the brand
Creating an online presence is the first, most important step, and serves as a backbone for all future digital marketing activities. To establish a powerful online presence, Real Estate developers need to focus on creating three things.
Creating a Website
For Real Estate, a website can serve two purposes: a virtual office that showcases the builder's latest projects or a virtual marketplace for home seekers to explore purchasing options. To make either one or both of these purposes work well, there are numerous tools and optimisation techniques that need to be implemented.
Even the design of the website matters as it can make a difference to user experience and one such design that has been making waves amongst the real estate websites is a Flat Design. Flat website designs are categorised by their simple, elegant and square'ish' look; first noticed in the Windows 8 Tile User Interface. With minimalistic animations and loads of white space, the Flat website design has proven to be effective in page speed loading times, readability, mobile optimisation and ease of navigation.
While a good website design is pleasing to the eyes, it only scratches the surface of what matters especially in the Real Estate sector. A stellar design needs to be accompanied with great content to create an impact. Writing good content that effectively communicates a Real Estate brand's message and intrigues the user to go ahead for a purchase is vital. Presenting your target audience with engaging content is a sure-shot way to grab their attention and generate leads.
Real Estate is a very broad topic, so to fit everything into a single website, other strategies can be utilised to showcase everything a Real Estate developer has to offer.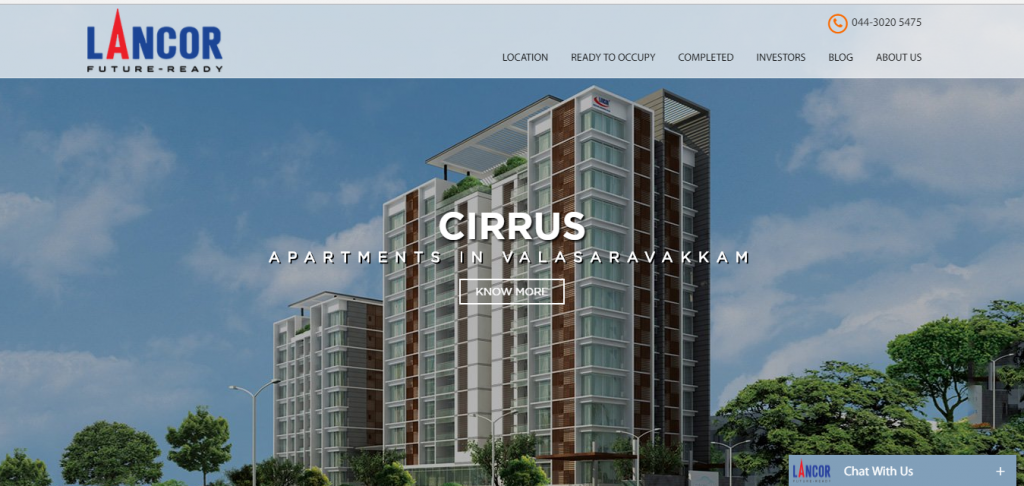 Multiple Web pages: Aside from having a homepage that gives a gist of the Real Estate builder's brand, having multiple web pages that provide more information on the brand and interlink with one another through clever content navigation is essential. More pages ultimately result in users spending more time on the website, which directly affects the website's rank on search engines.
Landing Pages: Landing pages act as mini e-commerce portals that explain in detail about a particular brand's upcoming, on-going or released Real Estate project. Landing pages that are interactive or those that have video presentations have proven to yield 403% more inquiries than regular pages.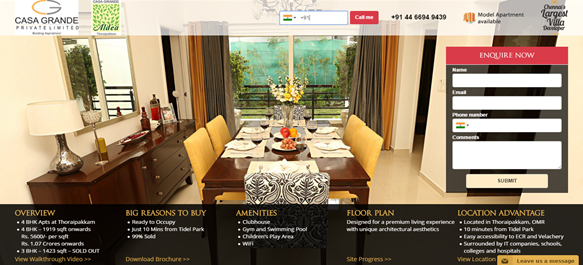 Search Engine Optimisation (SEO)
SEO is the glue that holds an entire digital marketing campaign together. As a matter of fact, digital marketers for Real Estate must have an SEO planner right at the beginning of their marketing strategy. From SEO plugins to various link building techniques, the driving force of good SEO, especially for Real Estate, is keyword research.
Statistics show that 80% of home buyers search for properties online which means having a list of search keywords incorporated into a content marketing strategy will pay off well. Potential customers will most likely be presented with search results about a property that has those keywords. Additionally, real estate companies can also leverage local SEO and Google maps to promote their business.
Creating a Blog
When people need help or are looking for something, they do one of two things – seek out a person or a place or browse the internet. Blogging has come a long way from being a casual online tool for storytelling to an essential element of a digital marketing strategy.
Blogs are a long, short or creative source of information and if there is one thing Google loves, it is loads of valuable information. Research shows that websites with blogs have 434% more indexed pages. Google recognises and ranks these websites easily due to the information provided, ultimately leading to that site showing up on the first page of search results.
Considering how broad a topic Real Estate is, builders must take advantage of the power of blogging and focus on sharing information to potential home buyers. Blogs that give detailed information on upcoming properties, tips on home buying and guides on investment options are just some of the many topics a Real Estate blog can include.
Having a strong social media presence
The platform of Social Media offers brands a unique way to get more personal with their audience, and it is no different in the case of Real Estate.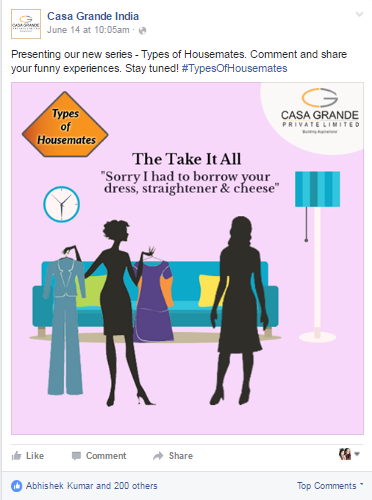 There are numerous platforms for Social Media Marketing available today and some of the most useful ones for Real Estate developers include:
2. Acquiring Customers
Having an online presence won't be fruitful if your potential customers are not aware of that presence. Real Estate developers depend heavily on lead generation, and digital marketing offers the quickest, easiest and most ROI friendly lead generation method. Here are some of the ways Real Estate developers can acquire customers via digital media.
Advertising
Advertising online is one of the best ways to ensure you are reaching your potential target Group. If done right, it can be the best lead generation tool for real estate developers. Be it Facebook or Google or even other platforms such as Bing and Yahoo, using lead generation, website conversion ads or even interactive ads to engage with your target audience and collect leads.
Facebook Ads
As of July 2017, there are 241 million active users in India on Facebook. This is a primary reason why advertising on Facebook is something every builder needs to try. From website conversion ads to lead ads and carousel ads, builders should try a combination of videos and images to drive enquiries and site visits.  Facebook also has detailed targeting by demographics, age and behaviour. Additionally, you can also target your website visitors and those you have engaged with your post so that the ad is displayed to a more specific and niche crowd making the probability of selling the property even higher than before.
Ads in regional languages have started rolling out, and marketers have begun incorporating this concept into their marketing strategies to reach out to their target audience. When a potential home buyer reads an ad in his regional language, he develops a bond of trust and comfort with the seller and is more likely to make a purchase, or at least recommend that product to a friend.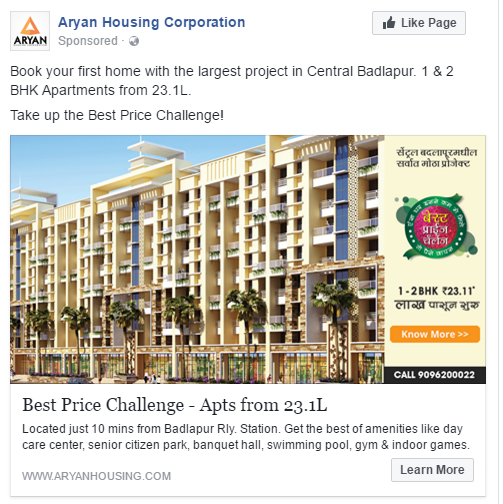 With Facebook's Brand Reach and Frequency campaigns, brands can even get assured visibility and reach, similar to what a front-page newspaper ad gives.
Google Ads
Google AdWords is a paid digital marketing strategy that is run on the Google search engine. Adwords smart display campaigns run strongly through a set of rules and guidelines and work best when incorporated into SEO tools and strategies.
Let's say a home seeker is typing "flats in OMR" in the search box; if the digital marketer has incorporated the keywords "flats in OMR" along with some other relevant search queries, Google will pick up that ad and display it in the search results. The placement of the ad depends entirely on the budget set for the campaign. You can also optimise your AdWords campaign for profound results.
Google's algorithms are ever changing and evolving to be more consumer-friendly, and 2017 has some cool new digital marketing trends that every marketer must keep close tabs on.
Drip email marketing
Drip emails are automated emails that are sent out based on a predefined time or user actions. Real Estate developers can target and constantly stay in touch with a group of people based on certain criteria retrieved from a strong email marketing database. Let's say that a customer has visited a property website and shown interest by subscribing to property newsletters. Digital marketers can use the information provided by the customer to send emails about the development and completion of the property and news on various other related properties.
Drip emails are a powerful lead nurturer, with statistics showing a 119% increase click-through rate via trustworthy emails.
Influencer marketing
Influencer marketing is the Internet's word-of-mouth marketing method and can prove very effective to generate leads for Real Estate Developers. Just like word-of-mouth, influencer marketing uses popular bloggers and other professionals in the Real Estate industry to promote a particular property. Influencer marketing channels include both blogs and social media channels, so Real estate developers must carefully choose the appropriate kind of influencer to market their properties.      
Influencer.in provides a one-stop platform for Real Estate developers to search and connect with the best influencers in the country; they can choose from either working on long campaigns with a selected influencer or contacting multiple micro-influencers over various social media platforms to spread the word.
3. Customer Engagement
The age-old marketing rule of getting new customers while retaining existing customers applies in the digital space as well. Of course, the most popular tool for customer engagement today is social media, and Facebook ranks high up on the list, especially for the Real Estate industry. There are a plethora of social media trends benefiting the real estate industry. Here are some interesting ways developers can utilise Facebook and YouTube for customer engagement.
Facebook engagement
Post real estate investment advice albeit with a funny picture
Post product comparison images and let the followers vote
Post interesting facts about the locality where the property is being developed
Post about celebrity or high-profile activity that is happening in the locality where the property is being developed
Post about festivals and celebratory occasions while adding a twist that relates to a property
Share information about daily real estate activities
YouTube engagement
Post videos on property interiors
DIY practical tips on home improvement
Property reviews
Live feed of upcoming events that relate to the property
Virtual reality property experience
Case Study: Digital Marketing for a leading real estate developer in Chennai
One of our esteemed clients is a Chennai based Real Estate enterprise which laid its foundations in 2004. Known for providing niche residential segments like luxury villas and high-rise apartments, the company has since produced 68 projects, selling to over 4000 happy residents.
Our client wanted to scale up its digital presence through powerful digital marketing, focusing on five primary goals.
An intense digital marketing campaign followed, running on platforms like Facebook, LinkedIn and Google search, resulting in an impressive turnaround that showed:
Over 500 Crores in sales from digital enquiries
10x increase in lead generation
Cost per lead reduction by 30%
Organic Traffic increase by 3x
4x increase in leads from organic traffic
Fan base on Facebook has grown to an engaged community of over 1,40,000 fans
Real estate is the most reliable and secure long-term investment you can make, and the ability to purchase a home will only get easier with newer technologies coming into the digital space, which is capable of giving you a real-time experience of any property right through a screen.
(Visited 1,115 times, 8 visits today)