Programmatic advertising is considered to be one of the biggest digital marketing trends in 2019 and Google has predicted that 60% of its advertising budgets will be put towards programmatic by the end of this year. Although programmatic advertising has taken over a fair share of the digital advertising space, there is still a level of uncertainty among many marketers. The main reason for this is the lack of information when it comes to programmatic advertising and the reluctance in letting go of traditional advertising methods. So how can programmatic advertising help Indian brands take their customer reach to the next level?
What is programmatic advertising?
Today, two important factors that play a crucial role in the success of a business is its marketing techniques and digital advertising tools. Earlier many companies were dependent on offline mediums of advertising, but in recent years digital advertising has become the primary means of marketing for many businesses. Programmatic advertising is taking centre stage when it comes to this type of marketing. 
'Programmatic', as the name suggests, is the use of a program or software to buy digital space/inventories. Not only is this process more cost-effective but it is also incredibly efficient. There was a time when the process of advertising involved numerous sub-processes and human negotiations that resulted in a lot of delays. But with the use of artificial intelligence, programmatic advertising has made ad buying in the digital space easier than ever. 
How does programmatic advertising work?
In its simplest form, programmatic advertising is an automatic bid on advertising inventory which happens in real time. This is known as real-time bidding. It gives the owner of the ads the freedom to create and optimise the adverts to their liking. However this type of programmatic advertising is just one type, there are other programmatic types that guarantee impressions from specific websites. This is referred to as programmatic direct. 
When a person engages with a programmatic ad, the website publishing the ad bids for an impression in an auction of the ad in the marketplace. This auction is run among the different advertisers who want their ad to be displayed on the webpage. The brand with the highest bid wins. 
Although this auction process may seem time-consuming in theory, the system is automated and the entire auction can happen in milliseconds that it takes for the web page to load. The bids of each of the competing advertisers is pre-programmed into the system. When the customer clicks on the ads, the advertiser will convert this into a sale.
To learn more about programmatic advertising check out our video on how can it help your brand scale your digital marketing efforts. 
Types of creative formats for Programmatic advertising
When it comes to programmatic advertising, there are many different ad formats that companies can use so that they can create the largest impact and scale using creatives. 
Here are a few:
Native video
Many brands prefer native ads because they can be customised to meet the look and feel of the publisher's page. This can result in better visibility and higher engagement with the ad. Native ads also allow you to reach the market quicker because a set bundle of assets are used to fill in the ad templates.
Youtube ad
In today's mobile-first world, it can be hard to grab the attention of the audience. Bumper ads a quick and efficient way to give the viewer snippets of your product or service while they are on the go. Insteam ads, on the other hand, can be skippable or non-skippable, based on the objective of the advertiser. These ads are optimised with the help of AL and ML for better traction. They also have the added advantage of tracking post-view floodlight activity conversions for a specified attribution window. 
Lighbox ad
Lightbox ad comes under responsive ads which have the ability to fit to any ad space depending on the display screen. Lightbox ads typically contain galleries with images and videos that enable the customer to effectively engage with the ad. Moreover, lightbox ads streamlines the ad engagement which can be done by clicking or tapping on the ad that is displayed. This way it prevents any accidental engagement.
App Promotion ad
The app install platform helps you to create an ad that helps in increasing the number of app downloads. You can promote your app by creating an interstitial ad containing images or youtube videos, catchy title and suitable description. App Install ads are designed to create awareness about the app and also allows users to directly install the app by engaging with the ad.
Parallax ad
Parallax ads helps you create a distinctive and creative ad display. By utilising the parallax animation effect, you can display different images in layers with description. Users can view the entire ad only if they scroll down screen. Unlike other types of ad, the engagement is measured with the number of users scrolling down for complete information, even if they do not click on the ad.
Audio ad
Audio ads helps in brand awareness for reaching to a wider audience thereby increasing the number of leads. With the availability of different platforms like spotify, Apple music, google play and many more, leveraging audio ads will be a potential ad strategy to improve brand reach.
Flipbook
Flipbbok is a unique way to grab the attention of users with a short video on the mobile screen. This video is as short as five seconds and if the user is interested to learn more about the video, they can tap on the clipping to view the entire video. The video clipping plays  while the user is scrolling down and and while scrolling up the video plays in reverse. Similar to parallax ads, the engagement rate is measured by number of users scrolling, even though they do not click on the ad.
How can your business do Programmatic advertising?
Many consider Programmatic advertising to be the future of digital advertising. A report by Magna global stated that by the end of 2019, 50% of all advertising will be Programmatic. 
So how can your business do Programmatic advertising? Like traditional advertising, there are many factors that a business needs to consider before they implement this. They include:
Set goals
Once you know how and where you are going to implement the programmatic ads, the next step is to set goals. You need to know what you expect to get out of programmatic advertising such as the conversion rate or the click rate and set goals accordingly.
Study the market
As with any medium of advertising, the first step is to study the market. Programmatic ads appear on webpages, apps and audio-video content, to name a few. So, you need to know what type of web pages your customers are visiting as well as what competitors in the same space are doing. This will give you a better understanding of what webpages to target based on the audience personas identified.
Take up a full-funnel approach
Programmatic advertising is a great way to put your brand name out there, hence, it is crucial that your ad appears in the right places to the right audience. It is a good idea to take up a full-funnel approach and target the audience based on the consumer's journey. Pick out the information that brings out the essence of the brand in the ad.
Select your audience
DV360 provides comprehensive targeting options in order to fulfill the campaign objectives. Advertisers have the option of choosing Google-provided audiences for no extra cost, along with first-party audiences or purchase third-party audience, based on the campaign goals. 
How to use your company's data to your advantage?
With the help of data available on the market, the brand needs to gather behavioural insights to run a successful programmatic campaign. There are three types of data that come into play when thinking about programmatic advertising. The first would be the data collected by the marketer on the customers. The second would be the data gathered by an advertising agency who would use the information to help the brand build its programmatic advertising strategy. The third type of data, also known as third-party data are reports that can be purchased by any company online. 
Brands need to pay close attention to the data they collect as it can give them valuable insights into customer patterns and behaviour. Programmatic advertising can then be targeted based on scale and accuracy. If the target audience is small, the accuracy can be intensified on a small scale or vice versa if the target audience is large. 
When it comes to retargeting existing customers, it is important to use programmatic advertising to give them a story behind the brand rather than information about the product or service as you would with a new customer. But don't focus solely on retargeting, your programmatic advertising campaign needs to be optimised from start to finish to keep the customer engaged at all times.
Challenges of programmatic advertising
There are many challenges for online advertising and programmatic is no exception to these challenges. Although programmatic advertising is slowly gaining traction, the concept is still in its nascent stage. This is mainly because of lack of information about the concept, where and how to use the technique. 
The next big challenge is , having invested money in ads, it is a natural expectation for brands to reap maximum benefits. But what if your ads are viewed by bots and not real audience? This is called as the AdFraud where your investment on advertisements yields no results. Here is where research and knowledge plays a key role in displaying your ads to the relevant audience. You should make sure that your ads are displayed on reputed and trusted websites, for which you should be sure of the website. 
Brand safety plays a prime role in securing your ads on the webpages. Here are some brand safety methods that you can incorporate for your programmatic advertising.
Brand safety measures
One of the key concerns for many marketers today is brand safety. In recent years many brands have become more vigilant about safety measures which were spurred by the many ads being placed next to political and violent content that often took the focus away from the brand's message.
Here are a few important tips advertisers can use to ensure that their programmatic ad buys to protect the brand name. 
Invest in private marketplaces
It is recommended that advertisers leverage their relationships with publishers and run ads in the private marketplace (PMP). This is an effective way to purchase programmatic ads because you know exactly who you are purchasing the ads from and where the ads will be placed.
Opt for premium placements
It is crucial for advertisers to escape the vicious cycle of posting their ads in fraudulent and irrelevant websites. Your advertisement should protect the brand's reputation by making sure you place your ads on premium and trusted web pages. Using brand safety you set a platform for the right audience to engage with your ad.
Whitelists
In contrast to blacklisting certain websites, you can also whitelist them. This is a list of sites that are safe to run your ads on. This may seem like a time-consuming task but there are many exchanges that require websites to complete an intense inventory approval process.
Make use of exclusions in your targeting
Not only do you focus on targeting relevant audience, you should also be aware of your negative targets. Under brand safety tools, you can exclude certain web pages from showing your ad, considering the site to be unsafe for your ad to be displayed.
Ad fraud verification services
Advertisers can use the services of third-party vendors to prevent ad fraud. This feature is present under the "brand safety" tab where you can choose between leading providers like Integral Ad Science, Double Verify and Adloox to prevent your ad from being showing to fraudulent websites while saving up on advertising dollars. 
Is programmatic advertising the future?
Programmatic advertising is definitely on the rise in India in 2019 largely because of the efficiency it provides. Traditional ad campaigns require a lot of iterations and can either be a hit or miss. But with programmatic ad campaigns, brands don't need to worry about their ad expenditures. The program ensures that money is spent in the best possible way. All you need to do is enter the required information into the software and you are all set. 
Programmatic advertising uses customer's data and company goals to create and set ads to effectively target the customer base. This type of ad buying frees up more time from brands and agencies that they can use to think more creatively about the customer and how programmatic advertising can be leveraged to engage with India's next billion Internet users.
Google offers their programmatic solutions only to agencies and not to brands – but there are agencies like Social Beat that offers a self serve option to brands and other agencies where they can use the existing DV360 access to run campaigns. This is known as Self Serve programmatic advertising.
SEO and content marketing have changed drastically over the last few years, so much that marketers have even begun to wonder if SEO is dying? But the truth is that, changing algorithms mean content marketers have to contend with ever-increasing SERP features that can impact organic traffic.
So how do you create great content that can still draw traffic to your website?
One of the most effective ways to secure your position on the world's favourite search engine is by creating powerful pillar pages that catapult your website traffic. Pillar content is a comprehensive piece of content based around specific topic clusters.
What is a topic cluster?
A topic cluster is essentially a technique that goes after topics rather than focusing on just a set of keywords. With this technique, you can choose broad content themes that you want to own and create multiple blog content around it.  
With Google's Latent Semantic Indexing, creating topic clusters ensures you cover numerous semantic keywords that cannot be done otherwise. Until recently, content marketers were creating individual blog posts that rank for a particular search term. However, most broad themes have multiple topics, which means your own URLs are competing against each other.
For example, if you are a real estate developer with an active blog page that covers a wide variety of blog content, then creating a pillar page that ties a certain broad theme can boost your search rankings.
Scroll down to see how!
What is a pillar page?
A pillar page (also known as cornerstone content) is the base for the topic cluster model. It is a consolidated page on your website that acts as a pillar but has enough room for more details in the cluster blogs which are hyperlinked the pillar.
The topic is broken down into chapters and covers all the aspects of a particular topic to increase the chances of ranking on the first page of Google. As mentioned before, all these sub-topics are interlinked to the main blogs on the website, where the concept is explained in much more detail.
For example, on our website, we have blogs on real estate marketing, YouTube marketing, Facebook ads, etc. So, writing a pillar on these topics is the ideal way to go because we have enough clusters to interlink too as well.   Featured below is our pillar page titled "A complete guide to digital marketing for real estate". The objective of the page is to rank for anything connected to digital marketing for real estate. It taps all the aspects of digital marketing from the lead generation strategies involved to an in-depth case study on how a real estate company grew via digital, providing readers with a one-stop solution to all their queries related to the main topic.  
Another example is a pillar we have on YouTube SEO tips. This pillar covers everything relating to YouTube SEO and tips to grow your organic subscriber base. It is broken down into chapters and links to other clusters connecting to the main topic.
How does a pillar page boost SEO?
The in-depth nature of pillar pages helps it rank for a variety of keywords making it much more powerful than a blog, tool, quiz or any other type of content that typically shows up on SERPs. However, it's not just about keywords and ranking! Since a pillar page has versatile types of content, including videos and other forms of interactive pieces, readers spend more time on the page which is again a great ranking signal. To add to that, the page is interlinked to many other content pieces on your website keeping the SEO juice within your domain. Last but not least, pillars also help in lead generation, making it not not just a great tool for brand awareness and consideration but also for conversions. 
For example, we created a laptop buying guide as a one-stop destination for users looking for the perfect laptop. It covers all aspects of the buying process from the laptop specifications you need to look for to where you can buy your laptop from. The pillar also includes an interactive laptop finder tool that readers could use to find the ideal laptop. Through this pillar, we were able to generate more than 170 organic leads, out of which 50 consumers visited the nearest laptop store and bought a laptop. The revenue generated via the pillar leads resulted in 18X ROI for the brand. 
When to create pillar content?
While it is a good idea to write pillar content for all topics that you want to rank for, you also need to start by looking at how much content you have on your site. Since pillar pages act as a central traffic signal that drives visitors to other web pages, it makes sense to first check if you have enough pit stops to divert your audience towards. Start by checking your blog database and see if you have enough number of diverse topics that cover all aspects of the main topic.
As explained in the flowchart above, the first step of creating pillar content is to find a high-volume keyword that you intend to rank for, do not have content on and want to explain in depth. With all these three criteria in place, your pillar page is guaranteed to get you a high rank on Google.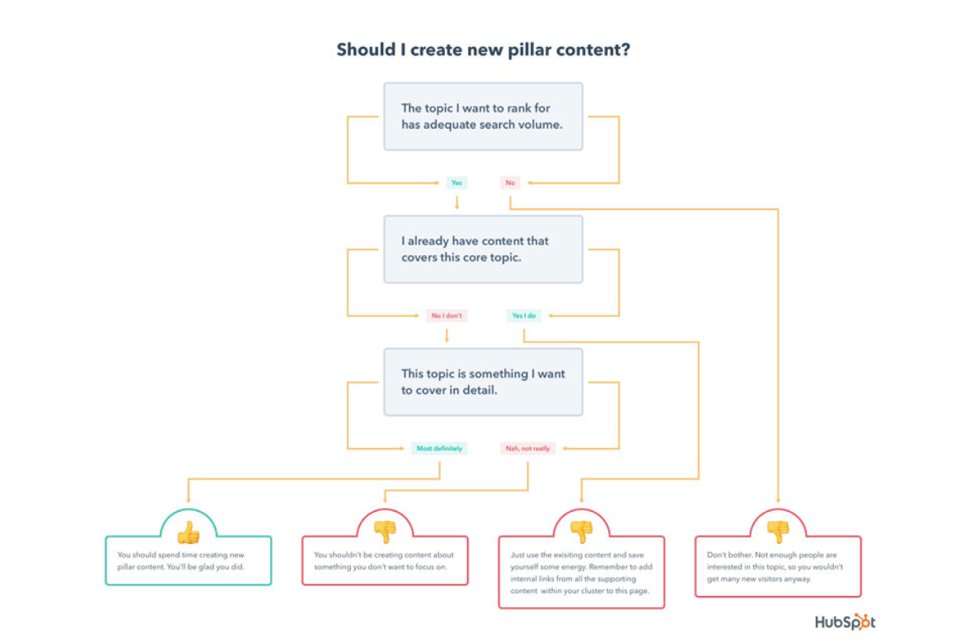 Source: Hubspot
Structure of a pillar page
A pillar page consists of the following elements:
–          Topic clusters designed in the form of chapters: Since a pillar page is a middle ground between a blog and an e-book, it is usually designed with chapters for easy navigation. Each chapter is explained with different types of content from infographics to interactive tools. The chapters are diverse and cover all the other semantics of the pillar topic, to increase its chances of ranking. Needless to say, each chapter is optimised with a unique set of keywords of their own.
–          An enquiry form: Leads are the fruit of digital marketing that produces freshly-squeezed ROI juice. Keep track of your visitors and nurture them into customers by placing an enquiry form with an appropriate call to action on your pillar page. Featured below is the pillar page created for Casagrand, one of India's leading real estate giants. The page opens up to a form, along with a sticky tab for easy access from anywhere in the page.
The page titled "An ultimate NRI guide to buying property in India" covered all topics from documents needed to invest in India to the types of properties NRI's are entitled to buy.
–          Share buttons: Keep the tunnel of communication open between your pillar page and your target audience with sticky share buttons. From social media platforms like Facebook and Twitter to networking sites like LinkedIn, choose the forums that make sense for your brand. You can also pick sharing platforms used by a majority of your target group. After all, you do not want all that content to go unread!
–          A well-designed UX: There is no doubt that UX can make or break your business sales or revenue. A well-designed page with easy navigation helps in increasing the time spent on the page and reducing the bounce rate. Additionally, with all the interlinked in-depth content, it is only a matter of time your page ranks on the first page of Google, attracting organic traffic like a moth to a flame.
To know more about SEO strategy for your brand, check out our Video on Pillar content for organic traffic and leads.
Now that you know how pillar pages work and the effect they have on your website traffic, it is time you level-up your SEO game with this promising trend. Whether you are an FMCG brand, B2B organisation, Financial giant or a leading real estate developer, boost your brand visibility with pillar pages and make your organisation stand out in the digital hemisphere. 
[wpsp]