A product may be extraordinary, but only a stellar marketing approach will help give it the boost it requires to get the conversation going and keep it that way. In a digital age, leveraging growth marketing to lift your startup off the ground is a powerful way to grow your user base quickly, and growth hacking can be shaped to work with almost any marketing requirement.
But to begin with, what is growth marketing? And how is it different from traditional marketing?
Growth Marketing versus Traditional Marketing
Growth marketing
Since your target audience isn't aware of what you're offering, your approach to marketing needs to be strategic. Simply put, growth marketing is a process of selecting and implementing scalable tactics used to swiftly drive a large reach on a budget. Experiential marketing allows you to test the waters, analyse trends and optimize marketing campaigns for optimal results. This helps increase acquisition, retention, recall, engagement, and a positive brand image, regardless of whether your company has a webpage, an app, or both. Growth marketing strategies will work for the common and unique components of both.
Traditional marketing
Traditional marketing focuses on the top of the funnel and follows the same principles in helping your brand build its market presence, but it does not implement optimized results the way growth marketing does. The latter nurtures the relationship with the audience, acting on the feedback of consumers, enabling growth in customer relationships, and thus, steady growth in the brand's visibility.
With limited time, money, and manpower in the initial phases, it is unlikely that traditional marketing will be the right fit for bootstrapped startups that need to scale up quickly.
What are the elements of growth marketing?
Growth marketing for startups uses a combination of tools to drive growth and traffic, which can ultimately culminate as a marketing mix model strategy. With a 360-degree approach, growth marketing also doubles as full-funnel marketing, with brand-building aspects like search engine optimisation, performance marketing, and social media marketing.
Here's a look at how each element can work wonders for a brand.
Performance marketing
Assuming a startup has reached its market, the next step is to run ads online and track and analyse the data generated from various sources. Continually tracking and optimising campaigns will always be impactful since insights help pave a tailored path to achieve the desired results.
Using programmatic and analytical solutions
Media buying through programmatic solutions automates the process and enables the analysis and optimisation of campaigns with machine learning and AI. Using automated dashboards for analytical reporting allows you to consolidate campaign insights from various platforms to make swifter business decisions with a data-informed approach. There are also tools that help calculate the effectiveness of a brand's campaigns in comparison to its competitors'.
Leveraging and analysing first-party data
Use Google Analytics and other tools to analyse which pages are witnessing better traffic and lesser traffic, and optimise both. Information like location, gender, age, clicks, session durations, ad engagement, and more, can all inform you on audience interests, helping you to build an insightful audience profile.
Case study
For our strategy for KhataBook, we leveraged TikTok, Facebook and Google to increase app installs, customer events, and acquisition, with different campaigns and creative resources. Alongside this, by using features such as ad scheduling and retargeting, we were able to achieve 1 million downloads on the Play Store. This goes to show that playing with different strategies will help you reach your goals eventually, but a lot faster.
Social media marketing
Social media combines content and performance marketing to offer a one-stop-shop for guaranteed engagement. With so many different platforms for different kinds of enterprises, a startup only has to pick and choose which to use – from the most essential ones, like Instagram and Facebook, to niche ones, like LinkedIn and TikTok.
Leveraging the essential platforms
Your growth marketing strategy must include the Facebook family of apps, which includes Instagram, Twitter and even WhatsApp. With target audience segments and tools to run optimised ads, social media also enables measured results and insights. Apart from this, social media platforms offer readily available insights and data for the audience base you want to tap into. With hashtags volumes, follower counts, engagement through likes and views, and even digital marketplaces, your brand can drive ROI swiftly.
Extending your online presence
New platforms like TikTok are growing at breakneck speed and should be leveraged to increase your brand presence. By tracking the performance of your posts on a variety of platforms, you'll be able to discern which platforms work best in terms of lead generation, audience engagement, and data collection.
These platforms allow you to use multiple combinations of ad formats, such as video ads, HTML creatives, GIFs, and more. This is a great way to hack your content and see which creative resources are working best.
Incentivize content
As discussed earlier, you can increase acquisitions by running referral campaigns. Audiences are always looking out for coupons, freebies, and bargains. Doing so will generate a buzz online around your brand, and will help to drive growth. While you should have these on your app or website, promoting these on your social media handles will give the campaign the boost it needs to generate and garner attention.
Engage with audiences
Social media is obviously the best way to engage with audiences far and wide, and it's up to you to expand your strategy beyond likes and comments on posts. Explore the 'stories' features that several of them offer, and come up with ways to be creative there. Data shows that over 400 million people engage with Instagram's 'stories' feature daily. With both video and post formats available, adding elements like polls, countdowns, quizzes, filters, and stickers can increase your engagement rates exponentially. You can also ask customers to mention and tag you so that you can feature user-generated content as testimonials to your brand offering.
Influencer marketing
Social media is also great to connect with influencers and known personalities that can benefit your brand image. Seeking out conversations, tie-ups, and influencer posts work to create word-of-mouth marketing, amassing relevant audiences that are more likely to have a higher life-time value. Apart from the usual featured posts, other ideas include live streams on Instagram, re-tweeting posts, and following content based on viral social trends.
Content and SEO marketing
Content can be considered the driving force behind your organic marketing strategy. Continued and sustained audience engagement through authentic and valuable content will keep traffic incoming and ongoing, and your content will rank higher on search engines. It's also more likely that these audiences will turn to you for trusted information over and over again, building customer loyalty.
The following growth marketing strategies are critical for increasing organic traffic and conversion rates.
Blogs
Creating a blog is an essential hack to drive visibility and website traffic. Not only does it acquaint audiences with a startup's product, but it also creates an opportunity to grow leads by offering relevant content in exchange for the visitor's email.
Other methods of creating content
Using out-of-the-box content marketing ideas will help your startup stand out from the competition. Based on the kind of product or service being offered, startups can choose to put out content through influencer marketing, customer testimonials, social media, by leveraging Quora and by creating multilingual content.
Hacking your content
For startups, growth marketing with content also means efficiently using time and resources. Creating new content is essential, but it can also become time-consuming. In this case, repurposing existing content can help speed things up. For example, turn blogs into videos, ebooks, Instagram posts and more. This strategy builds your content base and simultaneously increases opportunities for shareability with your target audiences. It also offers variety to target different audience interests – someone who isn't big on reading may be more open to watching a video on the same content.
Encourage user-generated content
Ask customers to leave reviews whichever way they can, whether it's through feedback forms, emails, or social media messages. A lot of brands that are just starting out also request their first batches of customers to send in their thoughts about the product through a note included with the packaging. This personal touch to the product compels them to comply, and you can then feature these across your online handles. This will build an element of trust for future customers and users.
Case study
To understand the facets of content, we can turn to our strategy for our client mfine, a cloud-based app where users can book instant consultations. They wanted to build a strong content strategy for overall organic growth. Since they are a newage startup, we analysed what would help them grow exponentially, and suggested running aggressive SEO strategies. This included building high-quality external backlinks, optimising existing pages with highly competitive keywords, building long-form content, and interlinking blogs and relevant pages.
This resulted in organic and increased visibility of their medical speciality pages, with an increase of 3,00,000 sessions in the span of 4 months. Traffic also increased steadily month by month, and 1000 of the keywords ranked on the first page of search results. The interlinks also helped decrease bounce rates and increased the amount of time spent on pages. All this goes to show that building on an organic strategy guarantees astounding results.
Video marketing
Video marketing is a crucial part of content marketing as well but can be considered as a separate strategy owing to the number of ways you can go about it. Video content is one trend of the last decade that has taken off with virality, conveying dense amounts of information in a concise manner. To put things in perspective, 65% of viewers watch over 3/4th of a video, and 92% of viewers on mobile devices share videos with their circles.
Types of video ads
By using a wide range of video ad formats across platforms, not only will you increase audience engagement, but you'll also be able to track different parameters of data. From thumb stoppers, bumper and discovery ads to skippable and non-skippable ads, there's a plethora of formats to play with.
The kind of content you create with your videos also matters, since these will increase engagement, traffic, session duration, and customer loyalty in the long run. Your videos may fall into three broad categories, namely awareness, educational, and entertainment. Examples of these include:
Explainer videos, walk-throughs

Product tutorials, reviews, and reveals

Round-ups

PSAs

Case studies

Theatrical or humorous cuts/skits

Behind the scenes

Vlogs

Q&A, interviews

Announcements, live sessions

Influencer tie-ups
Vernacular content
Implementing strategies in regional languages is, once again, another tangent of content marketing. With higher Internet connectivity in today's day and age, new data users are increasing, and in India, it is estimated that there will be an unprecedented billion users that will make the move online. With this new wave of users, a new challenge is posed – ensuring that your content is in a language they can read and speak.
Since over half of these audience segments come from Tier II and Tier III cities, having a multilingual marketing strategy can bring your brand to the forefront in a line of competitors. Moreover, it will not be enough to implement this on your webpage, but with your app, videos, creatives, ads, and all other content as well.
Case study
For KhataBook, we leveraged the growth of regional content online and created close to 200-300 videos in regional languages across platforms. On TikTok, we partnered with influencers who created these videos for us, and their relatable content in different vernaculars, with a large focus on the top South Indian languages, helped us garner 1 million app downloads, making the campaign a huge success.
Online and offline integration
While traditional marketing shouldn't be your sole approach to hacking your startup's growth, it is not entirely redundant to your strategy. By using the strategy of online to offline attribution, a company can work to uniquely build a strong brand presence.
Conclusion
Combining all these strategies and tools might seem daunting at first, but they're a lot easier to implement, and don't take as much time to get started with either. Seeing results will take a few months, but with steady optimisation and performance tracking, you'll be knocking your goals out of the park in no time. All it takes is an analytical approach to see what works and what doesn't, and then tweaking it over and over again as you watch the numbers rise.
Augmented Reality is an interactive technology that is reshaping how customers make their decisions before a purchase. In fact, recent studies suggest that nearly 61% of online shoppers prefer brands utilising the AR tool, which can convert viewers into customers. Augmented Reality utilises advanced technology to integrate and overlap the virtual and real-world in the form of images. All this has led brands to change how they leverage digital marketing trends for 2020 with this powerful tool. The advantages of AR are many and brands have already started tapping into the immense potential of AR as an integral part of their marketing strategy. 
Google has announced that they are testing AR powered 3D images integrated within searches for products on e-commerce sites. This will enhance the search experience of users as they can now visualise the products in real time. Moreover, 3D images give an enhanced online experience as it enables users to visualise and understand product specifications vividly.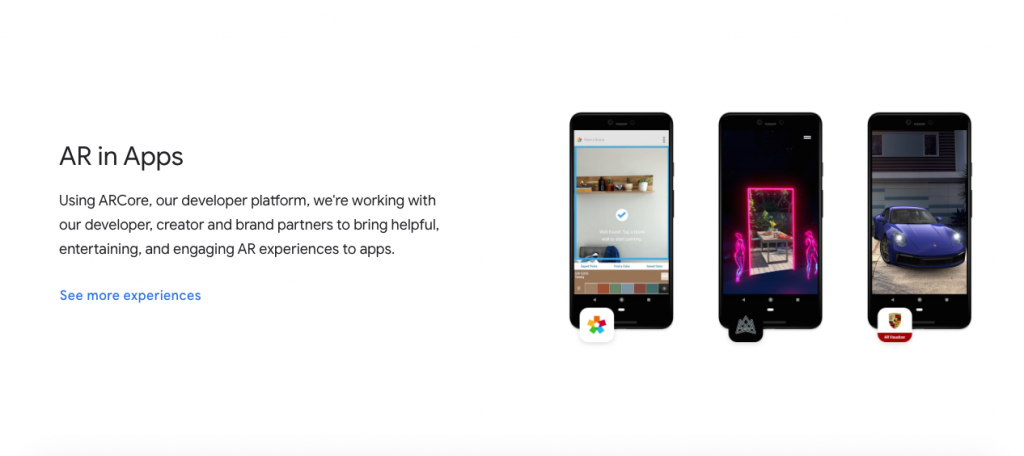 How does the AR tool work for e-commerce sites?
When a user searches for a product, the results will be displayed with the specifications and prices, and alongside these details, the option to 'View in 3D' will appear as well. This requires all users to have Google's new AR update.
By clicking on this option, users will be shown the 3D image of the product through the mobile device's camera lens. These images appear as if they are right in front of you, wherever you may be.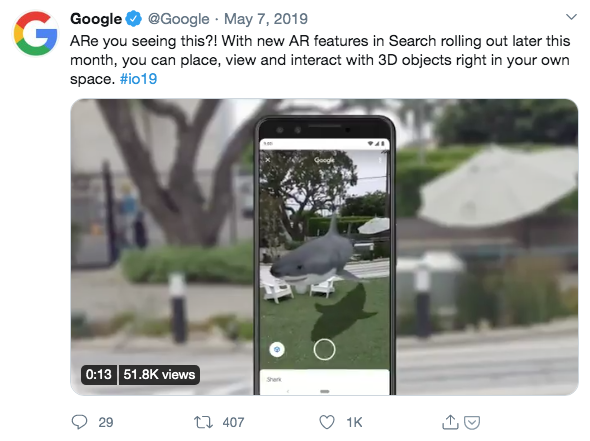 Users can rotate the product to any angle to explore the features and check if it matches their expectations. This allows them to visualise the product as realistically as they can, and find out if the product is a good fit for their needs, thus enabling them to make more informed purchases.
About Google's ARCore tool
Google's ARCore allows brands to transform 2D images to 3D models integrated with AR technology with which the users can engage with the product for a better user experience. With a set of quality reference AR images, the tool can easily model the AR experience effectively. Instagram and Facebook are well ahead of the curve, with the introduction of SparkAR to enhance the user experience on social platforms. Although there are multiple apps offering the AR experience, Google's entry into the field is a crucial factor for SEO strategies to rank better on the search engine when there are commercial queries.
The advantages of AR have come as a boon for businesses. From increased brand awareness, enhanced user experience, refined brand engagement, and increased conversion rates, using cutting-edge technology of AR is definitely revolutionizing the way customers engage with brands. All these benefits of AR lead to the largest benefit yet – that the approach to a full-funnel marketing strategy is achievable, turning leads into customers with potentially higher retention.
Quite possibly no other component of digital marketing has been as subjected to the imaginations of conspiracy theorists as SEO has. Almost every year, new claims come out about the death of SEO which are then consequently debunked by experts in the field. But this time, the assertion isn't coming from marketers pushing for more PPC campaigns, but from concerned content creators themselves.
So why are experienced professionals in the field worried that 2019 could signal the death knell of SEO? Here are a couple of factors that might explain their fears.
Organic CTR is the lowest it's ever been
With every SERP feature that Google adds, click-through-rates take another dip. In the past, if a user were to search for the weather, they would have to click on a result, enter the website and look for their answer on the page. But now? The search results would look something like this: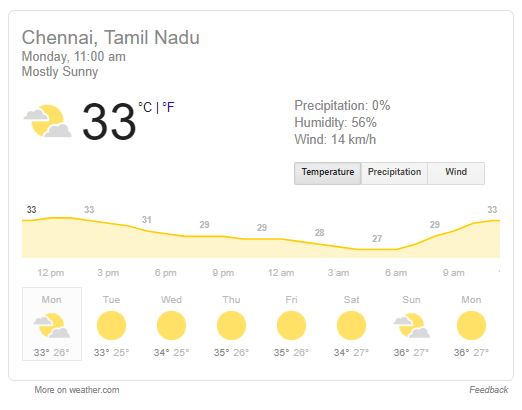 This feature is great for users who can now get their queries answered faster, but for a website? Not so much!
These new features don't just affect broad searches but long-tail queries as well. A first-time real estate investor, for instance, might search for 'how to calculate stamp duty' to clear up their questions on it. When they do that, Google will present them the answer neatly packaged in this featured snippet: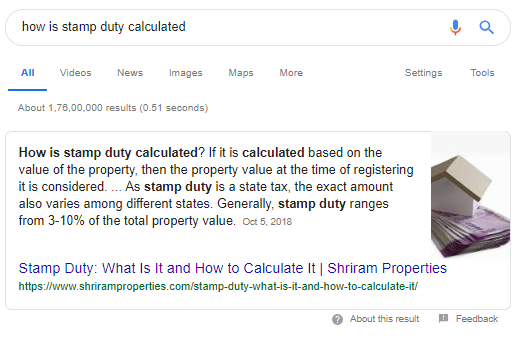 If you are wondering how to get the coveted featured snippet. Here is an interesting video:
Since the user already has the answer to their question, they might not feel the need to actually click on the website. What this means for content creators and website owners is that while their search rankings might improve, overall organic traffic to the website might not grow proportionally.
Google Maps eats up local search traffic
Businesses, understandably, want users to visit their website for all information related to them. This is especially important for local businesses such as restaurants and cafes since purchase intent is typically higher for local searches. However, Google might be hoarding most of this traffic for itself. If a user searches for cafes or restaurant, for example, their search results today looks very different than it did just a few years ago. In the past, they would see a restaurant listing when searching for 'Chinese food near me', click on the website link that appealed to them and check out the menu and contact details on their website.
Today, while they will still see restaurant listings, clicking on one will take them to Google Maps and not the restaurant's website.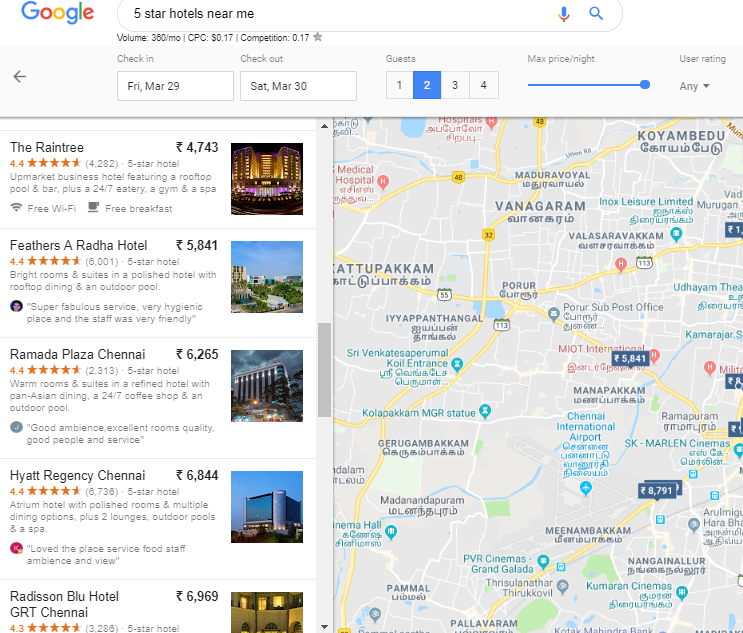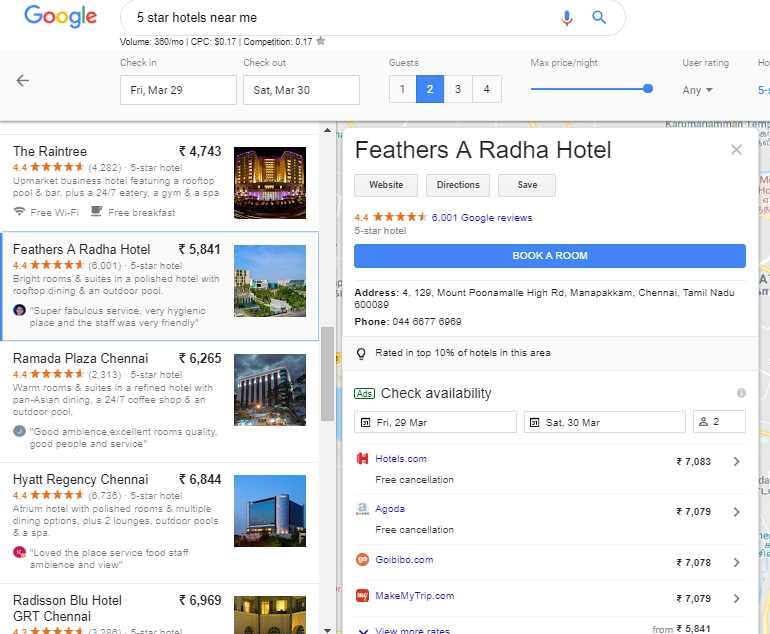 Of course, a user will still be able to utilise the information provided by Google to visit the restaurant or make a reservation (and thereby convert into a customer). But a business' website might have less reach and decreased organic performance.
Mobile search is most heavily impacted
For the last few years, a mobile-first approach to SEO (and almost everything related to digital marketing) has been adopted by marketers everywhere by implementing strategies like AMP. The number of mobile users and mobile searches have also been on an upward trajectory in the last few years, underlining the importance of mobile SEO. However, recent statistics about the nature of mobile searches have emerged, making marketers wonder if mobile SEO still has the same 'do-or-die' effect that it did a year ago.
According to Rand Fishkin of Moz, mobile no-click searches have grown by 11 percent, almost 2.5 percent higher than no-click searches on desktop. With these seemingly gloomy numbers, it's no wonder that websites and brands are worried that they might be losing out on a chunk of their organic mobile audience.
Voice search is increasing no-click searches
Voice search can be interpreted as both a boon and a bane for marketers. On one hand, it's a growing new platform to make their brand more visible to users and one of the biggest digital marketing trends of 2019. On the other hand, no-click searches are most prevalent on voice search. For brands and marketers, this poses a unique conundrum: is voice search worth ranking for or will it provide absolutely no value in terms or traffic and brand awareness?
But does this mean SEO is dying?
The simple answer to that question is, no. With SEO, when one door closes, another opens. There are certainly many facets of SEO that are dead or dying today, but that has always been the case since its inception. As users, platforms and Google's algorithm evolves, SEO needs to adapt to keep up.
Instead of getting bogged down by all the alarming statistics being thrown around about the end of SEO, marketers should instead focus on realigning their SEO strategy in the following ways.
Grow branded searches
If there's one keyword that Google cannot steal traffic from, it's searches for your brand. For example, if a user were to search for just 'digital marketing companies in India', Google would first list out map listings of companies.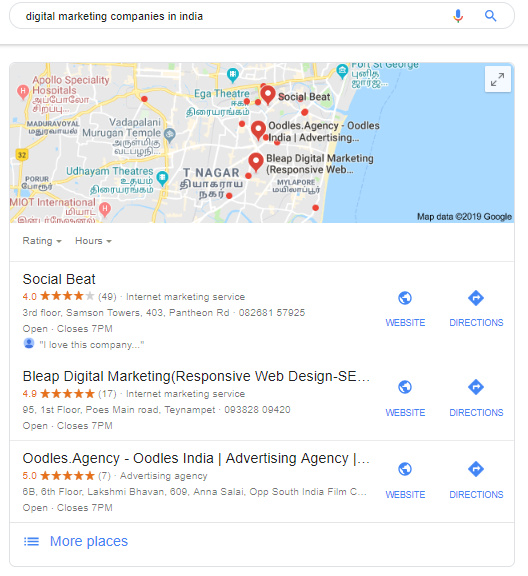 However, if they were to directly search for 'Social Beat', none of Google's SERP features would show up to distract them from clicking on our website.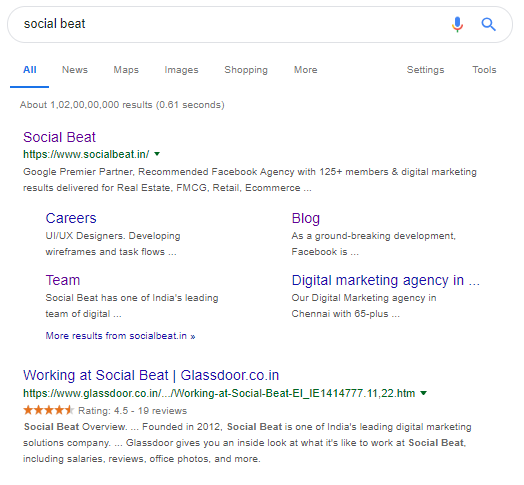 Going forward, therefore, brands need to focus on building the strength and volume of branded searches if they want relevant traffic on their website.
Shift focus from volume to CTR%
Most keyword research today consists of analysing keyword volume and difficulty alone. But with the new SERP features, high volume keywords don't necessarily guarantee high traffic from them. To counteract this, content creators should include a third dimension when choosing keywords to optimise their content with: CTR percentage. By carefully choosing a keyword that has a high click-through-rate, content marketers can be assured that they will be creating content that will drive organic traffic to their website and not just adding to Google's no-click search percentages.

You can do a simple CTR analysis through most keyword research tools. In this example, we used Ahrefs to dig deep into our focus keyword, 'digital marketing blogs'. According to the results that the tool gave us, this keyword is worth trying to rank for as 65% of those searching for the keyword have clicked on a result.
Design content for SERP features
In the case of SERP features, content marketers are better off following the adage, 'If you can't beat them, join them!'. A featured snippet, can either steal traffic from your website or increase it depending upon how you tailor your information for it. If a user can get all the information they require for their query from the snippet without having to actually click on the link, chances are they aren't going to visit your website. But if you can offer users just enough information and intrigue them so they click on your link to read more, then the featured snippet can be the most powerful tool in your arsenal to drive traffic to your website.
For example, if a user knows that this list includes 10 mobile wallets, but the snippet only displays a few of them, they will be more likely to click on the link to read the full list.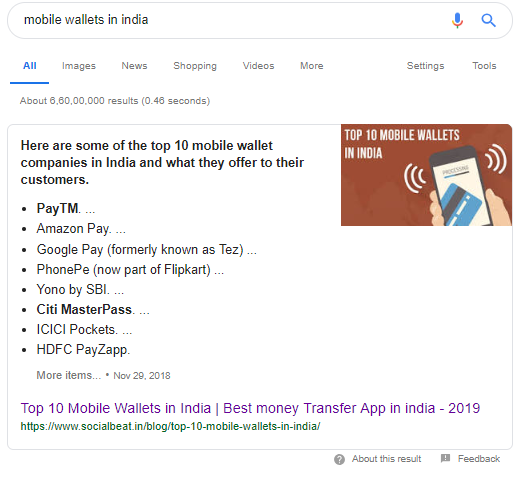 Develop innovative content based on long-tail keyword
Creating 10x content and using long-tail keywords have always been the cornerstones of modern SEO, but they were never more important than they are today. The goal for content marketers today is to create in-depth content on nuanced topics that cannot be pigeonholed into any of Google's SERP features. Essentially, the longer a keyword is, the greater the chance of your actual website ranking for it and not an answer box or any other feature.
Even if parts of your content can snag a featured snippet, it should offer your audience several useful elements that they need to click on your link to explore. The demand for interactive content is on the rise and thankfully, Google hasn't found a way to display interactive tools directly on SERP yet. Tools like calculators, interactive maps, planners and more can drive organic traffic to your website and offer immense value to your readers.
If SEO is dying, then the one thing offering it CPR is pillar content. This unique comprehensive content format has created waves in the SEO sphere, promising almost an instant surge in traffic and even several high-quality leads. The secret ingredient that makes pillar content so powerful is that it is linked to several related articles within your blog, providing instant link juice to each of them. Because of this, organic traffic to your blog and overall website improve dramatically.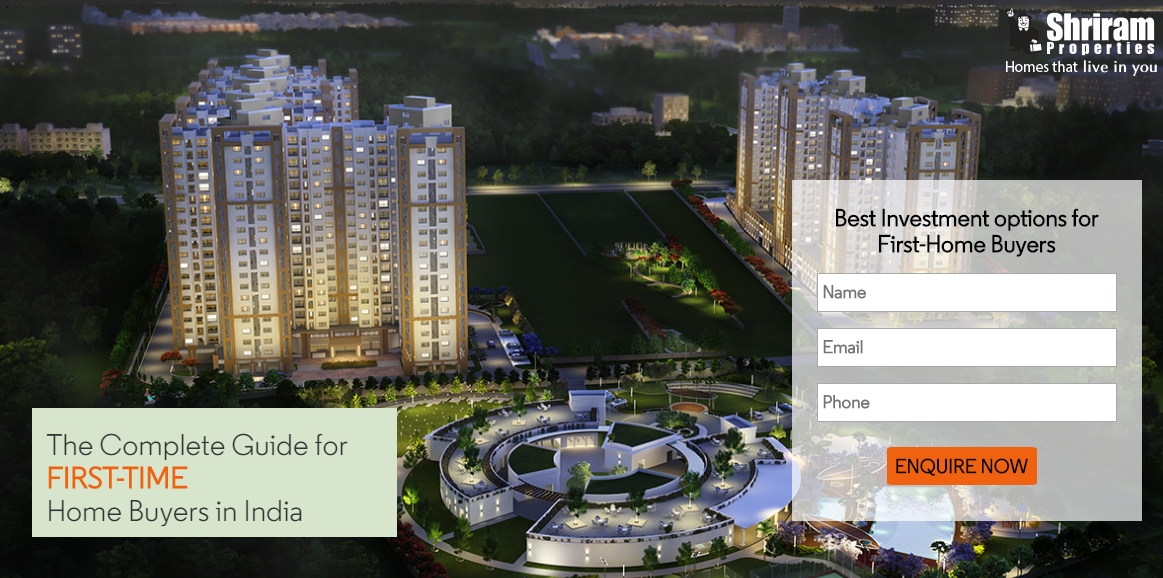 For example, we created a pillar for our client Shriram Properties on 'A Complete Guide for First-Time Homebuyers in India'. Within a matter of weeks, it started ranking for over 1000 keywords in total and for 100 keywords on page 1. Achieving similar results for a regular page within such a short time span would have been close to impossible with a regular page.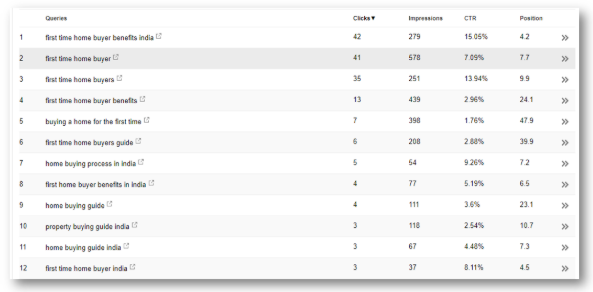 Meta titles and descriptions still matter
If there's one thing that has stayed constant in the ever-fluctuating landscape of SEO, it's that meta descriptions and titles can make or break your organic traffic. These two elements are the simplest, yet most crucial aspects of SEO. If all your hard work has helped your content reach Page 1, but the title and description aren't compelling enough for users to click on it, your traffic is unlikely to show any improvement. It is also important that content creators don't get disillusioned by the variety of SERP features available today. A study by Ahrefs found that featured snippets get only 8.6 percent of clicks, while the next result gets 19.6 percent of the clicks!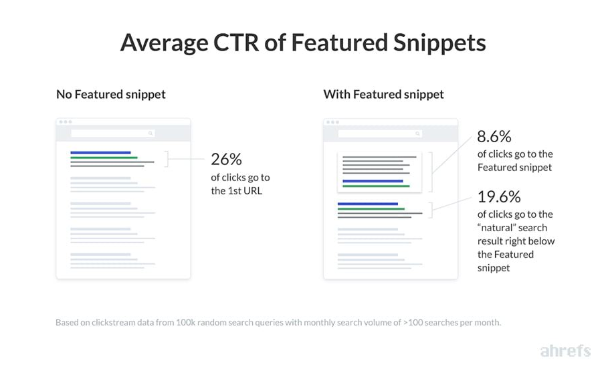 So even if your brand has lost out on the featured snippet, it doesn't necessarily mean that your organic traffic will drop because of it.
Branch out with barnacle SEO
Instead of putting all your eggs in a single basket, barnacle SEO offers you a way to spread your chances to drive more traffic and increase brand visibility. Today, 'aggregator sites' are more visible on Google than they ever were. These sites, for example, Zomato, Urban Clap and Little Black Book, list companies and services on their website. If a user were to search for best massage parlour in Chennai, their search results are most likely to throw up aggregator sites and not individual massage parlour websites.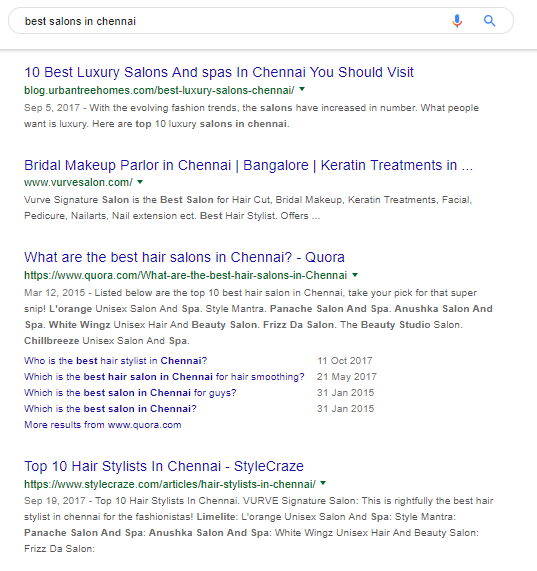 Is this disheartening for individual businesses? Not necessarily. Trying to compete with aggregator sites will be a David vs. Goliath situation since these sites are typically larger and have a higher domain authority. Instead, businesses should try to get featured on aggregator sites to make their target audience aware of their brand and increase traffic to their website. Getting featured on a compilation can also increase the brand's credibility in the eyes of the user.
Get a headstart on YouTube SEO
With all the panic about Google's CTR shrinking, many marketers tend to forget the second largest search engine in the world: YouTube. YouTube is beneficial for marketers for two reasons: 1. It's a new platform to reach out to users and 2. It can help brands rank on Google as well.
The number of subscribers and video views on YouTube is growing exponentially – particularly in India. If you are finding it challenging to rank for a relevant keyword on Google because of high competition, YouTube could be an excellent way to circumvent this. You can read our in-depth blog on YouTube SEO Tips: The Secret Sauce to Ranking Your Videos to get started!
The second reason to optimise your videos for YouTube is just as important. One of Google's SERP features is video listings pulled from YouTube that are related to a search term. If your brand is able to create a video that also ranks on Google's SERP, then you will automatically be able to increase visibility and awareness of your brand.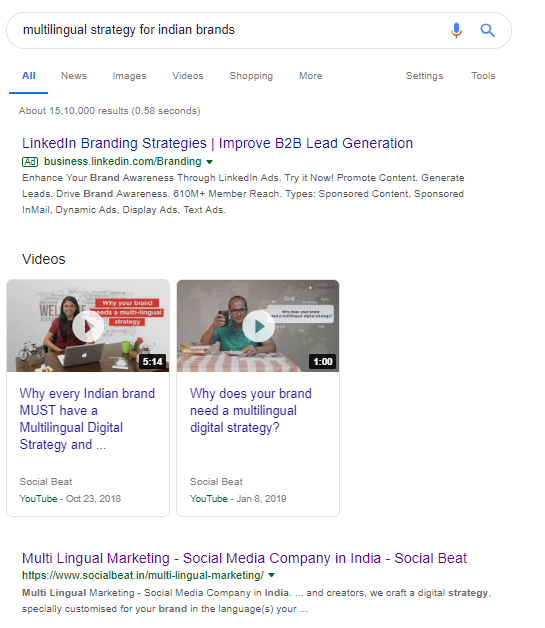 This strategy is a great way for marketers to beat Google at its own game and use SERP features to their advantage.
You can also check out our video on 'YouTube SEO: 8 Powerful Tips to Help Rank Your Videos'.
Gear up for voice search
Voice search can be viewed as a disruptor or facilitator, but one thing's for sure: marketers cannot afford to ignore it. Here are just a few incredible statistics on the growing importance of voice search:
28% of search queries in India are through voice

By 2020, 50% of all global searches will be in voice

There is a 270% YoY growth in voice searches in India
To avoid being left behind in the voice search wave, marketers need to optimise their websites and brands to appear for voice queries. This can also help them reach out to new internet audiences, those who are from tier 2 and 3 cities and are more comfortable using voice than typing out a query.
If there's one thing that hasn't changed, it's that content marketing backed by continuous optimisation still has the highest ROI compared to any other type of campaign. By getting an early head start and implementing these elements in your content strategy before your competitors do, you can cement your position on Google's SERP and gain a high content marketing ROI.
[wpsp]