Reading Time:
10
minutes
If there is one thing Covid 19 has taught us, is that brands now have a stong and viable channel to connect directly with consumers – and that channel is digital. With thousands of direct to consumer brands springing up, setting up your online store has never been more easy.
When starting out a new ecommerce venture, there are a lot of elements that need to be figured out – right from the ecommerce platform (which this post explains in detail), payment gateway to integrate with your ecommerce site, product photography, social media strategy, customer acquisition, customer retention, search engine optimisation & a whole lot more. There are a whole lot of specialists out there who can help you with each of these elements or you could buy a book on digital marketing to familiarize yourself.
The first step when starting out is the ecommerce platform and the number of such platforms and content management systems available has grown over the years. While they are plug and play, many of these offer custom software and platform solutions. In such a scenario, figuring out which platform to use when you're looking to build your online store can be a fairly confusing task – especially if you aren't from a technical/ecommerce background.  This post intends to make your research work easier by helping you choose the platform best suited for all your needs.
If you want to skip reading the blog and want our best recommendation, then head to Shopify. With over 38 lakh businesses leveraging Shopify globally its an ideal choice for most.  You may also visit our D2C Centre of Excellence, D2Scale for more information.
Managed e-commerce platforms vs. Content Management Systems (CMS)
There are two options available for building an e-commerce website – one can either use managed (hosted) e-commerce platforms like Shopify or open-source Content Management Systems (CMS) like WooCommerce or Magento.
As the name indicates, a hosted ecommerce platform is hosted on a server that you will not have access to, while CMS-based websites are self-hosted on server space (such as Bluehost)  you will have to purchase. Which option to choose will depend a lot on your specific needs as well as your level of technical involvement. Below is a list of benefits of both which could help you make a choice between the two based on your business' current requirements:
Benefits of using Hosted ecommerce platforms
Lower development and maintenance – There is no coding expertise required, thereby eliminating the need for a development team. Also, the hosting is shared, which lowers the server costs.
Better technical support – Most online store creators have a strong tech-support team to assist users with any issues that may arise.
Less complex to work with – The back-end for most of these platforms is user-friendly and is built for ease of use keeping in mind users with limited technical knowledge.
Benefits of using a CMS
Better functionality – Multitude of plugins, add-ons and themes available for content management systems allow the addition of advanced functionalities that would not be possible in the case of self-hosted platforms.
Better customizability – Content management systems allow the freedom of adding/modifying features as well as building a customized design unique to one's brand. They also allow for constant improvements and enhancements to the user experience on the site, which plays a major role in today's highly competitive ecommerce space.
Can support large stores and sophisticated websites – Content Management Systems, being self-hosted do not have a limit to the number of products or categories allowed, so they can handle much larger stores as well as sophisticated websites.
The server can also be an important aspect of how your ecommerce site is built and we usually use the Linux based servers being provided by Bluehost or Amazon Web Services. We usually refrain from using Windows based servers.
You could use this flowchart below (Click on the flowchart to enlarge) to help you arrive at a decision on whether you should go ahead with a hosted ecommerce platform or with a CMS, based on your requirements: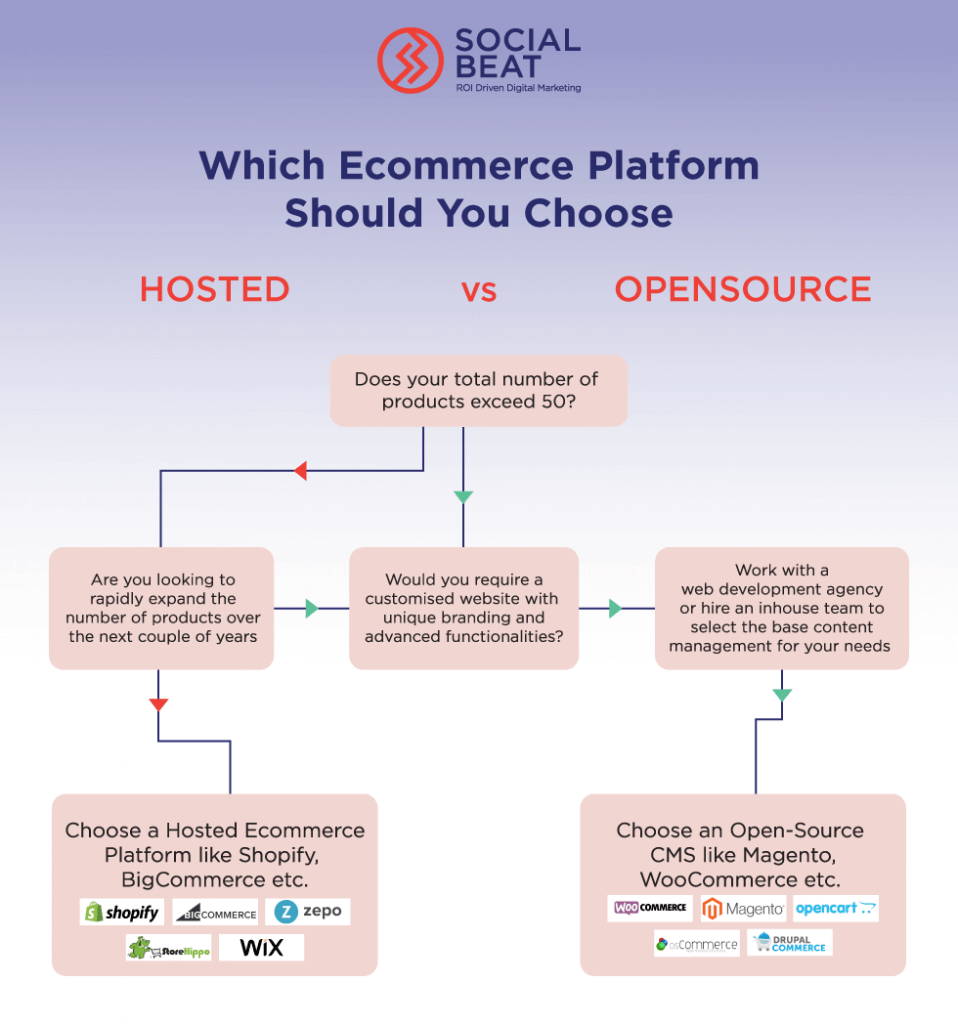 Once you've made your choice on going ahead with either of the two platforms, here is a list of the 5 best options you could explore in each niche:
Best hosted ecommerce platforms
If you've decided that an online store creator would better suit your business, then below are the best platforms available for you to choose from.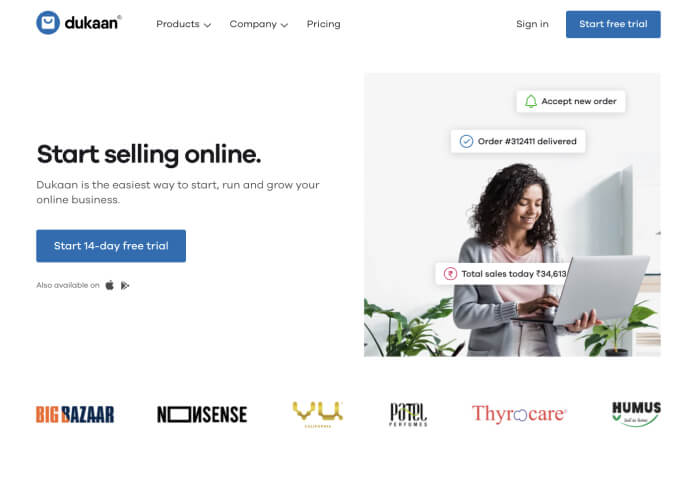 Built to be a straightforward solution to building an online store, Dukaan offers an integrated package that comprises features and tools such as a website builder, various themes, payment gateway, email marketing tools, inventory management, and analytics. 
Guiding all its merchants through every step, from setting to customization, Dukaan aims to help all kinds of businesses planning to get an online store up and running quickly. 
While the intuitive interface and rich features tick most of your basic requirements, a few of the most powerful features of Dukaan include QR generation for your store and products, customization and rearrangement of your categories, and bulk export and change options. The best of all is that you can provide a tailored checkout experience for your customers. 
Pros:
Streamline your order management and tracking via Dukaan Delivery. 

Drive engagement using various marketing plugins. 

Helps customize your processes to a great extent. 

In-person chat, email, and phone support are available. 

Premium pricing plans offer more advanced features

You can avail unlimited Dukaan Credits, which is a wallet using which you can purchase and add credits for better management of marketing campaigns, to scale up your e-commerce business. 
Cons:
Fewer theme options when compared to other platforms.

Options for bulk actions through mobile aren't possible for now.
Pricing**: Silver (₹2,999/ year), Gold (₹8,999/ year), Platinum (₹29,999/ year)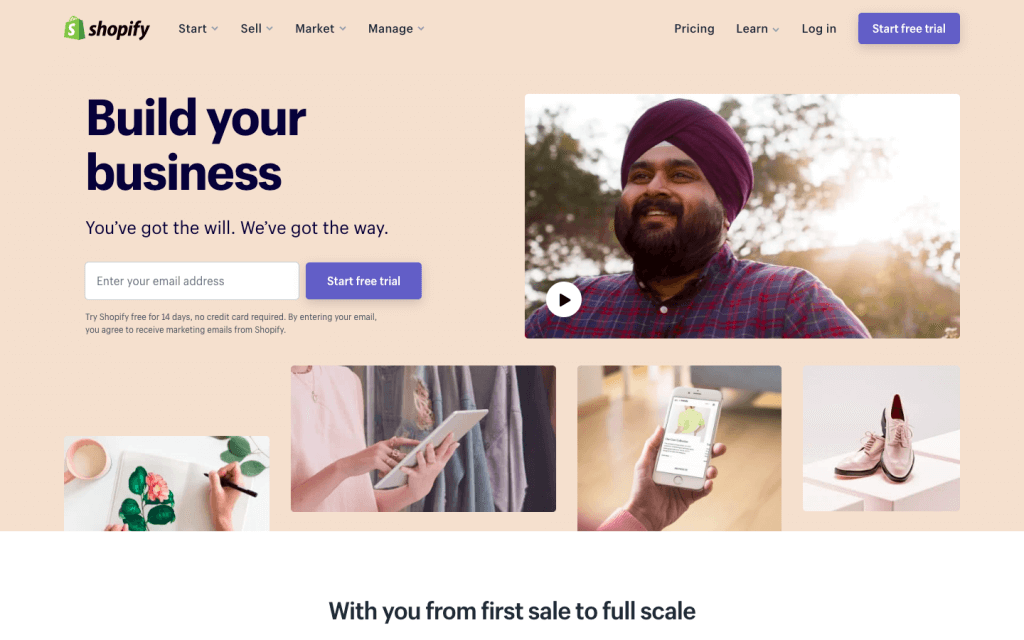 Shopify is one of the first names that comes to mind when one thinks of an online commerce platform. With close to 1.6 million sites using Shopify, it is the most popular hosted ecommerce platform (32,175 Shopify sites are live in India, as of 17th Jan, 2022).
Pros:
Large number of add-ons as well as beautiful and professional templates to choose from for a beautiful storefront
24/7 customer support – Can be reached by phone, online live chat or email.
SEO Compliant
Pay as you go pricing, which is great for newer startups
Option to upgrade to Shopify Gold, an enterprise solution being used by 3600 brands
15+payment gateways and 10+ logistics integrations for India
Cons:
May work out slightly more expensive as compared to other platforms
The back-end UX is slightly complex to understand in the beginning
Pricing**: Basic Shopify – $29/month, Shopify- $79/month, Advanced Shopify – $299/month.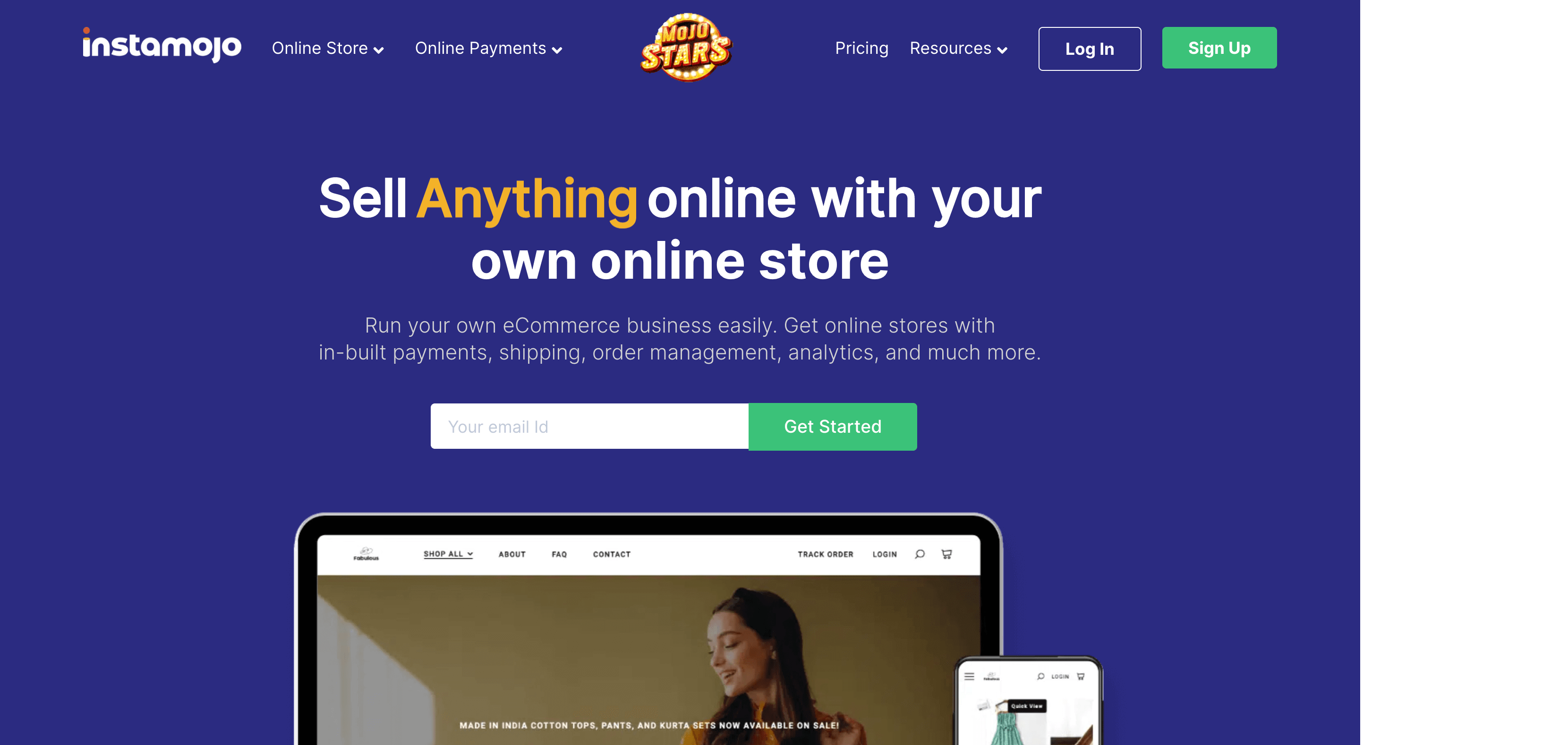 More than 20 Lakh+ independent businesses trust Instamojo with their business. It's one of the simplest eCommerce website-building platforms. The best part is you can set it up all by yourself in just 4 simple steps. You get a fully functional, easy-to-navigate online store that comes integrated with payments, shipping, and marketing tools. Instamojo can be used by all types of eCommerce businesses. It is your one-stop-shop for all things eCommerce.
Pros:
Easy to use and set up with great-looking themes!

Comes integrated with payments, shipping, and marketing tools

Has powerful SEO features to increase discoverability of your brand and rank higher on Google

Integrations with shipping partners like Shiprocket, Pickkr, and more so you can ship to all over India

Reseller network available so you can get more distributors for your products and services

Offers domains at 70% cheaper than market prices; hosting is also available

They even have a Do-It-For-Me plan where the team will build your website for you

Online store pricing is the most affordable in India considering they offer so many features. Prices start @ just ₹10/day
Cons:
Limited international payments. Is available only on request.

The free plan has a higher transaction fee than premium plans.
Pricing**: Lite (₹ 0/ year), Starter (₹3,999/ year), Growth (₹9,999/ year)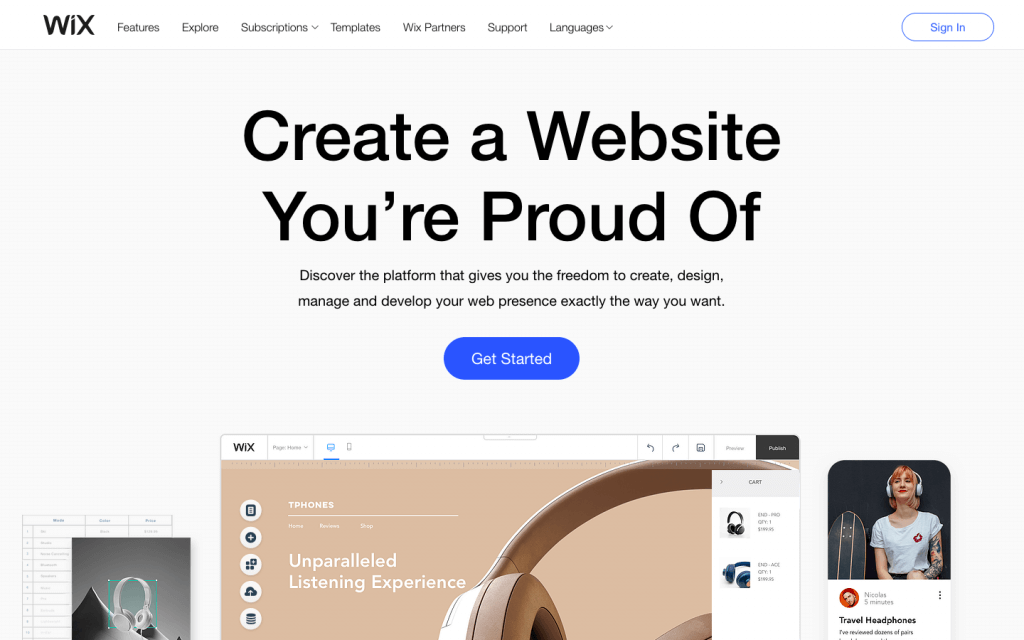 Wix has over 2000 ecommerce stores live in India, with 7% of ecommerce sites in India on the platform.
Pros:
Easy to use Wix editor
Hundreds of templates to choose from, trusted by over 160 million people users as per their site
They have simple to use logo makers
Free hosting – and upgrade required only to get extra storage, connect your own domain or to remove Wix ads
Cons:
May not be scalable beyond a point
Logistics and Payment Gateway integrations in India may be limited
Pricing**: Premium – INR 225/month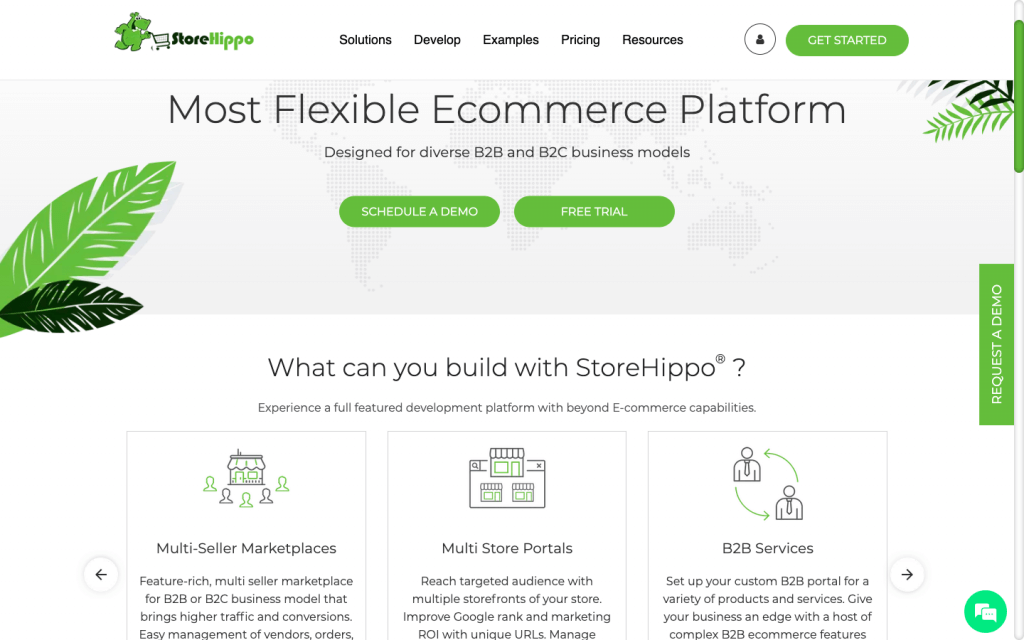 StoreHippo is a new entrant into the ecommerce market in India, starting in 2014.
Pros:
First ones to have Progressive Web App (PWA) version of ecommerce stores, allowing brands to leverage the latest technology
Easy-to-use interface
Supports B2B business model as well – which is a first in the segment
Offers domestic and international gateway integrations and logistics integrations
Cons:
Plugins may be limited
Support may not be as robust as Shopify and others
Pricing**: Professional – INR 2999/month, Business – INR 9999/month, Enterprise – INR 25,000/month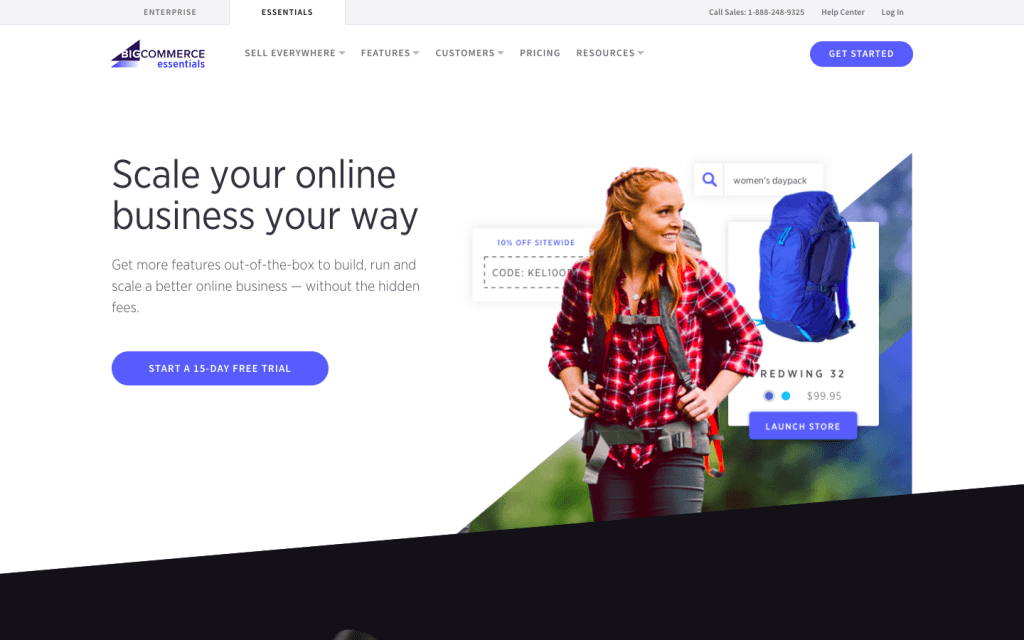 Bigcommerce is another popular platform, with 17% of the top 100,000 sites using hosted ecommerce solutions; and 51,977 sites overall*, being built on Bigcommerce.
Pros:
A large knowledge base – The Bigcommerce university provides extensive help resources
Easy-to-use interface
Cons:
Some users claim that customer support is a little unreliable at times
Pricing**: Standard – $29.95/month, Plus – $79.95/month, Pro – $299.95/month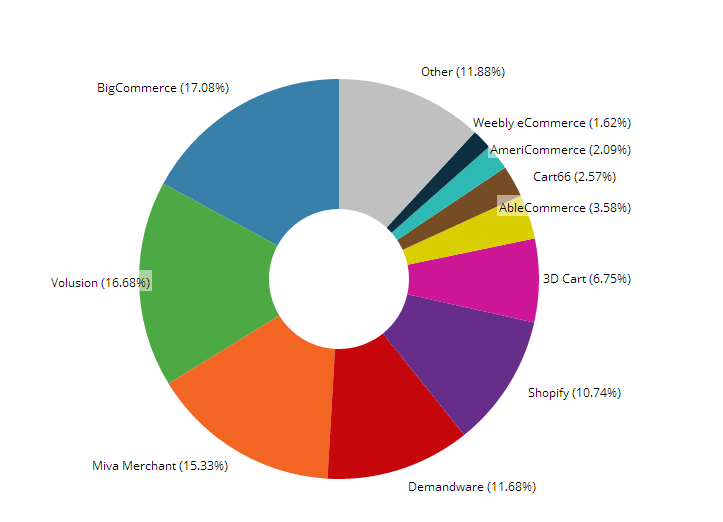 Top 100000 websites using Hosted Solution technologies – Builtwith.com
5 Best Content Management Systems
If you've decided that a CMS is what will suit your needs best, then below are the 5 best ecommerce CMS available in the market at the moment. The most important factors which will come into consideration when zeroing in on the CMS would be the availability of extensions, availability of support, functionality, customizability and the cost of development and maintenance. All of them are open source and have free community versions and paid enterprise versions.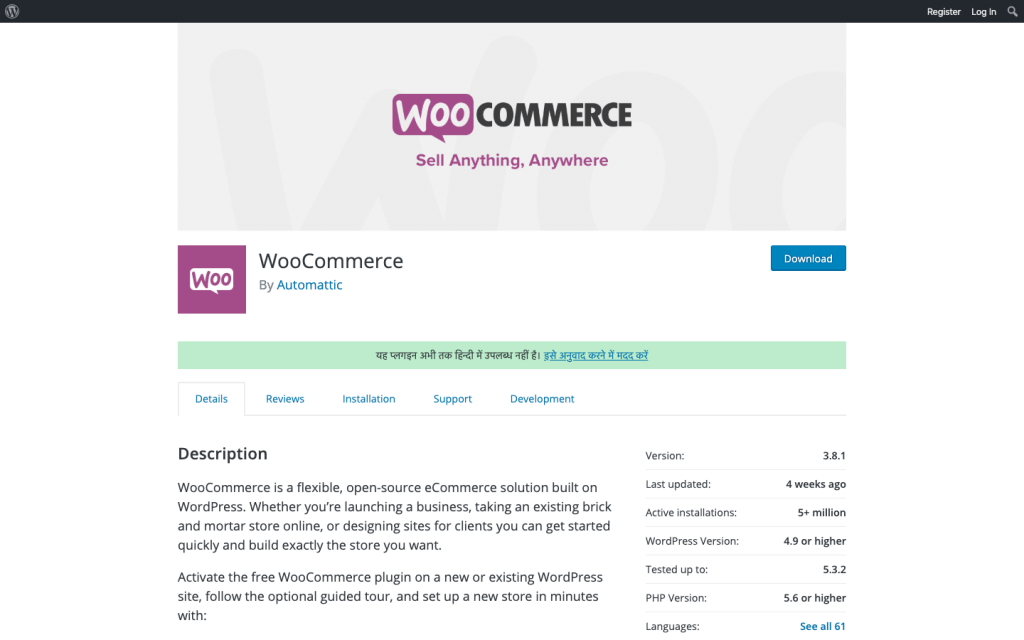 WooCommerce is a WordPress platform used for building ecommerce websites and now almost 29% of the top 1 million ecommerce websites are hosted on it (and 55% of ecommerce websites in India – as of 17th Jan, 2022), making it the most popular platform in the country. A large number of WordPress themes have the WooCommerce functionality built-in. The plugin provides almost all the features that are available in the other open-sources CMS' listed here. WooCommerce might work out more user-friendly and cost-effective for smaller businesses as well as for those familiar with WordPress. While it has a larger user base, entrepreneurs looking for a plug and play solution will find Shopify to be more suitable.
Pros:
Easy setup – WordPress requires very little time to get familiar
Runs on Wordpess – so does not have powerful servers requirements
Good number of lower-priced add-ons and themes available
Huge WordPress support community
Easy Integration with emailing platforms such as Mailchimp so that you can stay in touch with your customers
One of the fastest growing platforms so support from developers and plugin creators is going to be good in the long run.
Cons:
Might not work for mid and large size businesses or for businesses looking to scale up soon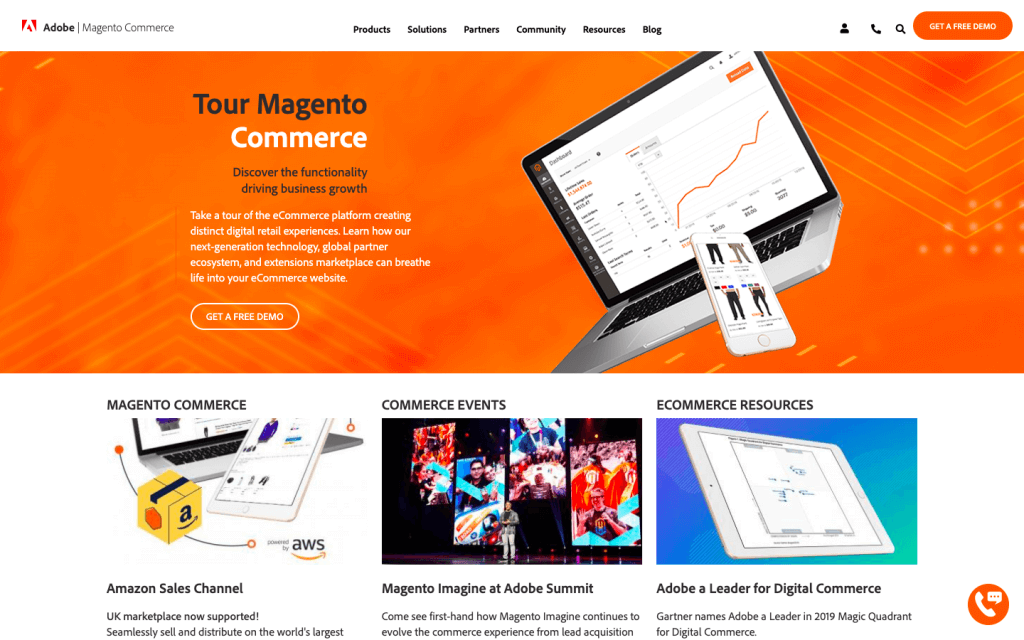 With nearly 8% of the world's top 1 million ecommerce sites (in 2015 21%  of the websites) are built on the Magento platform*, it used to be a very popular CMS. Its biggest advantages are the large number of plugins and extensions available which allow the addition of any new functionality, the ease of availability of experienced developers as well as a lower overall development and maintenance cost. Over time it has lost market share to Shopify and WooCommerce.
Pros:
Robust platform with a high level of functionality and customizability
Large number of marketplace extensions available
Highly active community for assistance with tutorials and troubleshooting options
It is highly-scalable – no need would arise to upgrade to another platform while scaling up in future
Easy Integration with emailing platforms such as Mailchimp so that you can stay in touch with your customers
Cons:
It requires sufficient server space to operate efficiently at high speeds. Smaller servers may cause speed and other related issues
Might be too complex for businesses that are too small
It has not been growing as a platform, and over time developers and plugin creators will reduce their focus on it
Opencart: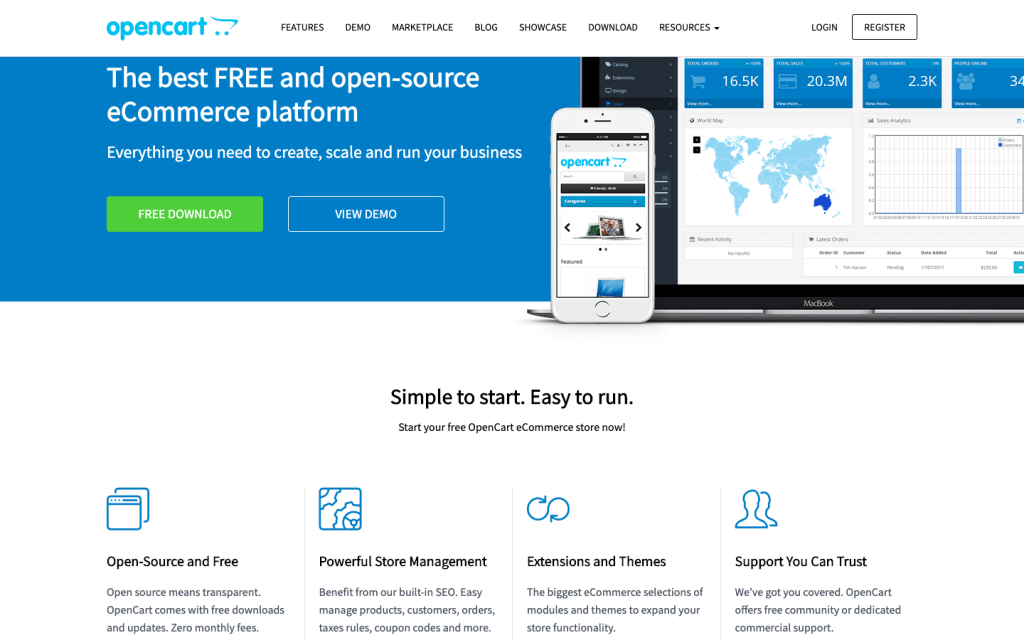 Opencart is another open source CMS for ecommerce. Though it has one of the easiest to use backends, its support systems are not as comprehensive as compared to the other platforms listed. 16% of all ecommerce websites in India use OpenCart.
Pros:
Easy to use back-end
Feature rich with large number of plug-ins
CSS can be edited from within the admin
Cons:
Some users report difficulty in installation of some themes
Support documentation is not comprehensive enough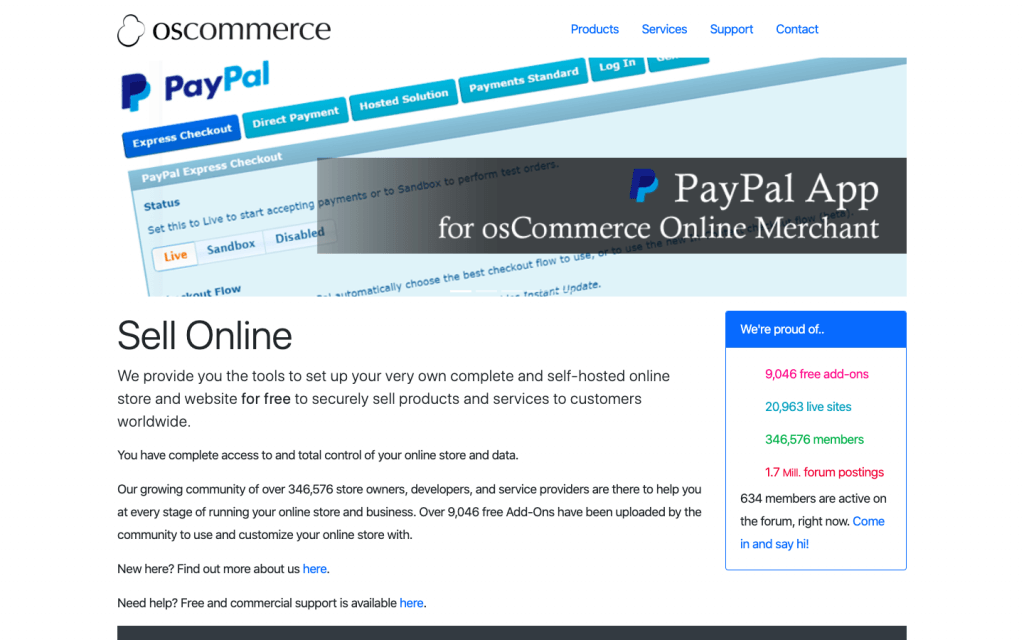 osCommerce is one of the earliest open-source platforms available, it has a huge support base and a very active forum, though some users find that updates to the platform have not kept up with the times.
Pros:
Easy installation and an easy-to-use interface
Active forum with a large support base
Cons:
Some users find that the software updates and designs have not kept up with times and remain slightly outdated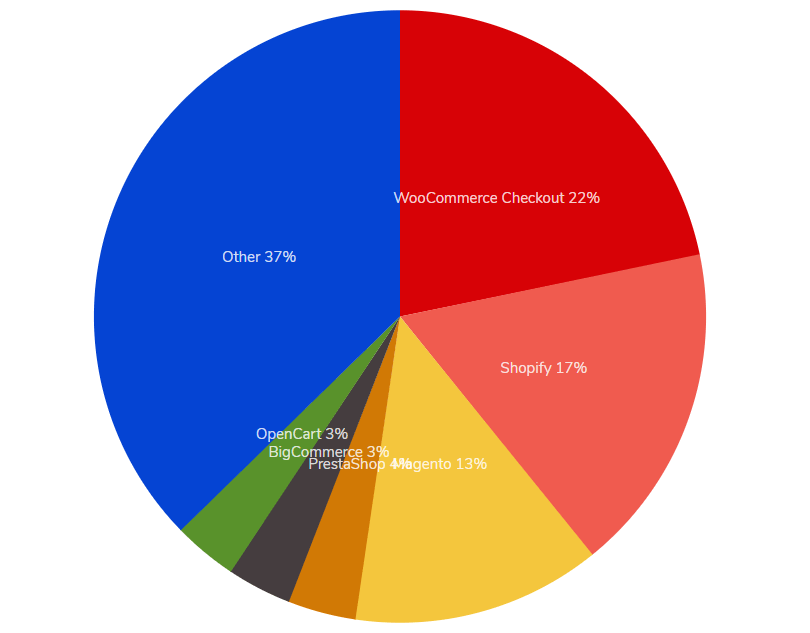 Top 1 Million ecommerce websites using Open Source technologies – Source – Builtwith.com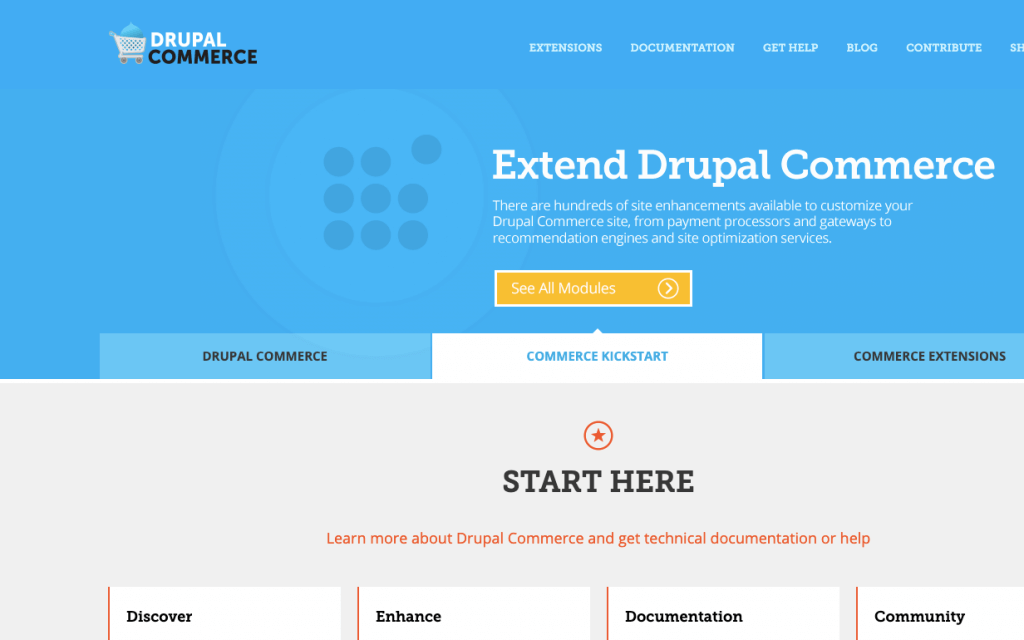 Drupal used to be a popular open source website content management system after WordPress and Drupal commerce is the plugin for ecommerce sites built on this platform. Its seamless integration with Drupal makes creating a blog or forum much more convenient than most other ecommerce content management systems.
Pros:
Seamless integration with the Drupal CMS framework gives it an edge over other platforms when it comes to blog integration and content marketing
Allows for easy implementation of SEO strategy
Cons:
The support community/forum is not as large or active as WooCommerce.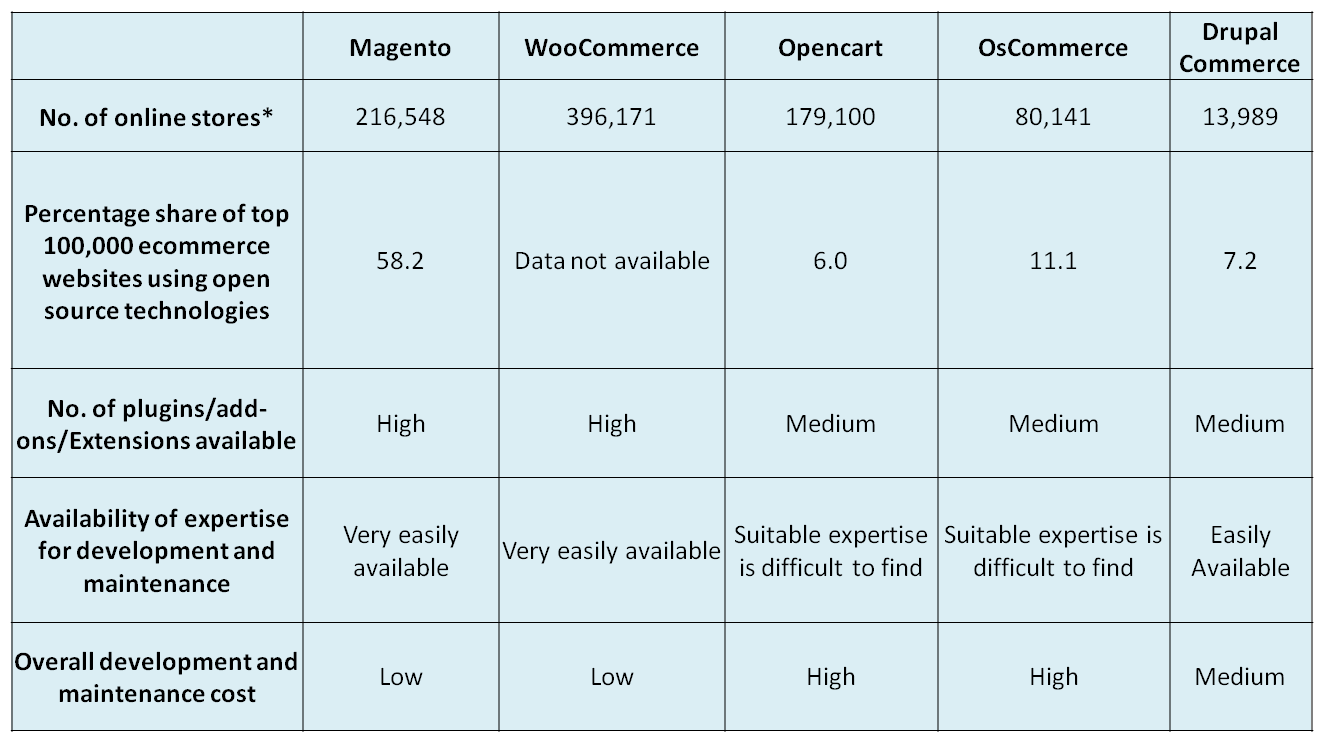 Magento vs Woocommerce vs Drupal Commerce vs Opencart vs osCommerce
Conclusion
Every platform and CMS has its plus and minus points and choosing the right one depends on your business model and requirements. If you are going in for a hosted platform, Shopify might be the best option, while if you are looking for a Content Management System, then WooCommerce would most definitely work best. This, however, is based on our experience and we would love to hear what your experience says.
As the last word, switching platforms or content management systems after a store is up and running is not really a straightforward process and can truly be a nightmare. So, make sure you take a prudent and informed decision with a good amount of foresight. If you're a retailer looking to get onto the e-commerce bandwagon, please feel free to contact us and we would be glad to assist you.
*Statistics from builtwith.com
** All price data is from the respective websites as on 17th December, 2020