The team at Social Beat is ecstatic to announce that in recognition of its excellent performance and contribution to the field of digital marketing, its co-founder Suneil Chawla has been awarded the Outstanding Digital Person Of the Year award at the Digital Marketing Conclave & Awards 2014 conducted by Think Media Inc and VIT University Business School.
The conclave was held at Hotel Trident, Chennai on the 25th July, 2014 and hosted eminent speakers including Prof. Dr. M.J. Xavier – Former Director IIM (R) & Executive Director, VIT University;  Mr. Vijay MichihitoBatra – Motivational Speaker, Author & Founder – Think Media Inc and Professor Jagdish Sheth, Charles H. Kellstadt Professor of Marketing, Emory University Goizueta Business School.
The jury for the awards included Rajat Batra, CEO Sternum Asia; Ranjith Ramanujam, Director and Lead Architect of Netrix Software Services; KV Nagendar Prasad, COO, HITEX Exhibition Centre; Samir Patra, Director, Branding & Strategy, BrandEx, India and Rama Brahmam, Director UX Design at Think Design Collaborative Pvt. Ltd.
How many days have you roamed in Mumbai to just check out various marriage halls in Andheri for your sister's marriage or banquets halls in Mumbai for a grand party? Looking up venues for events can be a frustrating task that can go on for days searching for venues across the city and then narrowing down on the options based on your various parameters like pricing, facilities, size, etc. What if most of these details are given to you on a platter? Many venue-booking companies help you book your venues for a large variety of events-custom to your needs like marriage halls in Mumbai, conference rooms in Delhi to banquet halls in Chennai.
1. Reserv.Place
Based out of Chennai, Reserv.Place is a marketplace community that brings people & property owners together on the same platform. It allows you to list, discover and book your event venues online with the click of your computer or from a mobile phone – be it for a wedding, birthday or for your office party. With its world-class customer service and a growing community of trusted users, Reserv.Place deserves to be at the top of the list.
Based out of Mumbai, Build My Event is a premium one-stop destination for booking your venue for all kind of events. They connect event planners directly with the venue managers to help them book banquet halls, party halls and business venues in and around Mumbai. Their USP is quick response (24*7) and transparent pricing with no hidden costs involved.
Build My Event has also started actively promoting the website and services on social media. It is their interesting content strategy that stands out. The articles on their blog have content to really make you read one article after another – ranging from places to hangout if you want to meet a Bollywood star to Ideas for a perfect wedding. Such content not only engages the visitors to their website but also helps them showcase their expertise with articles like Best sea-facing venues in Mumbai, Tips to select an event venue, etc. Their "mumbai meri jaan" contest on social media was also a hit with more than 200 entries for the contest.
3. BigFDay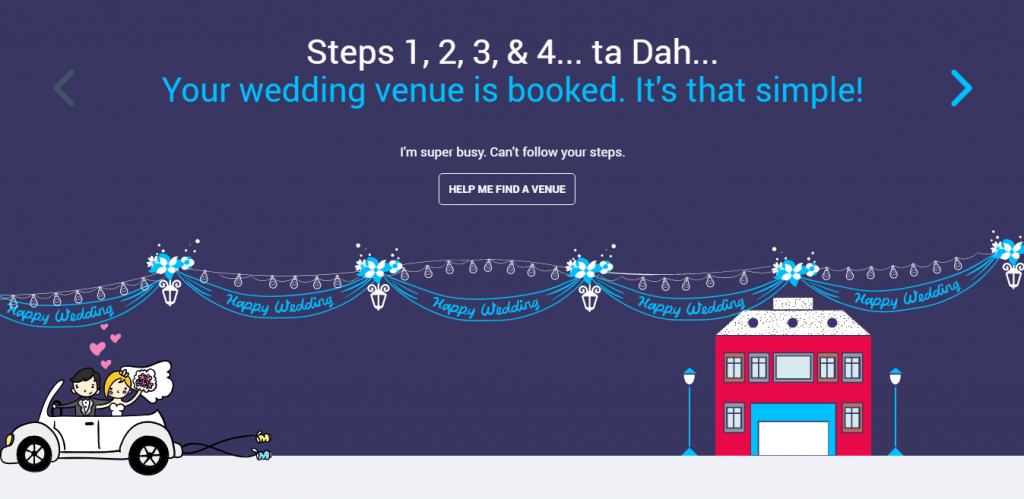 From Wedding Halls to Conference Rooms to Birthday Party Halls, BigFDay is a platform that lets you book venues with just a few clicks. Currently operating only in Chennai, BigFDay works with over 500+ venues and 100s of professionals in the event industry. Be it a wedding, birthday party, corporate event or just a night out with friends, BigFDay is the ideal platform to book venues.
4. Urban Restro
Urban Restro is an online booking platform ranging from wedding, cocktail party to conferences. Their USP is their website – good in terms of user experience and visual appeal. Currently, they are operational in 3 cities – Ahmedabad, Pune & Mumbai. They allow you to search and make free reservations with a click of a mouse. They are promoting their website on social media channels and have also started conducting food workshops & festivals across the city.
5. Just Dial
Justdial provides fast, reliable and comprehensive information to the users. Their main USP is their large database, apart from the large number of reviews. But they are limited to listings only, in most of the cases, and that somehow constrains their ability to explore this space. Further, considering the volume of reviews they have, filtering out spam reviews and calls have become a challenge for Justdial. They also have a mobile app, that offers information on the move.
The social media presence of the above websites are as shown below:
The next time you are in need of any help for venue booking for any event, be it banquet halls in Mumbai, resorts near Mumbai or marriage halls in Andheri, you know where to search for. These venue listing and booking companies have really made our life easy – from scouring through multiple venues in the sun, we can sit in the shade of our homes / office and get it done in a matter of minutes.
Note: Social Beat is currently working with Build My Event & Reserv.Place
While you are reading this blog, there are millions of people liking, sharing or commenting on Facebook. If you are a business entity who wants to build a brand, convey a unique message, propel your business to greater heights you got to know things you should avoid while marketing on Facebook.
The most common mistakes Facebook Marketers do that one should avoid are as follows:
F – Fail to completely fill the brand page
When you are creating a brand page, ensure you fill up all details like address, cover photo & contact information that is easily accessible by the visitor. If you are expanding to newer locations, ensure you enlist them in your page or best to create separate pages for each location branch. You also get brownie points if you share similar URLs for Facebook, Web & your twitter handle. You should not change the URL/Facebook page that maybe misleading.
A –  Advertisement Budget Constraints
Unfortunately many businesses fail to leverage Facebook as a powerful & effective medium of advertising due to budget constraints. The tools are sophistically designed to track which ad is performing better over a period of time. Using particular & relevant keywords you can target the right audience and ensure. A creative ad should have high brand recall, influence buying decisions & be rewarding like (price discount) to ensure higher engagement and conversion.
C – Cover photo
A cover photo encapsulates the essence of the brand – the look and feel & what the brand conveys. While it should be attractive & relevant, you should take care to refresh it from time to time. What's pivotal in designing your cover page is that you should abide by the Facebook guidelines. It should not contain –
a). The contact information like mailing address, contact number, email ID or web URL.
b). A call-to-action button asking them to "like", "share", "comment", "invite your friends"; it is to be strictly avoided.
c). This is commonly seen among e-commerce client – Showcasing price discounts like "30% off on purchase of Rs.1000 & above".
E – Elaborate Text
Research proves that posts with about 150 characters get about 50% more likes & traction in comparison to those long posts with 200 characters or more. So keep it short to get better engagement, by breaking the barrier. People like visuals better than content. Be conversational – ask questions & encourage participation.
B – Blind eye to Facebook Insights
"Facebook Insights link" gives you a wealth of information about how well is your page doing. Monitoring results of each post – reach, likes, source of traffic, most viral posts, paid vs. organic traffic in absolute and relative measures. By closely tracking the performance, it is undeniably the best tool to channelize your efforts in the right direction to maximize your results. This helps you repeat what has worked best in the past, what time is the best to post (peak traffic) & which of your posts has connected well with your followers. Ignoring Facebook insights is like taking your page to the Holy Grail.
O – Over-posting Content
The frequency of posting can have a major impact on the number of "new page likes" and "reach" of the post. Your followers would love to see an excellent post a day rather than many average posts. They may also "unlike"/ "unfollow" if it occurs as spammy content. Take care to respond to comments on each post & never ignore complaints from unhappy customers. They are unlike to return if they feel unheard or ignored. You can manage it better with Facebook Brand Page Manager app.
O – One size fits all content
Your brand can have different products and customer segments. Showcasing all your messages on one Facebook page will alienate your fan base, rather than engaging them. Instead of a one-size fits all approach, identify your customer segments and have dedicated spaces for them. Alternatively, use post targeting to reach only users who would find the specific content engaging. For example, if you are a real estate company with properties across multiple cities, target posts related to properties in Chennai to fans based out of Chennai and nearby cities only.
K – Connect at the best suited time
Most people work from 9 am to 7 pm. Hence it's important to ascertain what time is ideal to post, to ensure it maximum reach to target audience. Try to understand your audience & ascertain when traffic builds up in your page. Your posts reach will be higher if posted at an appropriate time. Nothing can stop a creative post, well timed, go viral.
To know more you can visit https://www.facebook.com/page_guidelines.php
[wpsp]