Programmatic advertising or Programmatic marketing is an automated technique of Real-Time bidding on a specific inventory for a specific set of people. The ad marketplace runs the auction for the ad slot available on a specific publisher's webpage (and apps) and selects the one with the highest bid to place their advertisement on the virtual space. Programmatic advertising has emerged as the future of online advertising due to the immense possibilities it holds.
While there are multiple programmatic platforms, Google Marketing Platform (GMP) has a powerful suite with GMP's DV360 (Display Video 360) being the market leader. The advantages of leveraging programmatic advertising through DV360 include delivering faster and smarter marketing based on Google Marketing Platform's machine learning algorithms, gaining control of your investments, and understanding the audience at a granular level.
What is Fantasy Cricket?
Most of you might already know what fantasy cricket is and how it works. But for a better understanding, fantasy cricket is an online game of betting on the players who are playing the actual game of cricket and we will be rewarded with cash in terms of points based on the performance of the players we bet on during the actual game.
About Gamezy
Gamezy is the latest offering from Gameskraft – India's fastest-growing gaming platform. This app is a fantasy cricket platform designed for the user to select their choice of eleven players from both the teams in a cricket match. Based on the performance of the cricket players in the real game, the users of the app will be rewarded with cash prizes.
How is Gamezy different from other apps?
Gamezy allows the user to change the playing XI at the end of the 1st innings based on the actual performance of the cricket players.
USPs:
– Available in 8 languages
– Players can be changed before the 2nd innings starts
– 5-a-Side (an option to play without having to choose 11 players a side)
– Daily Contests and Head to Head games.
Campaign Strategy
Platforms Used:

On Display and Video 360, which is a Demand Side Platform (DSP) on the programmatic space, we have leveraged both display and video networks. Display network with static and GIF format creatives were run initially followed by YouTube which has worked well with different video categories that helped in increasing the number of installs and in-app actions.
View Through Conversions (YT):

Videos have played a major role in scaling up as well as improving the performance of the campaigns. View Through Conversions refer to the installs that happen after a person has watched our video as an ad on YouTube. We have seen a significant rise in the number of purchases or Add Cash through the View-Through Conversions.
The most important targeting which has helped the performance of the campaigns is the targeting on DV360 through the interest category of

"Fantasy Games".

By selecting this, we were able to relax all other demographic filters applied.

One important feature to mention is the accuracy of the post-click conversion numbers on DV360 was far better compared to the numbers on Google Ads. This was the

power of insight-driven marketing

.
Different creatives (Animated/Influencer):

As mentioned, the different categories of videos which were used include Brand videos, User Generated Content (Influencer Videos). Animated Videos, USP based videos, Event/Theme-based videos etc.,
Themed Influencer Campaign refers to an example where we have used a "couple as influencers" to talk about how to earn money on Gamezy which makes it easy for them to buy their Valentine's day gifts.
USP-based videos where the advantages of using Gamezy over other competitors like 8 Languages, 5-a-Side, and 2 Innings were shown as short stories or a slideshow to increase the Install rate.
Managed Placements:

Optimizing the placements on YouTube Channels/YouTube Videos to exclude the junk placements and run separate campaigns with top converted placements. This helped in improving the overall performance.

Retargeting

is not possible on Google ads for Real-Time Money based businesses to run campaigns but it is possible on D360 due to the server-to-server integration.
Results:
Within a period of 2 months, we were able to see a 226% increase in Installs with a 50% decrease in cost per Install. Since this is a real-time money based application, 'Add Cash" is one of the most important in-app events to achieve. We have been successful in getting a 378% increase in Add Cashes with a 66% decrease in cost per Add Cash.
You don't watch a show on Netflix without doing thorough research about it, do you? Then why compromise on research when it comes to marketing your product or brand digitally. While the internet has taken over the marketing world completely, good market research is still in trend. Market research plays an extensive role in digital marketing. It provides you with significant and vital information, and in a way can make or break your digital marketing campaign. This blog will give you an insight into some top market research tools to help you grow your brand.
But before we move any further into, let us understand –
What is Market Research and why is it so important?
Market research or marketing research is a technique that is employed not just by market research companies but sole traders as well, to collect information and gather insights about another company/brand's target audience. If you own a business you would want to know where your customers spend most of their time, what are their pain points and preferences, what pushes them to buy your product, what holds value for them, and so on. Market research helps you to answer all these questions, design better products, and improve user experience. Market research analysts play a key role in market research companies as they are designated individuals who are experts in creating market research reports and essentially carrying out the market research process from start to finish.
Most of us shut our minds on hearing the word research and "geek-shame" it. I just came up with that term, but I am sure you know what I mean. All of us have million-dollar business ideas that we want to bring to life and market research never finds space in that to-do list. But let me tell you obsessing over your customers and getting them to know them up and close, is the only way to win.
Now if you are one of those who isn't big on research but still wants to leave a mark which is not limited to your carbon footprint, you have landed on the right page. There are so many market research tools out there that will make your lives easier and help you maximize market research efforts. Lucky for you, I have done thorough research on them.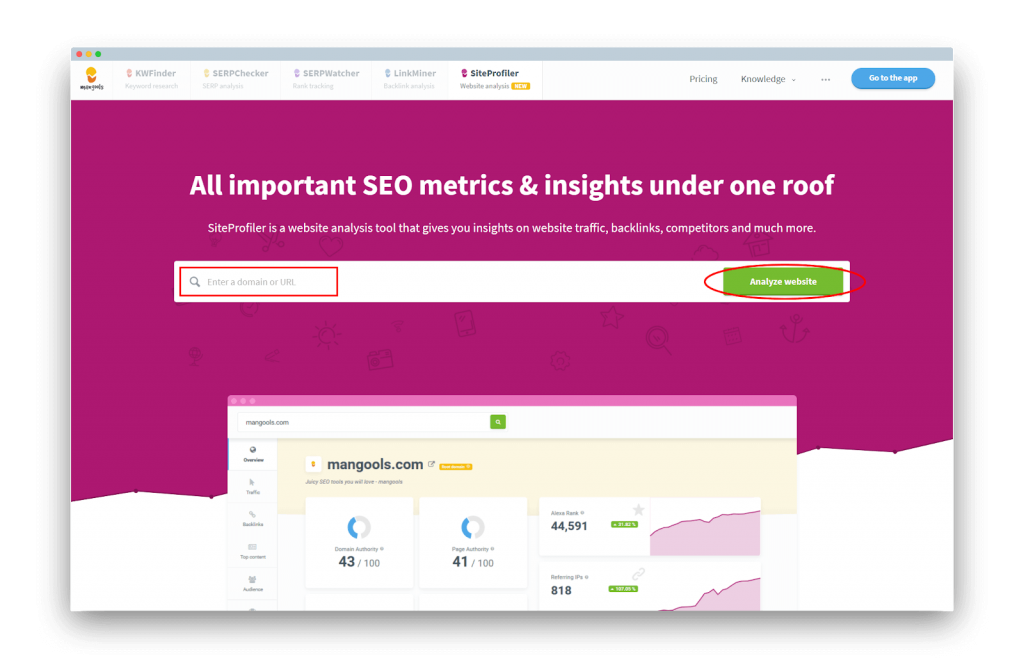 SiteProfiler, from Mangools.com, as the name suggests is one of a few market research tools that analyze websites, and compiles all your competitors' website statistics and SEO metrics in one place. All you need to do is enter a website URL and SiteProfiler will provide you with all the statistics about that website.
It shows all aggregated data – domain authority, page authority, citation and trust flow, rank, and so on. It also provides you with all the backlinks with top referring domains directed to a site.
Along with this, the market research report by SiteProfiler will also show you the top content the site has generated and where their major traffic comes from.
The main advantage of this market research tool is that it also breaks your audience by age, location, gender, interests, and so on. When it comes to competitors, SiteProfiler shows you the competitive landscape of the website along with relevant keywords.
One of the simplest and easiest market research tools that visualize data in the form of charts and statistics, making it extremely easy to decode it. SiteProfiler also has a google chrome extension and hence you can find insightful information about any website as and when you browse.
Other tools to measure statistics – Tableau, Statista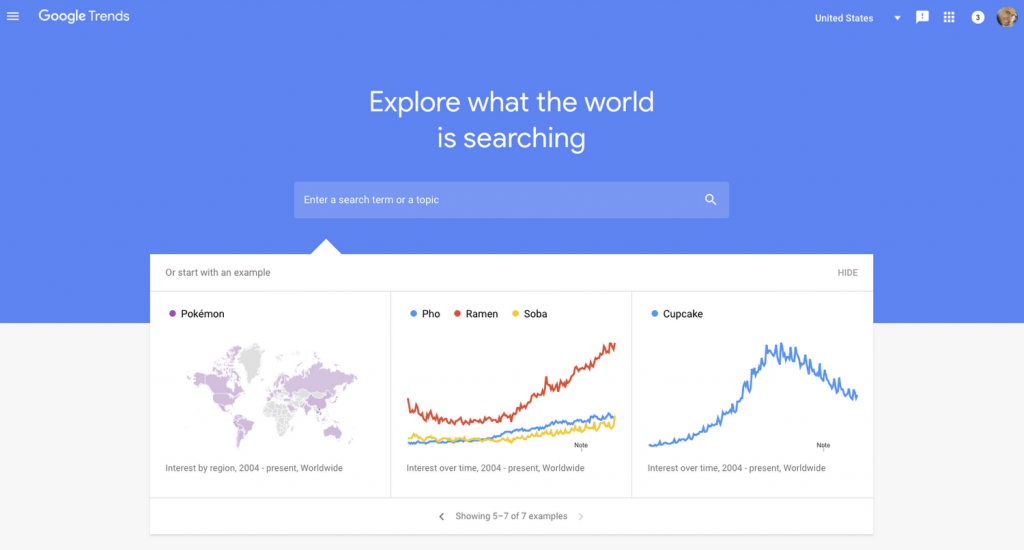 Originally an online search tool, Google trends is also known to be a great market research tool as it allows you to see how often specific keywords and phrases have been searched for over a period of time. It analyses Google searches and provides you with information as to how many searches were made for the particular terms and keywords along with geographical information about the users. It can also be used for comparative keyword studies and to discover spikes caused in keyword search volume due to certain events.
The best part is that Google updates the data on Google trends daily, but I would suggest that you take this information with a pinch of salt owing to the data sampling issues and approximations that might be employed to compute results. One more advantage that makes Google trends one of the more effective market research tools online is that it provides you with real-time data inclusive of the latest trends from across the globe. Many market research companies find the user-interface also extremely easy to use and navigate.
How to use it? Enter a search term in the search box at the top and see how the search volume has varied for that keyword over different locations and periods of time. You can produce more fine-grained data by changing the location, time frame, category, and type of search.
The data found in Google Trends can be used for several different marketing purposes :
SEO and content marketing

– This tool can be used to understand what your target audience in the market is searching for. Use this efficiently to

research and market

your content or to drive traffic to your site.

Paid search

– This data can be used to ramp up your seasonal campaigns and contribute to cost planning. You can also find out irrelevant keywords that can be negated while running your ads.

Running Ad creatives

– Google trends help you figure out what topics are currently trending and referencing a trending topic in your campaigns (email, Facebook ad, etc) can increase the engagement of your campaigns.
Other tools for content research – Flipboard, Slideshare, Google alerts
MakeMyPersona :
Answer a series of questions about your ideal customers and this market research tool will generate buyer personas for you. Make My Persona is a free online market research tool by Hubspot that aids your buyer persona research and helps you organize and understand better. After answering a few strategic questions you will be presented with a personalized shareable persona sheet providing you with significant details about your target audience. Research and market to your ideal customers on a platform they spend most of their time on! You cannot get any more specific than this.
How to go about this –
Go to Make My Persona and select your path. If you have already done your research you can directly start. If not, this tool provides you with an educational guide that helps you learn what a buyer persona is, how to conduct research and surveys, and so on.

There is a seven-step creation flow that you will be guided through and each step will focus on a different aspect of the buyer persona.

Once you are done with this, you will get your persona editor document which can be formatted and customized to suit your needs. If you are satisfied with it, download it!
Other tools to get social insights – Facebook and LinkedIn analytics, Social mention
This blog lists a few of the top market research tools available and I urge you all to take out some time and try your hands at each of these tools before you start your online market research as it will help you to identify your target audience efficiently, know what digital areas and platforms you should be active on, study the market, and identify the key influencers. It teaches you to keep a watchful eye on the market while providing a direction to your brand.
And since the digital landscape is changing ever so rapidly, consumer research is extremely vital. Without using the right resources to maximize market research efforts, your business can become lost and more so, become a prisoner of your assumptions. So put on your research hat, channel your inner geek, and get started!
Happy Researching! 🙂
Reach out to our research experts to know more about how you can create the right market research strategy for your business!
The Digital Leadership Summit 2020 by Social Beat was conducted online due to the pandemic. The agenda was to discuss the current and future trends of digital marketing. The whole country has gone digital these past few months and the discussion enlightened the road ahead. The program commenced with the National Anthem after which the audience was briefed on the agenda.
There were 17 experts from various fields and organisations covering important topics such as hyperscaling, vernacular marketing, consumer journey automation, building a culture for innovation, etc among many other insightful topics. 
Building foundational skills with digital media:
Dr.Pramath Sinha, Founder & Chairman of Harappa Foundation, believes that the combination of liberal arts combined with technology has a bright future. Digital marketing in education, and digitising education, in general, itself helps in targeting students better due to their constant online presence. Digital mediums help students experience one-on-one conversations which enhances their learning experience.
Driving growth during the pandemic with Google:
Ms.Meenakshi Singh, Agency Business Manager, Google tells us that consumers have started adapting to the pandemic. Users are spending more time on small screens. She said that going digital is the new store-front. Consumers are expecting brands to use their digital assets for personalising their experience. Convenience is a key factor that drives consumers to opt for online shopping over in-store shopping.  Brands that establish their presence online, actively work on their website and mobile user experience, clearly inform consumers about delays and stock availability are the brands that have a higher chance of succeeding digitally. 
Driving growth during the pandemic with Facebook:
Ms.Ruchi Kohli, Agency Business Lead, Facebook enlightened that brands need to embrace new media habits. There is a spike in the dependence of digital media which may even cause demand surges. Brands need to create virtual experiences, vernacular content, and develop content for every part of the business funnel, especially on Facebook. Digital spending concerning mobile wallets and net banking has also been on the rise. Users will also shop more during sales and offers offered by brands on digital platforms. 
Marketing is not just about branding: 
Mr.Amit Verma, Head of Growth & Marketing, Rapido said Digital marketing is a cross-functional tool that has a multitude of benefits.  He advises start-ups and brands to focus on a full-funnel approach. Look for channels that bring you the most distribution. Marketing vernacularly impacts conversion by understanding customer preferences. Focus on what you want out of your marketing strategies. 
Tips for high metrics:
Mr.Damandeep Singh Soni, VP- Marketing & Growth, boAT recommends brands to stick to two channels and focus on optimizing them to grow fast. He advises using the right instruments to gather data. Some brands use free tools, but the cost of change becomes high in the long run. He advises marketers to visualise the data to create manageable and efficient content.   
On Hyper-Scaling:
Ms Shweta Sivasankaran, Director, Marketing, Unacademy shared that maintaining a strong social media presence with relevant and engaging content, marketing with a clear tone will boost your traffic online. She also recommends spending time measuring, listening and analyzing. Shweta asks companies to use accurate and exact keywords, use clear CTAs. She believes that a combination of simple and compelling display ads, along with videos that have clear CTAs have a very powerful impact on social media.
Innovation in finance: 
Mr Ajit Narasimhan, CMO, Sundaram Mutual says that going digital is no longer an enabler but a strategic leader. Mr Karanpreet Bindra, Head of Marketing, Rupeek agreed and added that offering both digital and physical transactions saw a hike in the conversion percentage for their company. Karanpreet also said that for wealth creation products, where trust is a key factor, building perception and awareness around the brand online will help. The demand for Vernacular content is high. This avoids the problem of loss in translation for complicated products like loans. Ajit says creating videos is one of the best ways to create a visual feel of the brand, where the focus is to educate the customer.  
Building a brand by going digital:
Mr Sandeep Shukla, Head, Marketing, Jaquar group says that a key factor in building a brand is reaching customers. Digital media needs to give all the information they need in one place. He says that everyone is an individual marketeer while talking about the power of sharing and circulating content. Creating videos on YouTube empowers consumers giving them all the data helping them to plan and decide. He requests brands to embrace technology while focusing on communicating and keep the message clear and simple. 
This was an extremely interesting and insightful experience. Thanks to the virtual world, the panellists came together to give us their thoughts, opinions, advice on how to make the most out of this pandemic using digital media, and its trends. The summit was concluded after the rendering of the National Anthem. To know more about vernacular marketing, video creation tools, or to read more useful blogs on digital marketing, visit the Social Beat blog page.
[wpsp]