It is the Internet era where people consider Google to be the universal encyclopedia that has answers for every query under the sun. As much as users love browsing information, interactive platforms like Quora have made their way through the plethora of information available online. For the past decade, users have embraced Quora for the concept that common people can share their thoughts as answers. It has emerged as a powerful tool that brings like-minds together on common grounds for knowledge sharing. It has also grown as one of the best platforms to amplify your content and ads.
Recently, Quora has introduced three new targeting options for ads that advertisers can utilise to enhance customer engagement, with an interested and valued audience. Here are the three new features added to Quora.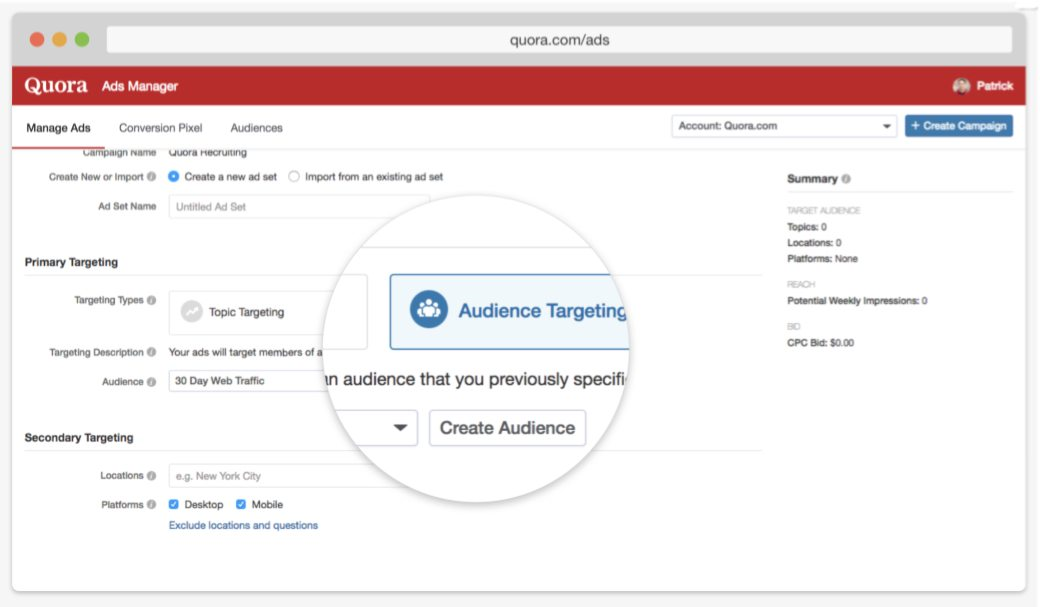 Source: Google
Keyword targeting
Advertisers can customise their Display Ads to a relevant audience depending on their history of content consumption. Targeting is based on the keyword search, or related questions read previously. Say, for example, let the keyword be 'baby food chart'. If users search or read questions regarding baby food or nutrition, then Quora narrows down the target audience and displays your ads in their feed and question pages. Advertisers can target audiences who have typed in the keyword in their search or read related questions in the past 20 days. This feature enables advertisers to focus on the interested audience, thereby improving the number of leads.
Gender targeting 
Gender targeting paves the way for more specific targeting of ads. If your product is women-centric, like cosmetics, then you can opt to display your ads in the Quora accounts of women. Similarly, for products relating only to men, the same principle applies. You will be able to find this option under the demographic category in the 'Ads Manager' search box. This streamlines your ad spends on targeting the right users who are potential customers.
Browser targeting
If your ad pertains to any software that is useful for a particular browser, you can choose to target customers with respect to the browser that they are using. This is an add-on to the existing feature, in which Quora targets the users depending on the mobile and device usage.
It is always exciting to experiment on different ad platforms. Now is the time to leverage the interactive Q&A platform of Quora with the new features introduced for targeted customer engagement. Implement these latest strategies to accelerate lead generation through Quora and reap maximum benefits. 
When I was interning at Social beat, I didn't know what I wanted to do. It was my first time coming to an office every day and all I wanted to do was learn. I interned for about 3 months with the video team before becoming a full-time employee. I'd like to thank my mentor Ananyaa who guided and taught me everything – from how to ideate, how to coordinate, to giving writing exercises and literally making me realise my true potential.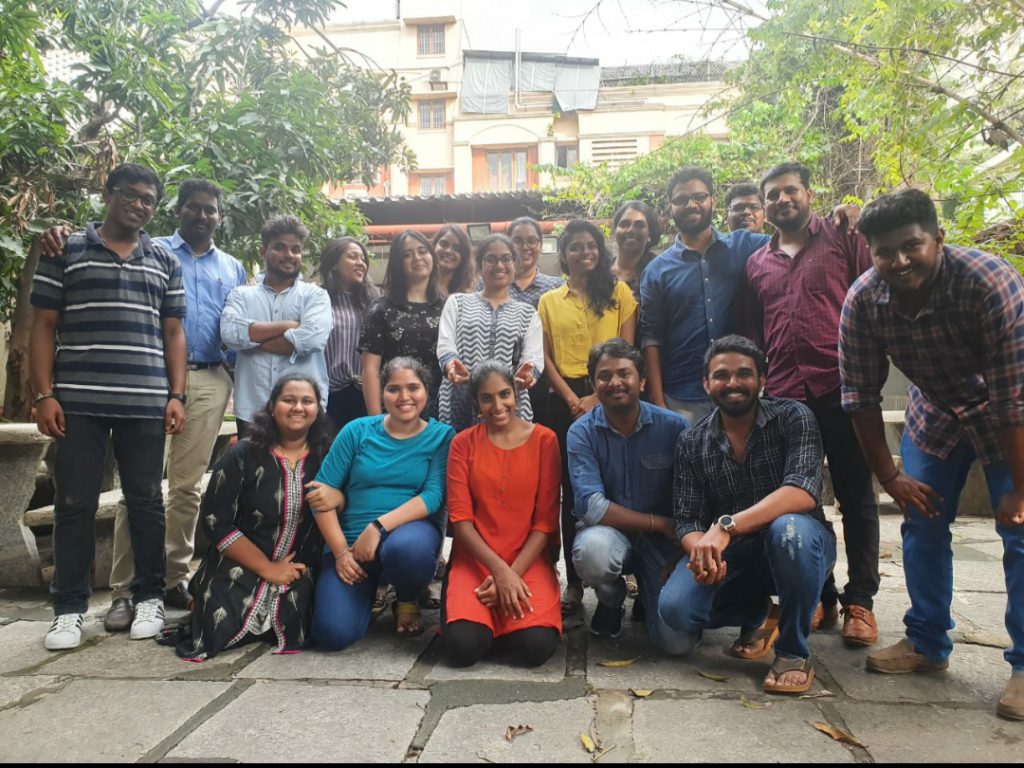 One month into the internship, I developed an interest in scriptwriting and wanted to focus on that. The next two months, I worked on honing my script writing skills. I learnt everything from how to write without any grammatical errors, how to shorten sentences, and how to visualize. I also had the chance to face the camera for Social Beat's youtube channel "Arrear Irundalum Career ". My internship was definitely a learning experience that led me on a successful career path. It taught me to be confident, work independently, be organised, prioritise my work, manage my time efficiently etc.
I also wanted to thank my team manager Divya Ram for being warm and supportive from the time she interviewed me and then on. I still remember the day I told her that I was worried I wouldn't get the chance to work here. She has always been there whenever needed help or guidance or had doubts about the simplest things.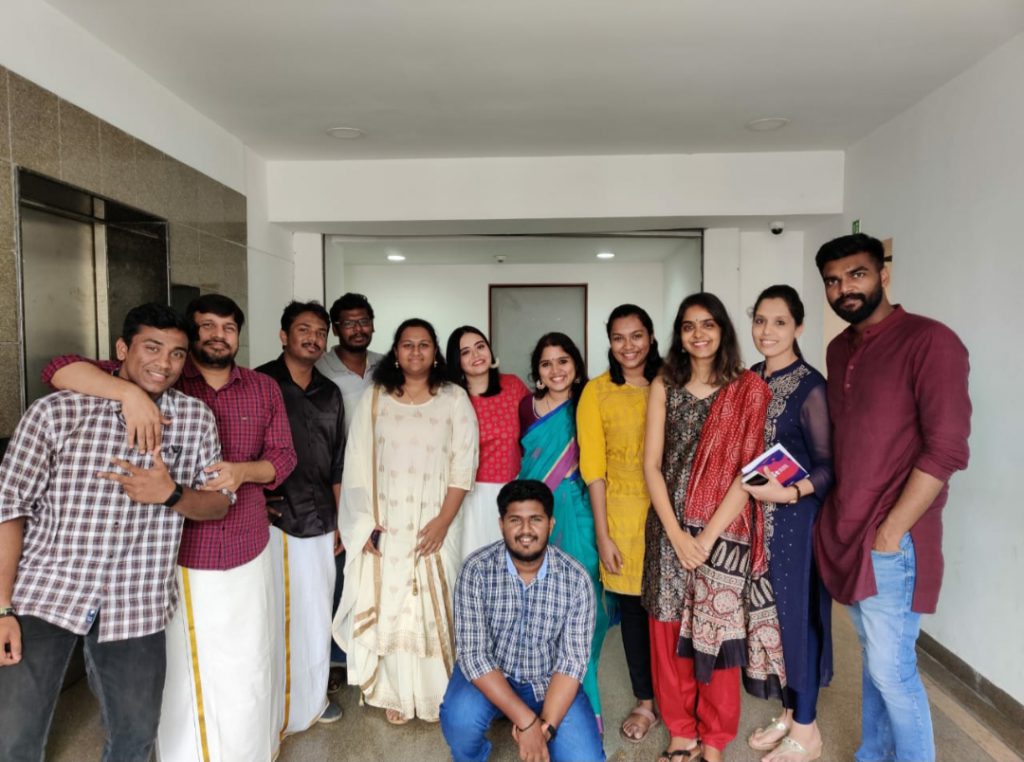 Apart from work, I really love the people and work culture at Social Beat. They are really friendly and welcoming. The game nights, hangout sessions and the movie nights are great avenues to communicate and bond with the team members. I also look forward to the chit-chat sessions every month where they celebrate our work and talk about our learnings.
One of the things that I really love about being in the video team is that you have the freedom to go crazy with your ideas, think out of the box, be as creative as possible. They are always open to new ideas and trying out new things which gives me the motivation to be better.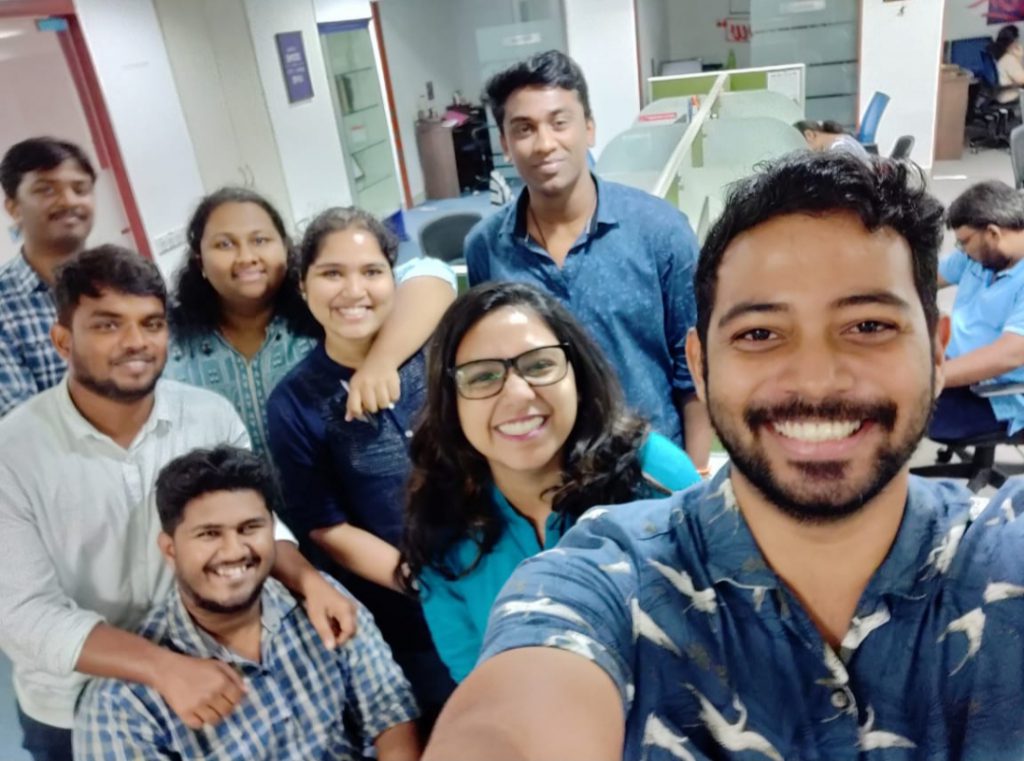 Overall, my 3 months of internship is an experience that has shaped me in more ways than one. It helped me discover my creative side. It was really difficult at first but after hours of research and a better understanding of the target audience, I am a lot more confident now. In fact, I am really excited about what new ideas I can bring to the work that I do and learn more every day. I've grown as an individual and a professional and it was made possible with Social Beat.
If your brand has visually appealing products or a unique story to tell, there cannot be a better stage than Instagram. From luxury brands to media houses to automotives, each have carved a niche of their own and are leveraging Instagram for their businesses. In fact, automotive brands are the most engaged and well-represented. Lot of marketers contemplate whether Instagram can be an effective social media platform for their brand? Even if many marketers want to leverage Instagram for their business, they lack a quick guide that has the tips to build a successful presence on Instagram.
According to a recent study,
98% luxury shoppers carry smartphones

90% brands among the top 100 have an Instagram account

80% of these shoppers' purchase decisions are influenced by digital content
A quick look at the above stats convey the fact that more than 50% of the sales funnel can be readily delivered to potential customers even before they step into your store. This raises an important question: does the might of premium luxury brand correlate to the might on digital platforms like Instagram?
Luxury & retail brands are way ahead of the pack: A Case Study
About the client
Malabar Gold and Diamonds is an iconic Indian jewellery brand. Each piece from their extensive collection displays intricate craftsmanship and a unique blend of traditional and contemporary aesthetics. 
Challenge
While the brand already had a large presence offline, they wanted to build awareness among newer and younger audiences online. Transitioning from a brand that has largely used traditional forms of advertising to one that was digital-ready was the need of the hour. 
Strategy
With Instagram being one of the biggest social media platforms today, we decided to leverage it to boost the brand's image and reach out to new audiences. 
We displayed a wide range of stunning designs using the carousel image option, wherein about ten images were added in a single post, which proved to be very successful. Users were able to look at and compare various styles of jewellery from a single post. Moreover, with Instagram, we were able to create a scrapbook of designs and exhibited these designs using the magazine layout option on Instagram. A plethora of jewellery collections were displayed for the gorgeous brides of India. 
Results
We saw an overwhelming result of 24 percent growth in the number of followers over the period of three months during the campaign. Leveraging Instagram and other digital platforms helped us connect with our prospective customers because of which we saw a significant increase in the number of leads and improved foot traffic to the stores.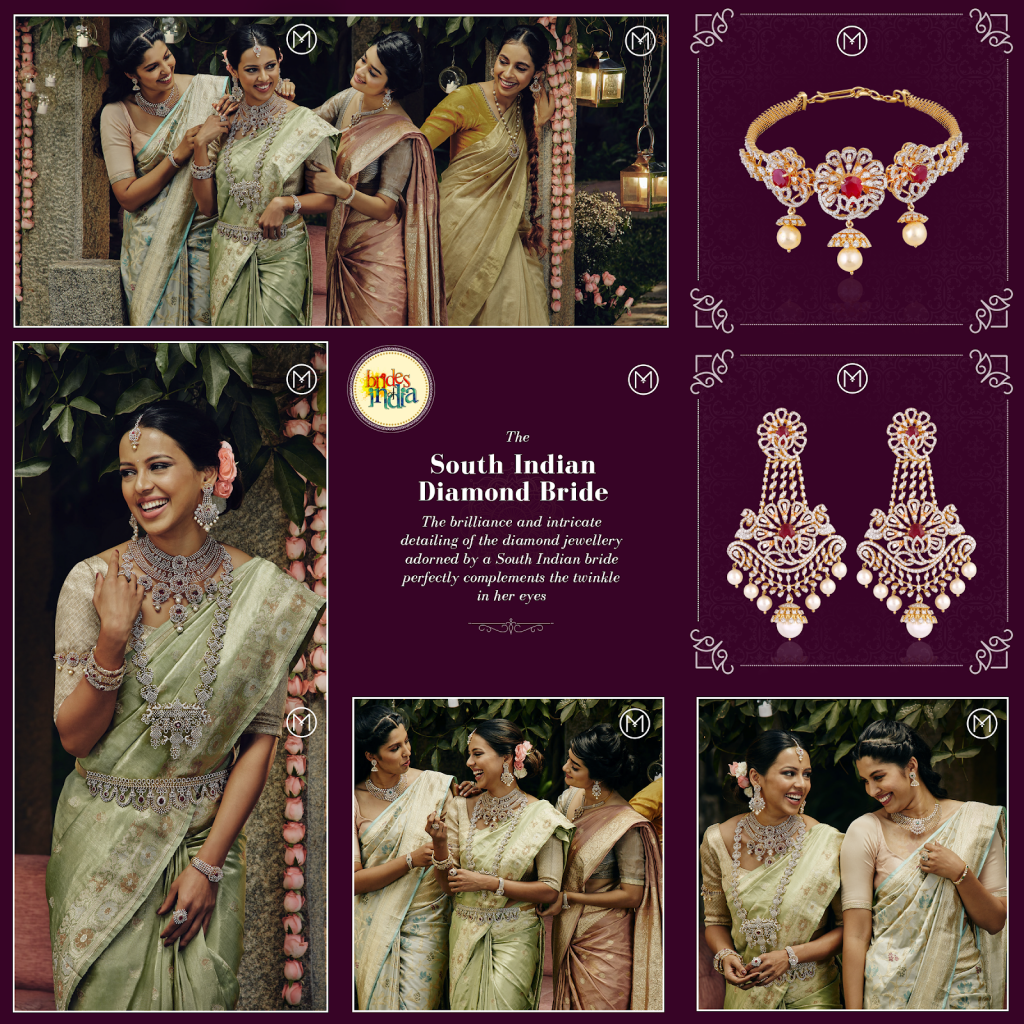 Top 6 tips for deriving maximum returns from your Instagram presence:
Long captions aren't a big NO! 
Including hashtags, the average caption length on Instagram is 135-140 characters which marks a significant focus from brands to avoid long captions. But there is no apparent proof of lower engagement rates for posts with lengthier captions as long as it adds to the visual story of the post.
Hashtags rule the roost! 
Hashtags allow access to specific interest groups and they are a great way to mark content that are discoverable organically. Instagram allows up to 30 hashtags to be used, and studies show that posts with at least one hashtag get ~12% more engagement. Then, there's no reason to shy away from using them.
Caption content is a NECESSARY integral!
@mentions generally results in more engagement underlying the fact that though the caption length may be immaterial, caption content definitely matters.
Geo-tagging boosts engagement 
The posts tagged with location gets ~79% more engagement when compared to their orphan counterparts because there are multiple apps and 3rd party discovery tools that allows location-based searches and content discovery.
Video+photos
There is no doubt that videos are the fastest forms of content consumption on the internet today. However, images have still not lost their charm. So, it is best to boost the growth trajectory of your brand with photos and videos together and make a significant impact on the audience. On its own, videos are a great form of content but cannot replace photos on Instagram. Hence, it's suggested to focus on photos as the central pillar of your Instagram strategy.
Call-to-Actions are important
A simple CTA like "select the design you like most" or "Tag your friend who would like this" would be ideal to help boost the number of comments and tags your post gets. The virality of your post has an exponential relationship with the number of comments and tags you get.
Feature on the explore tag
With Instagram tweaking their algorithm to prolong user time on their app, the concept of 'Popular Box' has shifted its interest to 'Explore Tab'. The Explore Tab is a big hit! It is the best strategy to keep your brand in the purview of your users even if they do not follow your account. Instagram tracks user activity and understands every individual user's interests. The Explore Tab feed is then customized to fit users liking. 
Featuring your brand in the Explore Tab could be a direct method to create brand awareness and thereby increasing your number of followers. 
Check out the Checkout option!
Instagram has updated their app features to become a one-stop shopping platform. From product tags to product stickers in the feed and stories, it enables shopping enthusiasts to interact with the product. Moreover, the save option empowers buyers to revisit the same product without any hassle. The Checkout option has enabled payment of products in the same platform eliminating the difficulties in navigating to a new page for initiating the payment. This is a boon for retail brands since they can further push consumers down the marketing funnel to ultimately convert to their brand – all at the tap of a button!
Interaction is key
Nothing works better than understanding your audience yourself. Instagram has opened up the gates to polls and questions in your story that users can respond to. This way, you can get insights on what your viewers like, how they react to a new product and their opinions on your brand. The results of this interaction is the main factor to redefine your strategy to reach to more number of audience.
With the introduction of GIFs and stickers last year, it has enabled business accounts to answer queries and questions quickly, which are also engaging and creative.
IGTV is a blockbuster 
With TikTok and other video platforms creating waves in the digital market, it is safe to say that videos have their own charm in attracting users. IGTV has boosted a new interest in viewers and is making its way as a powerful tool to be featured on Instagram feeds. Now that Instagram has come up with the horizontal video facility, it overcomes the trailing challenges of vertical IGTV videos. Brands need to leverage this and leave no stone unturned in reaching their audience. 
Instagram is cool, but it isn't for our business!
Does this quote have any resemblance to your boardroom discussions on your marketing strategy? The apprehensions are misplaced.
If your brand doesn't have glamorous models to endorse your product or a Louis Vuitton bag to display, then does your brand have a place on Instagram? The answer is YES. There are ample examples of brands who lack stunning images but have succeeded in creating an engaged audience on sheer basis of their creative prowess and evoking original content.
From Google to conglomerates like GE to tractor manufacturers like John Deere, most brands are fast coming on Instagram and have many have quickly built an engaging community around their brand. In fact, General Electric is one of the biggest B2B companies on Instagram with ~412000 followers.
Intel definitely needs a mention considering the impressive posts that showcase their products and common problems to solve using technology. This gains good traction as it's not just hard-selling Intel's products. In recent times, Instagram has emerged as an effective platform for the hospitality industry with players like Raintree Hotels leveraging geo-location tracking to get walk-ins & bookings.
Measurement: The final frontier
Whether your brand is new on Instagram or have built a strong presence, measurement is an essential part of the strategy to optimize the efforts and extract maximum returns on your investment. Some of the metrics that can help you in this direction are:
1. Total Engagement
The total engagement is the sum of likes and comments garnered by your posts. This gives basic insights on how well your strategy has worked to keep your audience active.
2. Engagement per Post
When some posts get impressive engagement while others fall flat, this metric can work as a good measure to optimize the content being pushed on the basis of what is working well with your audience.
3. Interaction Density
In a given time period, the total engagement gained divided by the total followers shows engagement as a %age of followers; which can be used to study the period-on-period impact of your strategy.
4. Hashtag Volume
This is only applicable in case of unique hashtag campaigns with affinity to our brand. In such cases, it's a fair measure of how 'viral' your campaign has been.
5. Total followers
This is an important metric to track the popularity of your Instagram account. The higher the number of followers, the better the chances are of gaining engagements on your post, thus boosting the other metrics discussed here.
6. Follower Sensitivity
It's the rate of growth of followers, period-on-period; that can act as an essential measure to track the best performing campaigns and content types.
To know more about Instagram for your Business, check out this video:
In case you would like any other information to be included that can be helpful for marketing businesses by leverage Instagram, please do let us know your thoughts as a comment to the post. We shall be more than happy to explore your feedback.
[wpsp]